52 Exercises: #13 Feldenkrais and a Life Less Hectic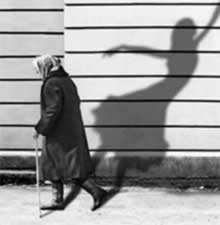 I woke up in Sydney, had breakfast with friends, flew home, hung out at the school disco and went to bed early. I never dreamed I'd celebrate my 45th birthday like that. I never dreamed someone would say I was "the wrong side of 40" either. No wonder I've been feeling down.
I was speaking at the Digital Parent's Conference in Sydney which was brilliant except I went from spending too much time alone in front of my computer to contact and mental stimulation from dawn until well past my usual bedtime.
Like most working mums life's always hectic but last week it got frantic. I guess I choose to be busy because dashing from one place to another, from one job to the next and from one problem to the next means less time to think and listen to my emotions.
I'm home now but whenever I get back from travelling life gets busier still because I have to catch up so my over-whelm meter's on red.
Even though I couldn't fathom out what the Feldenkrais method was when I saw it in the paper it immediately appealed. Apparently it could improve posture, relieve physical pain and increase flexibility. Better yet it promised to bring body awareness and provide gently exercise which sounded like the ideal antidote to my usual hyperactivity.
So I was determined to go to the three hour workshop despite a clash with my 14 years old son's first day at work and my daughter's first soccer match.
I ironed a white shirt for the teenage son, borrowed a car, dropped the teen off at work and stopped by the soccer match to watch my daughter, the only girl on the field give the boys a run for their money.
Kiara doesn't seem to notice or care that soccer is a man's world and fits in with the boys, pulling at her crotch throughout the match and pouring water over her beautiful head and face at half-time.
Recently my self-confidence has ebbed but I'm happy to watch hers grow and see her know no boundaries, act as she pleases and do whatever feels good regardless of what anyone else will think.
Getting to the Feldenkrais workshop was stressful so I calm down by arranging my mat and towels carefully while secretly checking out the other participants, a group of 13 women and two men most of whom appeared to be at least 1o years older than me. I immediately feel younger and fitter.
The teacher Robyn opens the workshop by talking about what Feldenkrais is. We hear it's a way of re-educating ourselves about how we move that's used by everyone from athletes to the arthritic.
There don't seem to be any athletes here but looking round the room I know we've all come because we all believe we can learn and change no matter our age.
Robyn talks about awareness through movement and how Feldenkrais is about being kind to yourself, exploring how you move and being playful. She says we'll rest often, not because the exercises are physically challenging, but to rest our mind which will be challenged most of all.
We hear there's no goal in this workshop, no desired outcome and it's fine if we fall asleep during the class. This is a major contrast to MTV Dance, spin classes or cage fitness and has huge appeal. An exercise class where you can snooze is just what I need right now.
The first set of exercises involve standing and repeatedly raising our right arm to shoulder height then rotating it to the side. We try different variations keeping our head straight, turning our head and eyes with the arm, then turning our eyes but not our head.
In between exercises we lie down and rest. I zone in and out of consciousness but eventually realise that the gently wheezing noise to my right is the sound of someone else in a deep sleep.
The second set of exercises involves lying down slowly rotating our pelvises. Refreshed after my snooze time slows down and I feel bored. But that passes too and I start to enjoy this time set aside to do nothing except make tiny movements and think about my body, not my soul.
I suddenly feel so grateful to be here doing almost nothing and realise the workshop is affordable because the teachers aren't trying  get rich. They're just enjoying sharing the pleasure of movement Feldenkrais has taught them.
The teachers talk about how we learn to move as babies which makes me think about my mother, a midwife who adores newborns. I wonder what it was like being held by her for the first time 45 years ago and feeling totally cherished.
I think about my busy week and how good it feels not to have any goals now, how great it is that, here in this class, we've stopped trying to achieve and are happy to just be.
I look at one of the other participants, Enid aged 82, and I hope that I'm still as open, optimistic and as willing to learn new things when I'm her age. I think about what a privilege it would be to be still alive at her age.
Although some of the joy seems to have gone from my life right now I know this 52 Exercises quest where I try a new exercise each week is about hunting down excitement, joy, pain or fear by being more active. It's about chasing the moments that make us feel most alive.
But during the Feldenkrais workshop I notice that feeling happy and alive doesn't have to mean throwing yourself into new and ever more vigorous activities. I experience how you can feel alive and content lying down doing almost nothing apart from just being.
The studio has a motley collection of images on the wall with everyone from Indian gurus straddling bikes and draped in orange to Mother Teresa and Jesus Christ. I thought my spiritual side had found fulfilment in my love of nature and consider the beach to be my church but I realise spirituality is hard to maintain alone. The spirit craves people who share your beliefs.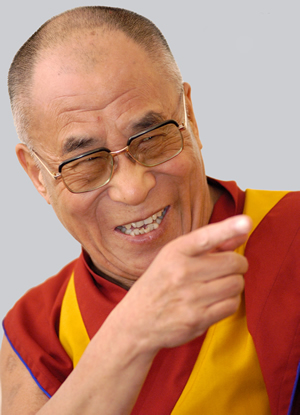 On the wall next to me there's a poster with a photo of everyone's favourite monk. When asked "What thing about humanity surprises you the most?" the Dalai Lama replied:
"Man. Because he sacrifices his health in order to make money. Then he sacrifices money to recuperate his health. And then he is so anxious about the future that he does not enjoy the present; the result being that he does not live in the present or the future; he lives as if he is never going to die, and then dies having never really lived."
So I leave Feldenkrais more determined than ever to really live and more than slightly relieved that it doesn't necessarily have to mean constant hectic activity.
Birthdays come round so quickly and with relentless regularity. Maybe doing less and breathing more is the only way for me to get the spring back in my step before another birthday slides into view.
And maybe our first birthday isn't the important one, maybe we should celebrate every new day as a moment of rebirth.
—————————————————————————————————–
Feldenkrais Exercise Review
Cost: $40 – For a three hour workshop which was excellent value and included a home made afternoon tea with a yummy chocolate chia slice which I'd like to eat a lot more often. The workshop was part of the Timeless Body initiative introducing and exploring The Feldenkrais Method across Queensland and Northern NSW. Find Feldenkrais practiotioners in Australia here and around the world here.
Time Exercising: Three hours
Average Heart Rate: I forgot to wear my heart rate monitor but my heart rate would have been it's normal rate of around 60-70 beats per minute. It's not aerobatic exercise or exercise at all in the sense we think of.
Fun Factor: 4/10
Fear Factor: 4/10
Post-exercise Glow: 6/10. There weren't any highs or lows before or after Feldenkrais, just a feeling of balance and a sense of calm
—————————————————————————————————–
Thank You for Reading
If you're enjoying Get In the Hot Spot and the 52 Exercises series check out more from the 52 Exercise quest here and take a moment to share this post on Facebook, Twitter, by email or wherever you please. Thank you.
Get the weekly newsletter – If you'd like email updates from Get In the Hot Spot click here to subscribe now. You won't get an email every time I update the blog but I'll email you weekly with the best stories.
Let's stay in touch – I'd love if you circle me on Google+. Thank you.
Share This Story, Choose Your Platform!