52 Exercises: #3 Spin Class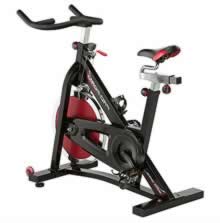 Only week three in the 52 Exercises quest and I am already casting around for new exercises. I have plenty up my sleeve but most have to be organised in advanced and, with the kids all on holiday, I'm not that organised right now.
Fortunately one of my local gyms has endless classes I've never tried before with names like Sh'bam, Body Balance and Body Attack. It also has something called an RPM Studio which I guess is spin classes.
I love cycling and ride my husband's road bike at least once a week but I've never tried a spin class so that would work.
My paid up gym member friend Cate loves spin classes so I decide to give it a try, especially when I see My Fitness Noosaville, close to my home, has a free trial available. My last two exercises, horse-riding and indoor wall climbing weren't cheap so a free spin class will be good for my bank balance as well as my body.
The gym is huge. One entire wall is lined with mirrors facing a bank of exercise machines. It's 5.30pm but only one is occupied by a woman who studies herself in the mirror blankly and pedals her legs furiously.
Round the corner are more mirrors and weights machines and this area is buzzing with bulky men and women working alone or in pairs, partnered I guess by their personal trainers. Now wouldn't that be nice?
Through one doorway is another gym, the women's only area with a couple of women going hard and in another room I find the RPM Studio which is equipped with about 40 tightly packed exercise bikes. No one else is there yet so I wander back outside and study a wall with information, photos and brief bios on events gym members are training for or weight loss success stories. "My daughter doesn't want a fat old mum at her wedding." says one woman.
I spot a picture of my old boxercise trainer, Stewart. I loved those classes but he stopped them because he was training for a body building contest. Now here he is in a photo buffed and shiny, dressed only in those tiny swim trunks which Aussies call budgie smugglers, and holding a ridiculously camp pose. His muscles are all standing to attention and practically busting to pop out of his skin. I remember he still owes me $75 for classes I paid for in advance which I'd like to get back from him. I wonder if I ever will.
The spin instructor arrives, cranks the air conditioning up high and shows me how to adjust the bike seat and handlebars so it's right for me.  A handful of other spinners wander in and I follow their lead, draping my towel over the handle bars and fitting my water bottle in the holder.
The room is very dark and I like the way my shoelaces and socks gleam under the disco lights. The instructor wears a microphone so she can hear us above the blaring music and we are away. It's a Les Mills RPM class which she's learnt by heart and does with us, somehow managing to keep talking no matter how hard her legs move and her heart beats.
The room was icy cold soon starts to feel warm.
We spend a lot of time changing a dial on the bikes to make the going easier or harder. Sometimes we pretend to cycle up hills but I like it best when we stand up on our pedals to attack a particularly challenging hill or race to the front of the imaginary pack in our make believe bike race.
I keep an eye on my heart rate monitor and see I'm getting a serious work out. A few times I slow down and adjust the gauge so I'm doing less work. I don't want to be too sore the next day and I also don't want thighs like a chicken drumstick with big, bunched up muscles.
The short, sharp pace of the 45 minute spin class is good and I leave exhausted but on a high. I remember all the different exercise classes they hold here, look at the camaraderie between the gym members as I leave and think about joining the gym. Maybe I could be a gym junkie after all but I don't think I'll go to a lot of spin classes.
I still prefer a nice bike ride in the fresh air but I wouldn't mind giving Sh'bam a go. Now that could be interesting.
Spin Class Exercise Review
Cost: $0 – it was a free gym trial.
Time Exercising: 45 minutes
Average Heart Rate: Not sure, I forgot to make a note.
Peak Heart Rate: See above
Calories Burned: Around 300 – not as high as the 600-700 calories quoted on the poster but great for such a short time spent exercising.
Fun Factor: 5/10 – I didn't really get in the flow.
Fear Factor: 3/10
Post-exercise Glow: 7/10
Click here for more episodes in the 52 Exercise quest.
Spin bike pictured is the PROFORM 290SPX SPIN BIKE from Rebel Sport which retails for a whopping $699.
Share This Story, Choose Your Platform!