28 Hours in Paris: Part 2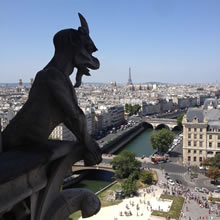 Well hello again! Or should I say bonjour encore une fois? Assuming you've already read 28 Hours in Paris: Part 1 about our first day in Paris and a Night at the Mercure Paris Gare du Nord about our hotel and buffet breakfast then it's time to press on.
We had a busy schedule in Paris and there was not an instant to be wasted. I knew that but we still lingered too long at the buffet breakfast. It was just too hard to drag ourselves away from the great food and view of the station.
Big mistake. So instead of arriving la Cathédrale Notre Dame de Paris half an hour before it opened we got there just after if opened at 10am. As I said, that was un erreur grave.
The queue was already énorme but we joined it anyway because I really wanted to take Max and Kiara up the tower to see the gargoyles as well as the view and the bells.
The people below are queuing to get into the cathedral itself. Our queue was just as long but it was along the shady left hand side of the left hand buidling and we could sit down on a wall so it wasn't as hot.
While we waited we took it in turns to look in the over-priced shops selling hideous tourist tat from China.
Kiara spent her Euros on some Eiffel Tower earrings and I couldn't resist a cockerel brooch in the colors of the french flag. Tacky souvenirs are so hard to resist.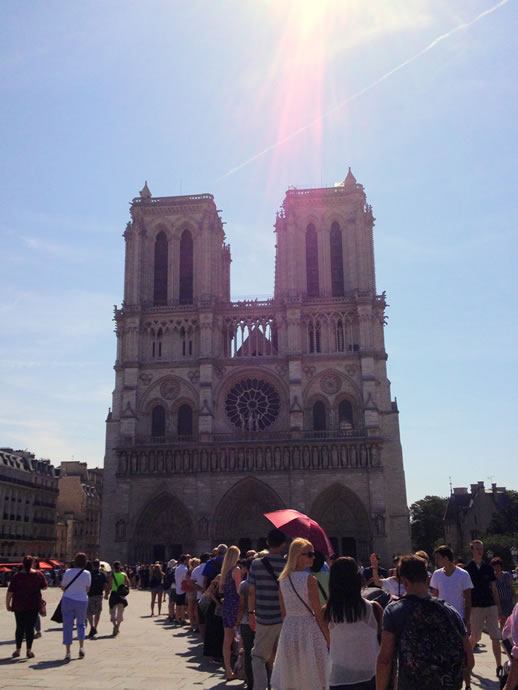 We waited an hour then we started the long climb up 387 steps to the top of the south tower. It costs €8,50 for adults and is free for children. Hooray!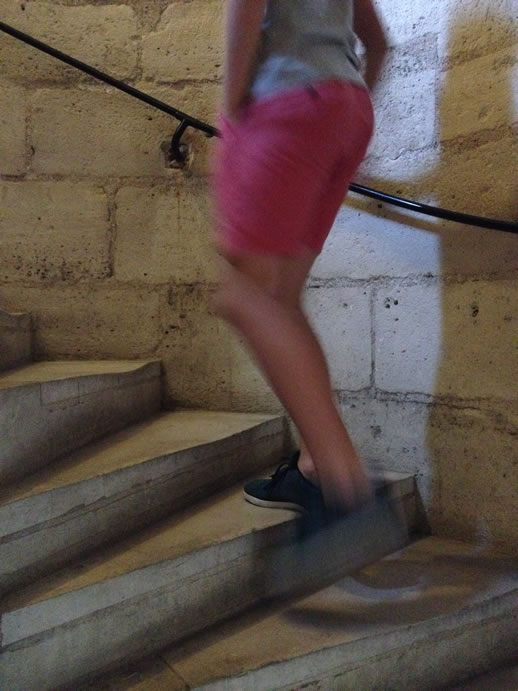 Climbing the tower of Notre Dame is one of my favourite things to do in Paris. The views are fabulous and you get up close and personal with this fantastic 13th century gothic building.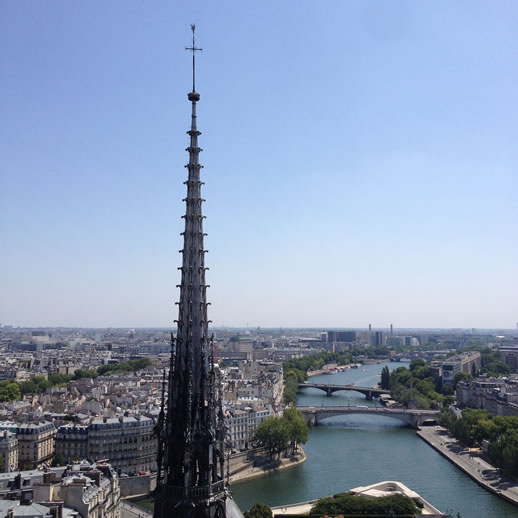 J'adore les gargoyles.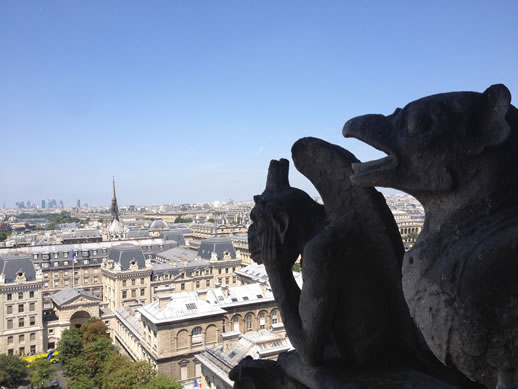 And you can take a classic photo with a gargoyle watching out over Paris and Le Tour Eiffel.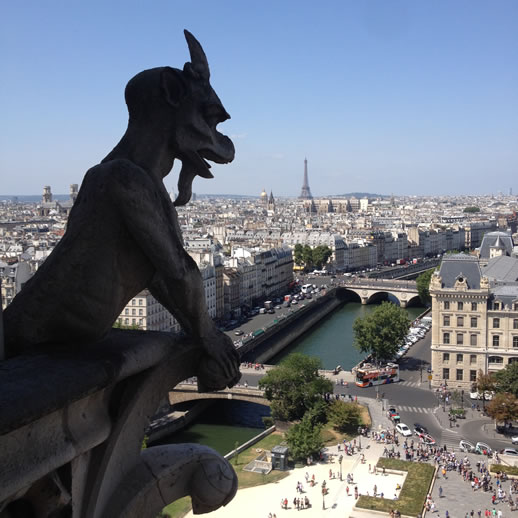 If you know where to look you can see La Basilique du Sacré Cœur de Montmartre on the hill top in the north of Paris. Can you spot the white domed roof of Sacré Cœur? I love the distant views as well as the elaborate detail of Notre Dame's exterior.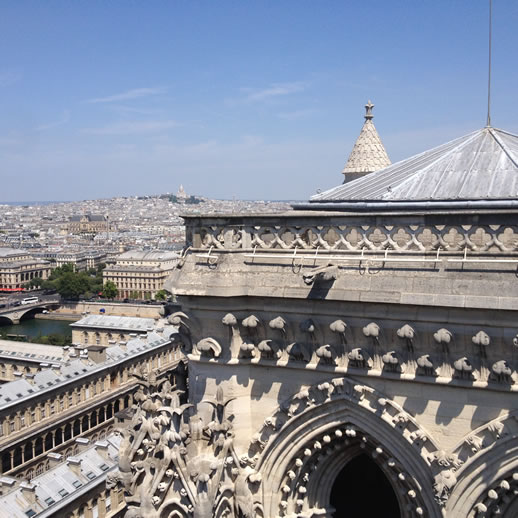 You can climb in through a narrow doorway to see the big bells of Notre Dame too. And when I say big I'm not kidding. The Emmanuel bell weighs 13 tonnes!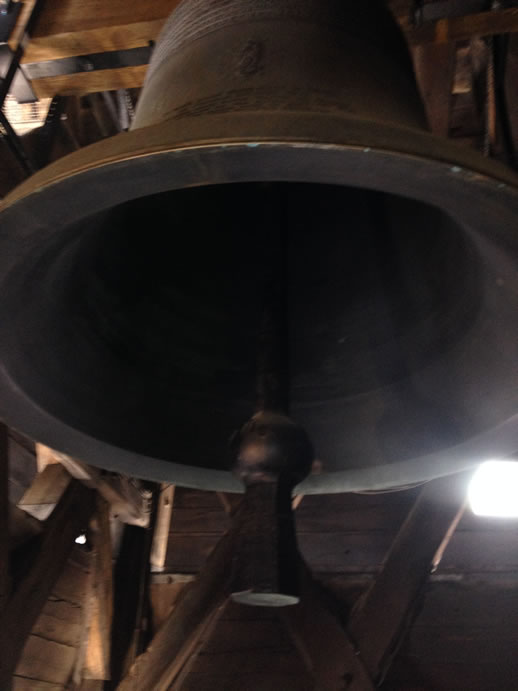 Having checked Notre Dame off our to do in Paris list we stopped for a well deserved icecream before continuing on our merry way along the river Seine. It's funny what kids get excited about and these rings seemed to excited them plenty.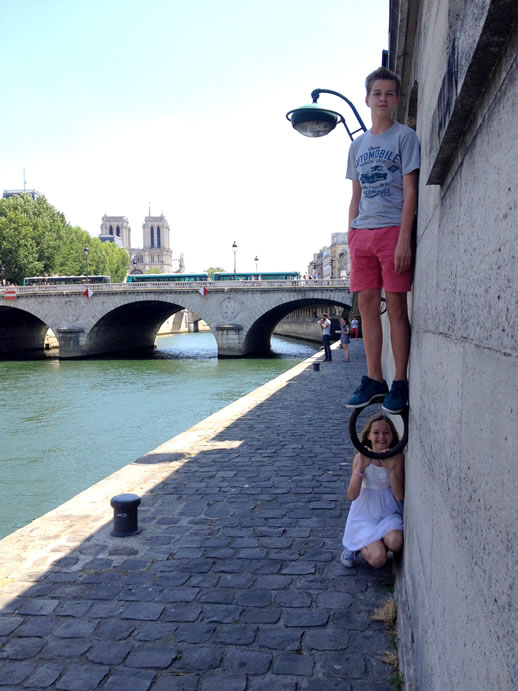 It's a lovely walk along the river to le pont des Arts, also known as the love bridge because of all the padlocks lovers have attached to it declaring their love.
Sadly the weight of all those padlocks threatened to pull the bridge into the river so most have been removed.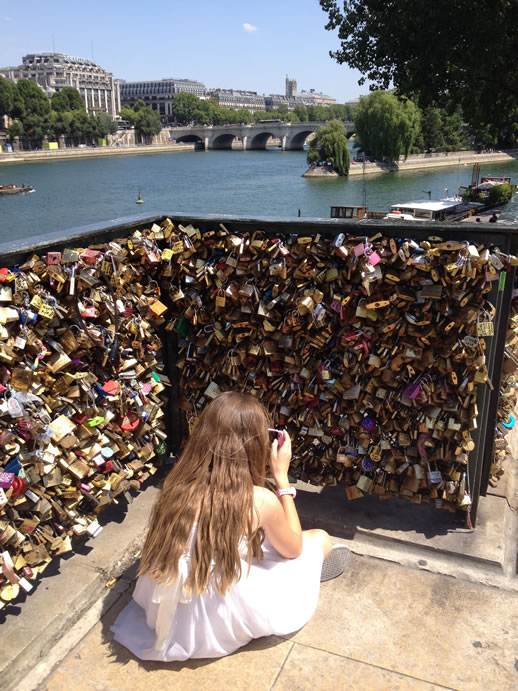 But it's still a beautiful spot to pose for a photo with someone you love and the street art is fun too.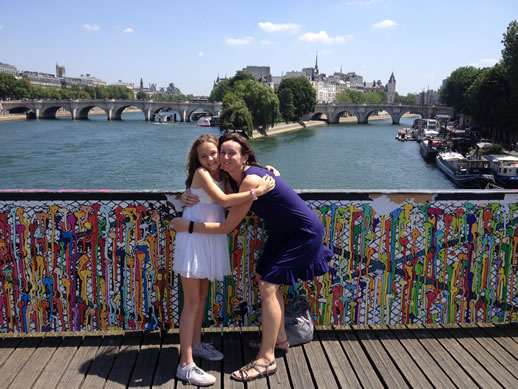 We walked into the courtyard at the Louvre and even the kids were shocked by how many people were taking silly photos where it looks as if you have your finger on top of one of the pyramids. Everyone was doing it! We took classic photos instead.
Now that's what I call am impressive building! Can you see the pyramid?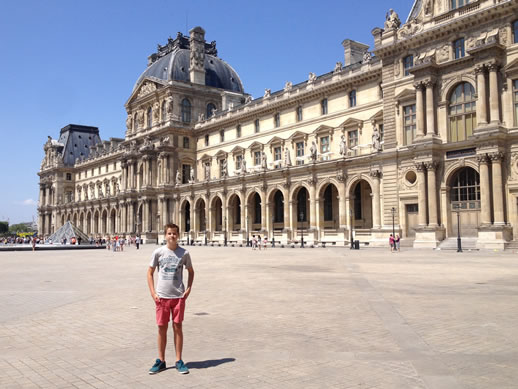 The kids were troopers and walked miles. I wanted to take them for a crêpe – sweet and savory pancakes they do so well in France – and had found a crêperie (crêpe restaurant) in the Marais area online.
On the way there we were treated to the sight of this eccentric Parisian on his special yellow vehicle. Is it a bike? Is it a car? I'm not quite sure but it was brilliant. The headlights at the front even had candles in them to light the way.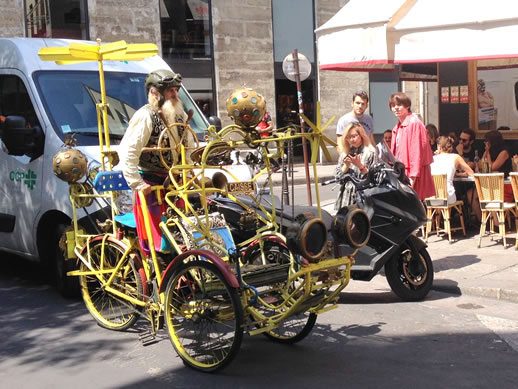 Finally we got to the crêperie and were dismayed to find there was a queue for entry. That was not what I expected at 3pm! But I really wanted the kids to have a crêpe (and to eat one myself!) so queue we did.
Poor Max was starving and I know how much he can eat so I sent him to an artisan pizza shop we'd passed to buy a pizza which he ate in the queue.
Then we had a typical rude Parisian experience. The restaurant patron (boss) came out and asked us if we'd be hungry enough to eat any crêpes and said we couldn't come in his restaurant if we weren't hungry. He shouted at us and abused us on the street in front of the whole queue of people.
Fortunately I speak fluent french so I was able to assure him that he would be amazed by how much a 14 year old boy could eat.
I was pretty cross though and fully intended to thank him for giving us a typically rude Parisian experience when we left but he'd vanished by then.
His crêpes were good though but I wouldn't recommend the place to you because the queue showed that the restaurant is a victim of its own Internet fame. Plus rude service and ridiculous prices…
However, Max loved his pear and chocolate crêpe. Kiara tucked into a sweet crêpe too while I enjoyed a smoked salmon savory crêpe.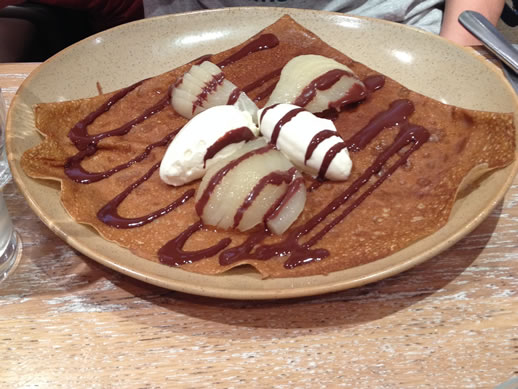 So that was our final experience in Paris!
Then we caught the metro (underground) to our hotel to pick up our bags, the high speed train to Charles de Gaulle airport and a plane back home to Australia.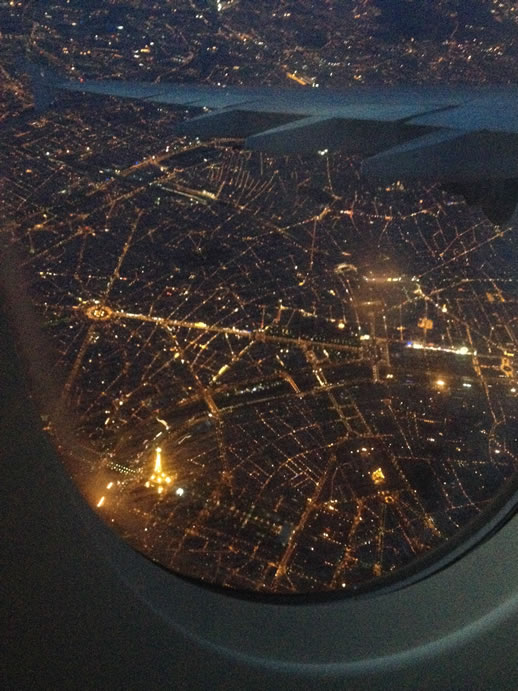 Au revoir Paris! You might be home to a few rude Parisians but that's all part of the experience and je t'aime toujours.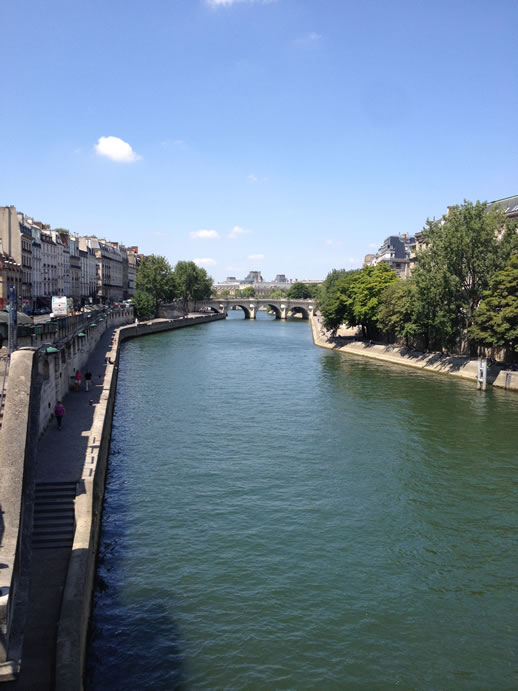 Travel Tips
Wear comfy shoes, carry a water bottle and walk as much as you can in Paris. You'll discover so much more and sleep well. This is how far we walked and climbed on day two in Paris: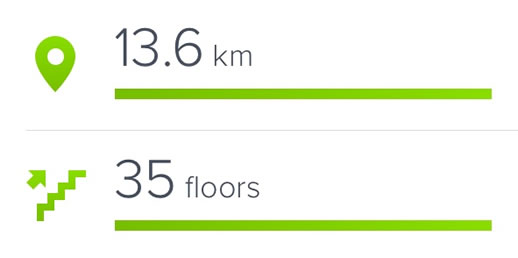 Well done kids!
We took the Eurostar from London to Paris and stayed at the Mercure Paris Gare du Nord was right opposite the train station.
Get the FREE Weekly Newletter
Get In the Hot Spot's free newsletter is a weekly injection of tips to help you be more adventurous, have more fun and feel fabulous. Click here now to get free weekly email updates.
Share This Story, Choose Your Platform!