A Night at the Mercure Paris Gare du Nord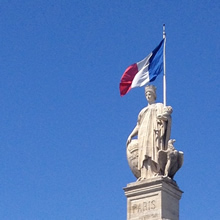 Visiting Paris and showing one of my favourite cities to my kids was a highlight of our recent trip to Europe.
We visited England for my mum's 80th so the trip was all about spending time with Mum and other relatives, catching up with old friends and enjoying the English summer. But I managed to tack on 28 hours in Paris as a bonus and I'm so glad I did.
My two youngest kids had fairly modest travel dreams; they wanted to go through the channel tunnel and they wanted to go up the Eiffel Tower. I wanted to show them my favourite places in Paris too – and there are many!
I haven't visited Paris since 1994 so I wanted to show the Candy kids as much as possible in a short time. That included the Seine and its bridges, climbing up the towers of Notre Dame Cathedral and wandering round Le Marais (the best area in Paris!) where I lived for 18 months.
But first we had to settle the big question of where to stay in Paris.
Given our tight itinerary, small family party and limited time schedule I had four key wishes for a hotel in Paris. On paper the Mercure Paris Gare du Nord  seemed to meet those wishes. Here's what we thought of our stay.
1. Close to Gare du Nord train station
I didn't want to waste time getting to and from our hotel. Since we would arrive on Eurostar at the Gare du Nord station that was the obvious place to stay. It's a major travel hub and would be an easy place to get the high speed train to Paris Charles de Gaulle airport for our flight back to Australia too.
How the Mercure Paris Gare du Nord hotel performed
I have a terrible sense of direction but when we popped out of the Gare du Nord station the hotel was literally across the street. It was ridiculously easy.
The great location saved us huge amounts of time and stress.
The metro stop was also right outside the hotel, literally two steps from the front door so we didn't even have to cross the road when we caught the metro to see the sights.
To give you an idea of how close the Mercure Paris Gare du Nord is to the station these photos were taken on my iPhone from the hotel door step.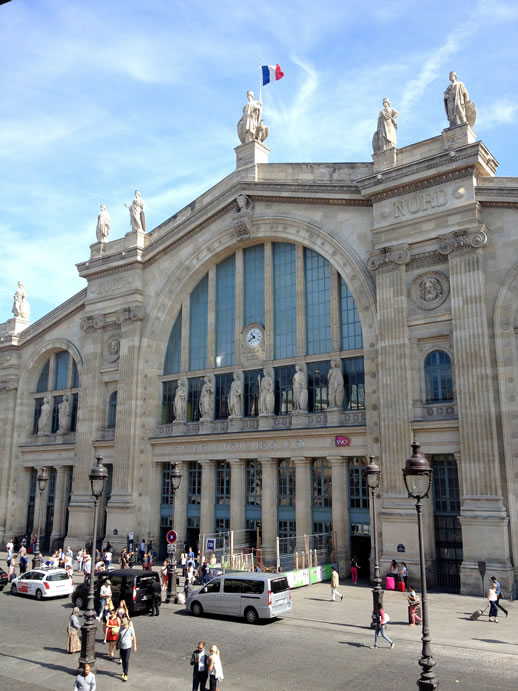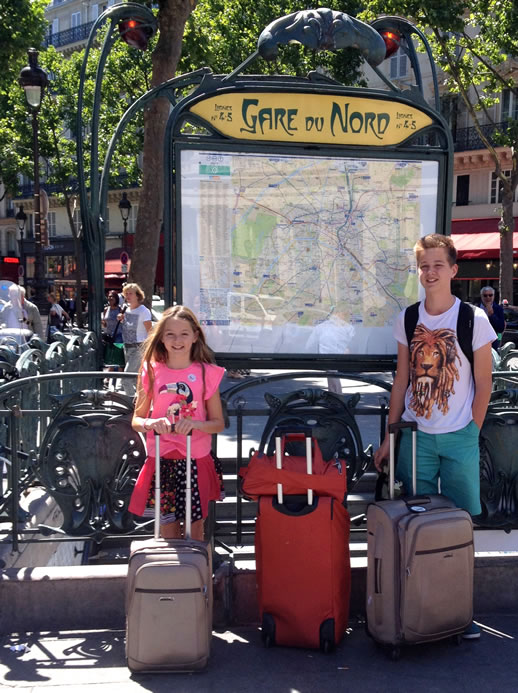 2. Big rooms
Because three of us would be sharing a room and we had a lot of luggage having a good-sized room was important. We wanted to have room to spread out and unpack and repack our bags.
How the Mercure Paris Gare du Nord hotel performed
Our Privilege room (slightly bigger than regular rooms) was very spacious with a huge bed for me and Kiara and plenty of room for the extra single bed for Max. We had heaps of space and could happily have spent time in our hotel room if we hadn't been so busy.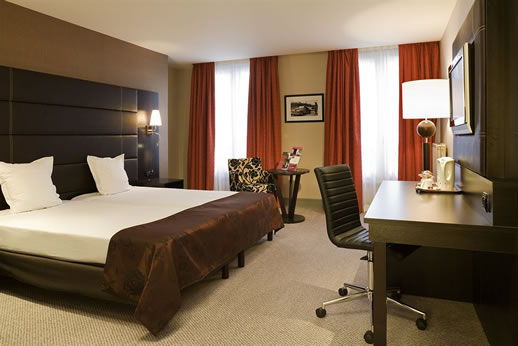 3. Buffet breakfast included
Paris is expensive and we'd be doing a lot of walking so I wanted the kids to have a big breakfast and not worry about the cost.
You don't have to have the buffet breakfast included in your room rate at the Mercure Paris Gare do Nord hotel but we did and it was worth it.
They had huge croissants, pain au chocolats and hot choclate for the kids. I found my Earl Grey tea and tucked into eggs, fruit, fresh baguette and salt free butter. Of course I had some cheese too. It's not what french people have for breakfast but given the size of that wheel of brie it would have been silly not to.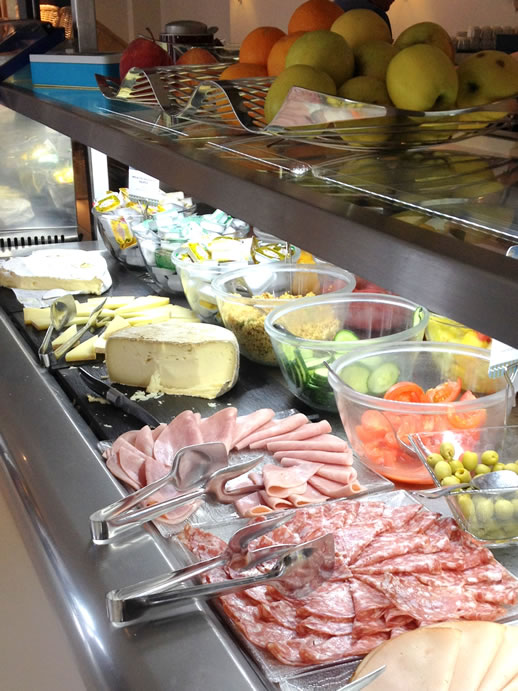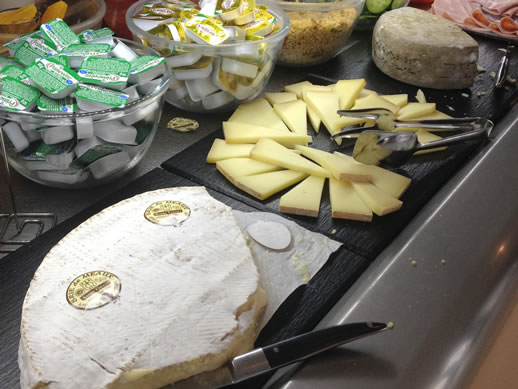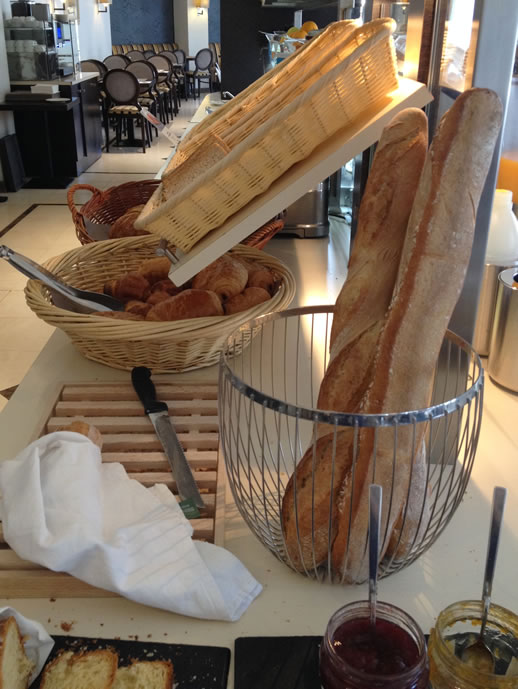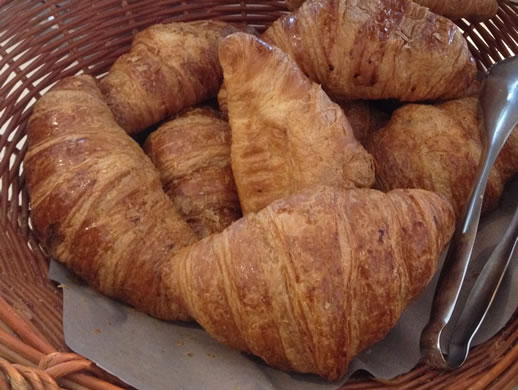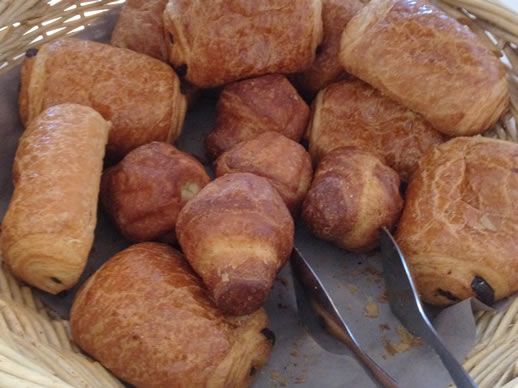 4. Late checkout
Late checkout was on my wishlist because our flight home was a 10pm. I wanted to be able to come back to the hotel and shower before heading to the airport and our 24 hour flight.
As with other hotels late check at the Paris Mercure Gare du Nord has to be arranged in advance. We weren't charged even though we held onto our room until 6pm and that made our stay easy.
So on our last day we didn't have to worry about packing and leaving bags in left luggage. After a long day sightseeing and walking 17km we came back to the room, showered and had a 30 minute power nap.
So we got to the airport clean and refreshed ready for our big journey.
Bonus balcony and epic views!
It's always sad to be stuck in a room with windows that don't open but our Privilege room had a teeny tiny balcony we could step out onto with amazing view of the station opposite. I loved that.
The Gare du Nord isn't the most famous landmark in Paris but it's spectacular and the tricolor flag fluttering on top signaled immediately that we were in France.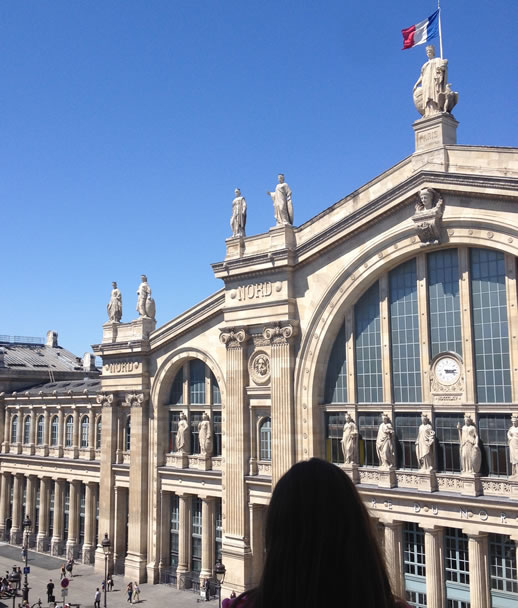 Mercure Paris Gare du Nord hotel was perfectly located with friendly staff. They were flexible to suit our needs for an extra bed and late checkout, and there was plenty of space to spread out.
This was a fun, safe place to stay in Paris. I'd definitely stay there again, either with or without the family.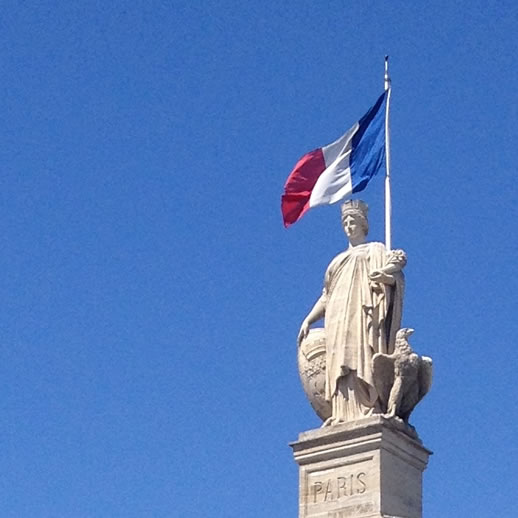 For me the great location was key at the Mercure Paris Gare du Nord hotel. Everything else was a bonus. What do you look for in a hotel? 
Stay Tuned!
Now you know where we slept in Paris maybe you'd like to stay tuned to find out what we got up to during our whirlwind tour!
Get In the Hot Spot's free newsletter is a weekly injection of tips to help you be more adventurous, have more fun and feel fabulous. Click here now to get free weekly email updates – and find out more about our adventures in Paris and elsewhere.
Share This Story, Choose Your Platform!