All Aboard Eurostar from London to Paris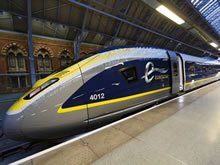 Even the black cab taxi driver was excited about our trip on the Eurostar as he drove us to St Pancras Station in London.
But he's not as excited as me about my first visit to Paris since 1994 when I lived there for 18 months. Or as excited as the Candy kids, Kiara and Max, who've never visited Paris before but are mad keen to see the Eiffel Tower since it's one of those travel icons which features in many a children's movie.
It's not just visiting Paris that's exciting. Getting there on the Eurostar is part of the package. In case you're wondering what the big deal is Eurostar is a high speed train that runs from London to Paris via through the channel tunnel.
Although Eurostar officially started running in 1994 I've never had the chance to use it before and, after a lifetime spent catching the ferry between England and France and enduring some rough passages, I'm thrilled to be travelling by train and experiencing the channel tunnel for the first time.
Trains are by far my favourite way to travel. I love that you can move around, see the world whizz by and eat or read without getting sick when you travel by train.
Best of all Eurostar is super fast so the joruney from London to Paris will only take us two hours and 15 minutes. We'll also avoid long journeys to suburban airports with the inevitable queues and waiting and be delivered from central London to the center of Paris in record time.
Now called St Pancras International the station has been upgraded since I last saw it. 20 years ago there was just one news agency shop but today there are a myriad of fancy shops and restaurants.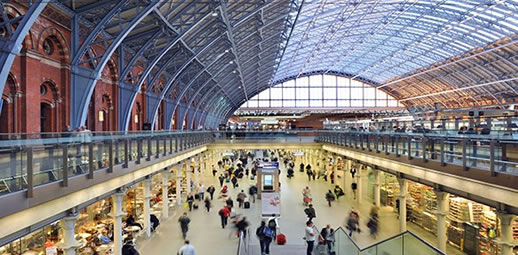 There's even a piano if you want to tinkle the ivories while you wait for your train and a champagne bar where you can celebrate your good fortune.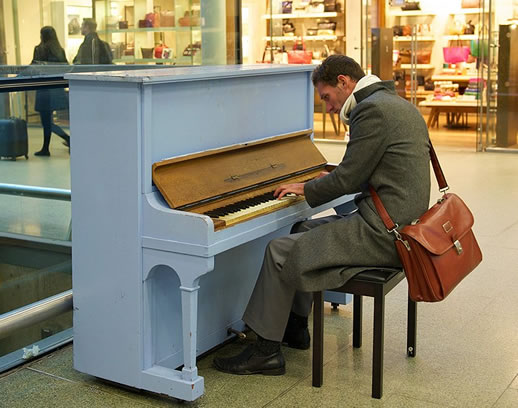 I don't know when I'll be back in England so we spend our last pounds of crayfish sandwiches and tuna sashimi to eat on the train. Max and Kiara may be only 13 and 10 but they're little gourmets who like to eat well.
Security is reassuringly tight but the Eurostar system runs like clockwork with multiple short lines set up for passengers. You only need to arrive at the station 30 minutes before your train leaves and we filter through security in no time.
Next we pass through British immigration and then, almost immediately, through French immigration where it's our first chance to say bonjour.
All Eurostar trains are 400 metres long, with 18 coaches and 2 power cars. Each train has 750 seats which is about the same as two Boeing 747s. Most of the seats are in Standard Class, where we'll be travelling, but Business Premier and Standard Premier are available for those who want to splash out.
Our seats are in carriage 18 which turns out to be the first carriage right at the front of the train. It's a 400m walk pulling our bags down the platform at St Pancras but I know we'll be right at the front when we get to Paris so we'll have a quick getaway.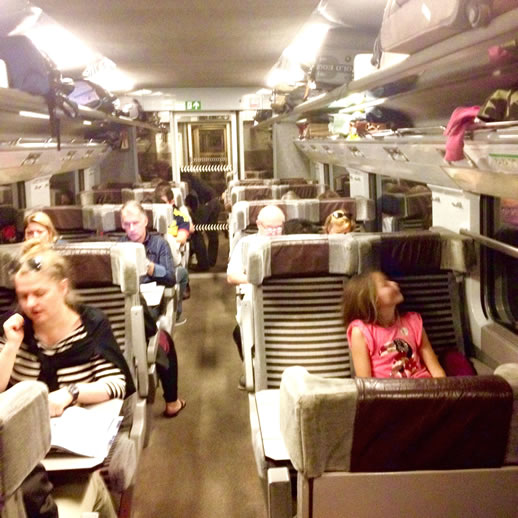 We're seated round a table with decent leg room and lots of space for our luggage, smaller bags and snacks. Let the adventure begin.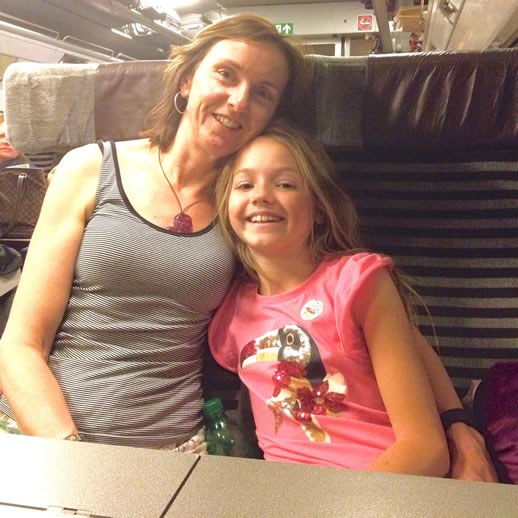 Eurostar travels at 300 kilometres per hour (186 mph) but it's a smooth ride.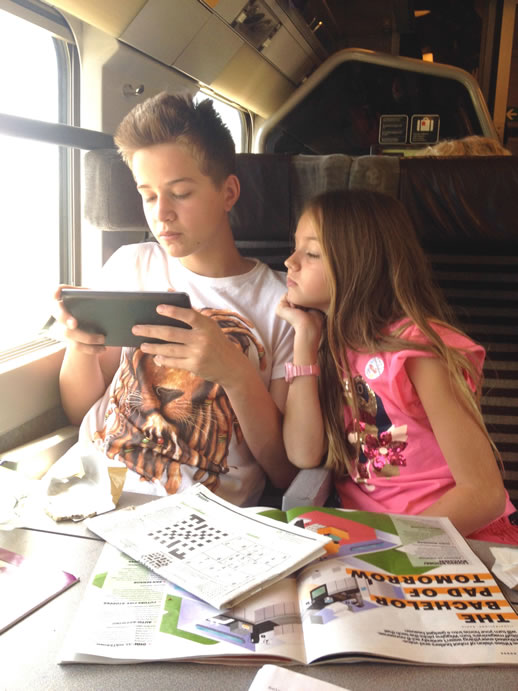 We feel our ears pop as we head out of London through some long tunnels but we're travelling in comfort. Our seats are clean and well designed and carriage 18 has good vibes. I guess everyone is excited about their Eurostar experience.
We tuck into the lunch we picked up at the station but there's a snack bar available and passengers in Premier seats can enjoy a three course meal.
Soon we enter the channel tunnel then get to contemplate our reflections in the dark glass for 20 minutes before we whizz out the other side into the French countryside.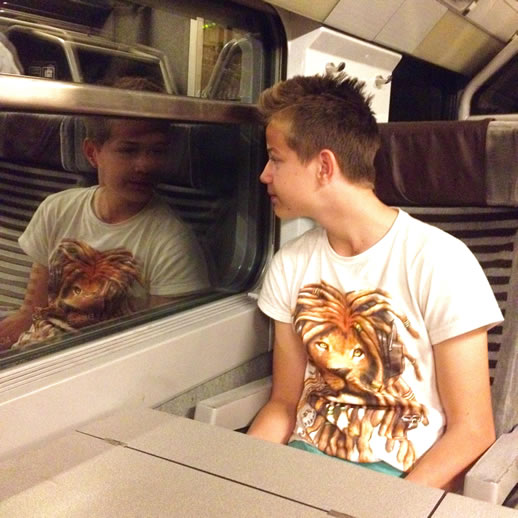 In the kid's section of Eurostar's rather good Metroplitan magazine we learn the deepest the tunnel goes is 195 meters below sea level and that there are actually three tunnels, two for trains with a smaller service tunnel down the middle.
You'd never know that unless you read the magazine though. From  inside Eurostar the chunnel is shrouded in mystery and we wonder how they ever built it.
The clocks are one hour ahead in Paris and I change my watch but am still surprised when we pull into Gare du Nord. Surely we can't be here already? But we are.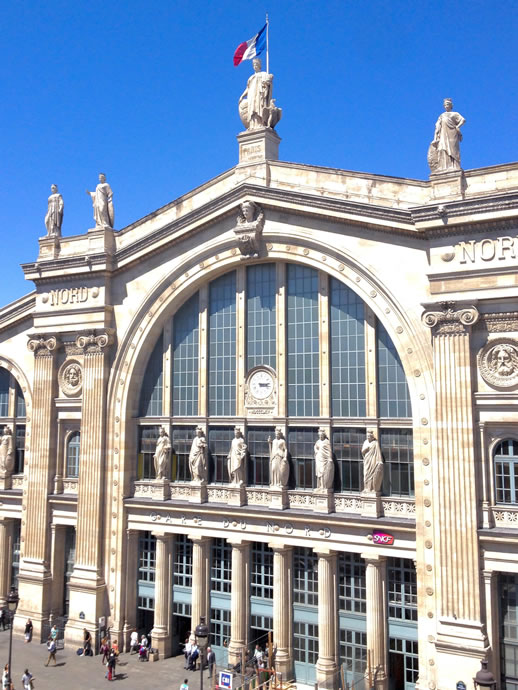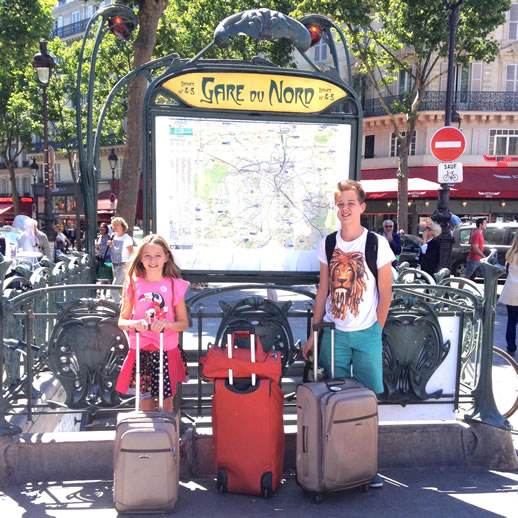 Our Eurostar experience is over too soon and it's definitely the best way to travel between Paris and London.
Eurostar  has been operating for 20 years now so I'm a bit late to hop on board but very glad I've done it now. Before we leave the Gare du Nord I vow to travel by Eurostar again one day. C'est fantastique!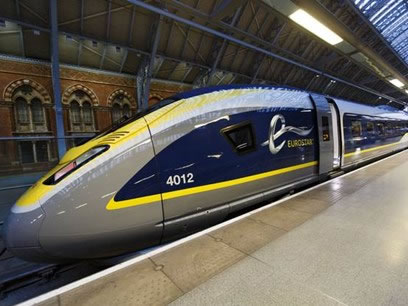 We travelled as guests of Eurostar. Have you travelled by Eurostar yet?
Photo credit: Some images from St Pancras and Eurostar.
Share This Story, Choose Your Platform!