10 Hot Readers and Their Blogs: Part 3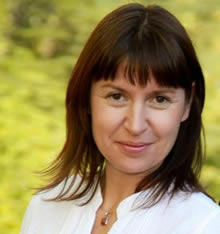 Following on from 10 Hot Readers and Their Blogs: Part 1 and Part 2 here are 10 more readers who I dearly appreciate. I can't mention every single reader, and my holey memory mean I'll probably miss many of you who should be here and kick myself for it, but I wanted to give it a go.
It's a small way of giving back and saying thank you to my dear readers for all your comments and emails. Your support and presence has kept Get In the Hot Spot alive for five years now and for that I'm eternally grateful.
There's no way I can truly thank my loyal readers enough, but I want to at least acknowledge how important you are in helping both Get In the Hot Spot and me to grow, improve and thrive.
If you'd like to connect with genuine, supportive and fun people online then these recommendations are a great place to start.
1. Jamila – I met the lovely Jamila (pictured above) at antenatal classes in New Zealand and we both gave birth to beautiful girl babies days apart of each other. I had the worst sciatica (a terrible lower back pain with shooting pains down my inner thighs) when I was pregnant but Jamila, then a yoga teacher and massage therapist, fixed it with her incredible healing hands.  I still remember that grueling pain and how her massage and the relief it brought seemed miraculous.
Now Jamila lives in Nelson, New Zealand. She's still in the wellbeing industry with a special focus on Ayurveda and weight loss. She has some brilliant health and wellbeing tips on her blog and is a genuinely caring person so if you need a bit of TLC check her out at Turning Point.
2. Carolyn writes about holidays to Europe and leaves me some lovely blog comments. She even wrote a great guest post for Get In the Hot Spot once about one of her favourite destinations, Lauterbrunnen in Switzerland.
Carolyn lives in Melbourne, Australia but she knows Europe inside out and even organizes tours there so if you're planning a European vacation check out her blog Holidays to Europe.
3. Lisa A is a very special non-blogging friend who's encouragement and comments over the years have fueled me forwards when it all seemed too hard. Which was often. She's hilarious and a great writer herself so I'm always nagging her to start a blog. When she does you'll be the first to know and I'll be an reader.
4. Susan leaves me funny, encouraging comments so it's always great to hear from her. She writes for All Assignment Help helping students in the UK and Australia get better results with their assignments. As a lifelong learner I love the sound of that.
5. Kylee's left me so many beautiful comments and I am so grateful to have her sunny, supportive presence in our community. She live in Canberra and blogs at Boomerang Jane although last time I heard she was struggling with a bit of writer's blog. I really hope she starts writing again and creating soon because we love hearing from and reading you Kylee. Either way I love having  her around.
6. Claire has left some amazing long comments in response to my blog posts about aging and middle aged spread recently which takes real courage. She's a positive ray of light and her blog name the Happiness Bank says it all.
Claire helps people find  and maintain sustainable happiness by consciously and proactively creating it in your life which sounds like the best job in the world. I have not doubt that she's very good at it.
7. Sue's from Vancouver and she's been commenting on Get In the Hot Spot for many years now. When I went to Vancouver a few years ago we met and hung out together for an evening which was a real pleasure. What I love about blogging is that it enables you to make deep friendships with people you've never met so when you do meet you can skip the small talk and get straight down to the important stuff. That's certainly what happened with me and Sue with lots of laughs along the way too.
8. Teresa – I  love the number eight but not as much as I love Teresa, my old writing buddy from Costa Rica who I've shared everything with. By creating our own private writing group we managed to get to know each other deeply in a short period of time and share things we'd never told anyone before.
Teresa has been commenting on Get In the Hot Spot for five years since I  left Costa Rica, moved to New Zealand and started blogging. I would have stopped writing a long time ago if it hadn't been for her incredible support. I am so very grateful to have Teresa and to have her on my team.
Teresa's also super funny and a great writer who I hope will start blogging one day because I love reading her stories.
9. Anne describes herself as a travel blogger and spreadsheet queen. She writes Pretraveller to help people travel with confidence and give them ideas and inspirations for travel.
Anne's a great person to know if you run any type of online business or are into social media. If those are areas you'd like to succeed in then look and learn by following Anne. You can find all her contact details on Pretraveller.

10.
Robin – Last but definitely not least comes Robin who's a dear friend and business mentor I connected with on Twitter many years ago. Robin is multi-talented; a highly successful business and sales coach who inspires me and many others to create commercial success and a brilliant photographer and artist whose first art exhibition in Manly sold out on the first night.
You can get inspired to business success by Robin on Facebook, Twitter and Google+ where he always has encouraging or thought provoking ideas to share. You'll find all his social media account details on his blog Robin Dickinson and, if you're in business and want to kick butt, I highly recommend his excellent book The Fortune 8.
Thank you all dear Get In the Hot Spot readers. Whether you are mentioned here or not please know that you are very special and I am grateful to have you in our community.
Want Unique Content You Can't Find on the Blog?
I've started an email series for subscribers only called How to Embrace Change at Any Age. It's only being sent to email newsletter subscribers so sign up here now (it's free) if you'd like to read it.
Share This Story, Choose Your Platform!