Things to See and Do Lauterbrunnen, Switzerland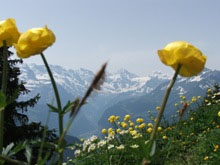 Looking for travel tips and things to see and do in Lauterbrunnen, Switzerland?
Today we're visiting Lauterbrunnen as part of our World's Best Travel Destinations series with European travel lover Carolyn Schonafinger as our guide.
Here Carolyn answers all your questions and spills the beans on the very best things to see and do in Lauterbrunnen, including where to shop, what to eat and how to get the most of your trip.
Why did I go to Lauterbrunnen?
I can't claim to have been entirely responsible for my 'discovery' of Lauterbrunnen. On my first visit to Europe as a 20 year old, I was doing the Aussie favourite, a Contiki tour. My then boyfriend (now husband) and I were on a fairly tight schedule so we chose a 14 day whirlwind tour which included a two night stop at Lauterbrunnen in Switzerland.
It was a short stay but one that left a lasting impression and since then I've been back four times so far.
Why do you rate Lauterbrunnen as one of the world's best travel destinations?
Lauterbrunnen is a typical Swiss chocolate box village nestled in a narrow valley which boasts over 70 waterfalls, and sitting at the foot of three of Switzerland's highest mountains, the Eiger, Monch and Jungfrau.
In winter, it's a skiers paradise with a huge choice of runs to choose from and all within half an hour. In spring and summer, the meadows are alive with wild-flowers, and active pursuits like hiking, paragliding and mountain biking are popular. I love the tranquility of the village and the fact you can almost reach out and touch the mountains.
Best Things to Do in Lauterbrunnen
I confess that I've only visited Lauterbrunnen during late Spring and Summer so I can't personally vouch for the skiing but given the huge number of skiers that descend on Lauterbrunnen and the surrounding area over winter, it must be doing something right! No matter when you visit Lauterbrunnen you can enjoy its two 'major' attractions – the Jungfraubahn, a cog railway to Europe's highest railway station, the Jungfraujoch, at 3454m, and a cable car ride to the Schilthorn where the James Bond movie "On Her Majesty's Service" was filmed.
Once the snow has melted, some of the other great things to do include the train ride to Schnyige Platte (an alpine garden high above the valley), visiting the two most popular waterfalls, Trummelbach Falls and Staubach Falls, enjoying a picnic in an alpine meadow and even taking a cruise on nearby Lake Brienz or Lake Thun.
Where To Stay in Lauterbrunnen
Each time I've visited Lauterbrunnen I have stayed at the popular Camping Jungfrau. The first time was on the Contiki Tour all those years ago and since then, Contiki have built their own dormitory for guests adjacent to the campsite. On future visits, my husband, children and I, stayed in cabins at Camping Jungfrau, booked through Eurocamp.
The camp site is well-located right on the edge of the village, only a five minute walk to the shops, and has its own mini supermarket, restaurant/pizzeria and bar, and tour desk.
Hostels and self-catering apartments are available and the Hotel Oberland, situated in the centre of the village, offers beautifully furnished rooms on a bed and breakfast basis.
Eating out in Lauterbrunnen
Eating out can be very expensive anywhere in Switzerland so picnics and self-catering options are a good way to enjoy the local specialties without blowing the budget. If you do feel like treating yourself to a meal out (and you're visiting in spring or summer), I recommend dining at one of the many restaurants with outdoor terraces in nearby Wengen or Murren.
Veal is a popular local dish and is delicious served with rosti (fried grated potatoes). Eating it on a sunny outdoor terrace drinking in the views of the surrounding Alps just adds to the enjoyment.
Shopping in Lauterbrunnen
If you're after haute couture, don't visit Lauterbrunnen! You will, however, have plenty of choice if you're looking for ski clothing or equipment, or anything required for mountain biking and hiking.
There's also a decent supply of souvenir shops where you can purchase a supply of postcards, cow bells, Swiss Army knives and other Swiss souvenirs. One of my favourite purchases is a cute milk jug made to look like a cow – complete with udders!
Special Events in Lauterbrunnen
The big event for the year is the Lauberhorn ski race, a round of the Ski World Cup, which is held at nearby Wengen during January.  Accommodation is at a premium during the event so if you're heading to Lauterbrunnen for a ski holiday, you'll need to avoid the Lauberhorn dates or book very early.  Lauterbrunnen and the surrounding towns are abuzz during this world class event.
Getting Around
A car is definitely not a necessity if you plan to visit Lauterbrunnen – in fact, once you arrive you probably won't need your car at all.
The Swiss Rail service is excellent and Lauterbrunnen's station is suprisingly busy for such a small village. The nearest major station is at Interlaken, a 20 minute ride away, with connections from all of Switzerland's major cities and a TGV service direct from Paris soon to start. Lauterbrunnen station is the change station for trains heading to Wengen and onwards to the Jungfrau.
Getting online
Most accommodations offer WiFi or Internet connections (either free or for a fee) and an Internet cafe is situated in the centre of the village. Customers purchasing food or drink can use the WiFi connection for free or you can purchase the amount of connection time you need.
My best memory of Lauterbrunnen
My best memory of a holiday in Lauterbrunnen is walking from Murren to Winteregg where we caught the train and then cable car back down to Lauterbrunnen. A walking path meanders through the alpine fields and even through farmers' paddocks.
A sign caught our eye 'frischer Joghurt' and we wandered into a barn where the farmer's wife sold us tubs of freshly made yoghurt made from the milk of the cows that were munching on grass just a few feet away. Eating the yoghurt as we continued our alpine stroll was one of the most memorable parts of our trip. It was pure bliss!
This is a guest blog post by Carolyn Schonafinger, blogger and founder of European travel website Holidays to Europe.  Carolyn blogs about many destinations in Europe and offers travel advice to those planning a European vacation. You can find Carolyn on Facebook and Twitter.
Would you like to visit Lauterbrunnen? Or maybe you have more travel tips about Lauterbrunnen or Switzerland to share? 
Share This Story, Choose Your Platform!