Teaching English in Lao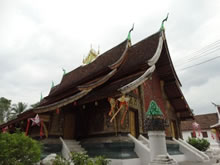 Considering teaching overseas as a way to see the world or pay for your travels? Here's an interview I did a few years ago which has some useful insights into the life of a TEFL teacher in Lao which is still one of my favourite countries.
I've changed and updated it a bit here.
Do you mean Laos?
Most people seem to call it Laos but the official name for the country is the People's Democratic Republic of Lao. Lao people call it Lao (not Laos) and so do I.
Where is Lao?
It's a landlocked country in South East Asia bordering Thailand, Vietnam, China, Myanmar and Cambodia. Along with Thailand and Myanmar, it's remote northern hill area forms part of the area know as the Golden Triangle, once known for it's poppy and opium production.
What's good about teaching in Lao?
The people are kind, friendly and generous. Even Vientiane, the capital, is quite compact and has a small town feel. Lao is also a very traditional country so you get to really experience life in another culture. The people are Buddhists and visiting the temple is commonplace. There are also lots of small, local festivals and events which the locals celebrate by getting together with friends and feasting.
Was it fun teaching in Lao?
Yes. I was teaching customs officials which sounds like a very dry bunch and included the head of Customs and Immigration.  But Lao people have a great sense of humour and love to laugh.
I always try to make my lessons fun because people learn more when they're having fun and we had lots of laughs in and out of the classroom since my students constantly invited me to go out and about with them or to visit their homes.
What's the food like?
When I lived there over 20 years ago there weren't any imported foods. I was a vegetarian so I ate just rice and vegetables and lost a lot of weight.
I cycled everywhere in extreme heat and kept getting thinner and thinner because there just wasn't junk like chocolate or chips to pack in the calories. Finally, I discovered chocolate flavoured soy milk drinks which I started glugging constantly. That helped me stay at a reasonable weight.
But it's easy to be vegetarian because everyone understands the concept of vegetarianism since monks are vegetarians and the food is good. Very fresh and healthy.
What did you do on the weekends?
I spend time with my students and another young teacher who I lived with. There was often a festival to go to or they'd take us to visit a lake or waterfall.
Most Friday evenings we'd visit the temple, burn vast amounts of incense and pray. Then we'd go to a local bar and spend the rest of the weekend eating, drinking and socialising. Life was simple, easy and fun. Lao people love to drink whisky and we joined them in that!
How did you get an  English teaching job?
I just turned up in Lao and started looking. I think that's always the easiest way to get a job.
After the director had met me and tried me for a trial period they organised my visas. Most good language schools should take care of their teachers like that.
What are the hot spots to visit in Lao?
Luang Prabang in northern Lao is incredible. It's still one of the most fascinating places I've ever been to in the world. It's a very spiritual place with amazing temples and markets.
I was lucky enough to revisit a few years ago to run the Luang Prabang Half Marathon and still loved it. We also visited an elephant refuge and played mahout for a day which was brilliant.
I even had a reunion with some children I'd only met for a few hours 25 years ago!
Join Thousands of Hot Readers
Get in the Hot Spot's newsletter is a weekly booster to help you be adventurous, have more fun and feel fabulous in your forties and beyond.
But don't just take our word for it. Click here to subscribe now (for free) and find out for yourself.
Share This Story, Choose Your Platform!