Luang Prabang: 11 Reasons You'll Dream of it Forever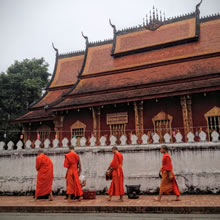 It's dangerous returning somewhere you loved the first time around; the destination might have been spoilt or just prove underwhelming on a second visit.
But UNESCO World Heritage Listed Luang Prabang captivated me when I first visited in 1992 and I've always dreamed of going back there. So when Sofitel Hotels invited me to take part in a the Luang Prabang Half Marathon I grabbed the chance.
Of course, I often dream of going back to stay in a Sofitel Hotel because we all enjoy luxury. But, despite the lure of the luxury hotels I'd be staying in, accepting the trip would mean weeks of hard training, not to mention running 21km (14 miles) on Half Marathon day.
I thought Luang Prabang was worth it; there aren't many places I'd go to those extremes for, but Luang Prabang is one of them.
However, I had serious misgivings about revisiting Luang Prabang. On my first visit in 1992, I was the only traveller in town and Luang Prabang was a sleepy backwater.
Back then, Lao travel visas cost US$250 which kept most travellers away. There were no international flights to Luang Prabang and just a handful of vehicles in the area, all owned by government and charitable organisations like the UN.
Fast forward to 2016 and there are 10 international flights a day and hundreds of tourists, not to mention cars, tuktuks, scooters and even trucks.
So I wondered how sleepy little Luang Prabang would have weathered these changes and if, 24 years later, it would still have the same quiet charm and unique combination of ancient culture, classic architecture, stunning scenery and friendly people.
Happily, Luang Prabang did not disappoint. I loved it just as much as ever and, now I'm home again, I'm still dreaming of another visit.
Staying at the boutique 3 Nagas Hotel and spending time by the pool and in the Spa at Sofitel Luang Prabang was fabulous. But Luang Prabang has attracted these five star hotels because it's a five star destination. So let's focus on the town and learn more about the hotels as we go along.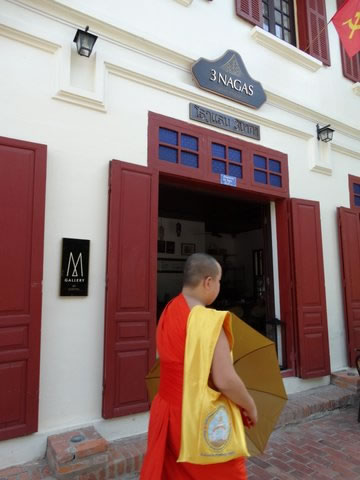 What's so special about Luang Prabang?
1. Unesco World Heritage Listed
The Unesco video below will give you a quick overview of what makes Luang Prabang special enough to be listed by Unesco as a world heritage site.
Like most visitors, Unesco appreciates that the town is:
an outstanding example of the fusion of traditional Lao architecture and buildings and those built by the European colonial authorities in the 19th and 20th centuries;
the architecture is well preserved;
the built heritage of Luang Prabang is in perfect harmony with the natural environment.
the numerous temples, including Wat Xieng Thong, which dates from the 16th century, are among the most sophisticated Buddhist temples in Southeast Asia and are richly decorated with sculptures, engravings, paintings, gilding and furniture;
the natural spaces in town are also well preserved;
the town retains a high degree of authenticity with Buddhist cultural  and religious traditions. Ancient rites and ceremonies are still alive and practiced diligently, both by the hundreds of monks who live in a wat and the local population.
2. Spiritual town
Legends has it that the Buddha smiled when he rested in Luang Prabang during his travels and prophesied that it would grow to be a rich and powerful city. So the town grew to become the centre of Buddhism for the region and home to so many temples and monks.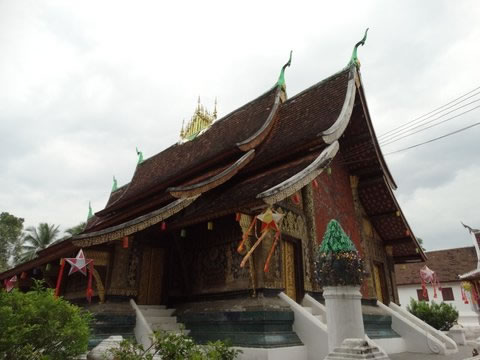 3. A living museum
In Luang Prabang, ancient traditions and ceremonies still take place. For example, every day at dawn, monks stream out of their temples and collect alms from the locals.
The alms are a donation of food for these monks who have no possessions of their own and live off such charity. Traditionally the monks are given sticky rice which they carry back to their temple for breakfast.
As well as supporting the monks and the temples, donating alms is viewed as a way to gain merit from Buddha. It's a beautiful ceremony which passes right outside the 3 Nagas Hotel where guests can take part in the ceremony too or, as I did, simply watch the monks walking through town and try to get the perfect shot.
4. Royal heritage
The Lao Royal Family ruled the Kingdom of Laos from 1904 to 1975 when Laos became the People's Democratic Republic of Lao under communist rule. Lao PDR remains one of the world's few communist countries with none of the associated mistrust or unfriendliness.
The royal buildings are well preserved in the center of town and you can visit the Royal Palace which includes a museum.
The whole town is full of royal history. For example, the 3 Nagas Hotel is housed in two buildings, Lamache House, which used to be the royal ice creamery, and Khamboua House, which was built for the king's counsellor in 1903.
3 Nagas have continued the tradition and still make homemade ice cream which you can enjoy in their little restaurant in Lamache House. It's a charming building with the Lao and communist flags fluttering above red wooden shutters and an old Citroën parked outside to add to the olde worlde atmosphere. French architecture in a tropical setting enchanting.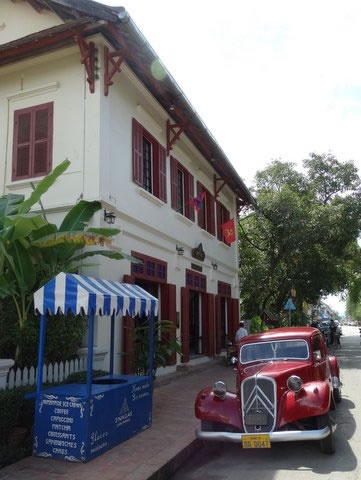 5. Capital city
From the 14th to the 16th century Luang Prabang, formerly known as Muang Sua, then Xieng Thong,  was the capital of Laos.
What we call Laos was then the powerful kingdom of Lane Xang, meaning the Kingdom of a Million Elephants. It held great wealth and influence in Asia because of its strategic location on the Silk Route.
6. Spectacular location
Situated in mountainous northern Laos, Luang Prabang is built on a peninsula formed by the mighty Mekong River and the tributary Nam Khan River. The town is surrounded by deep, muddy rivers and lush green mountains.
7. Small town charm
Although it has grown hugely since I last visited, Luang Prabang is still small with a population of 16,000 people including around 1,200 monks who make up about 10% of the population.
You can borrow a bike at the 3 Nagas Hotel and see the whole town on a leisurely bike ride.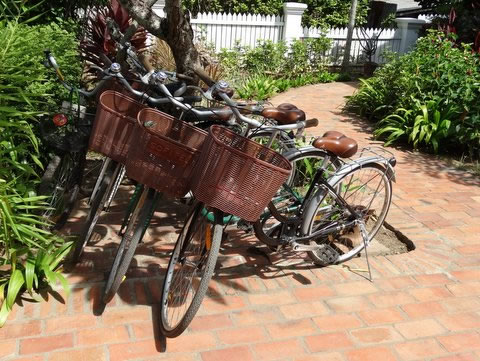 8. French influence
Lao was a french colony and part of French Indochina from 1893-1953. It still holds a strong French influence. Many older people speak French and French bread is a staple along with rice.
Luang Prabang is a beautiful mélange of Lao and French culture as was my room at the 3 Nagas Hotel.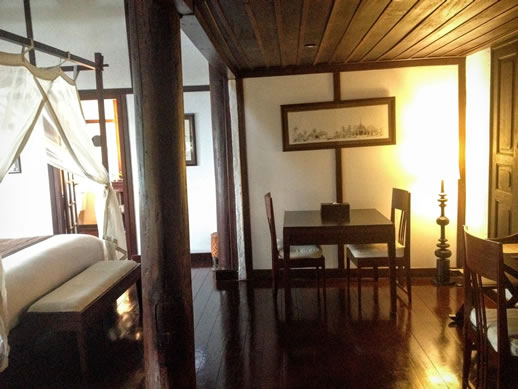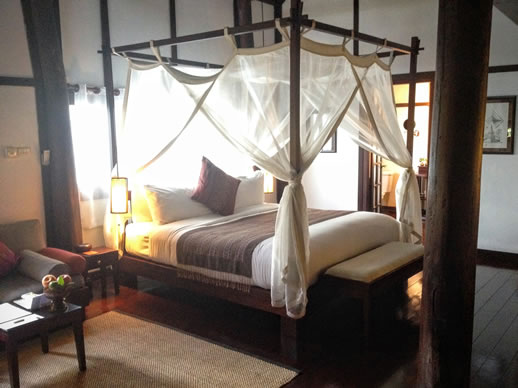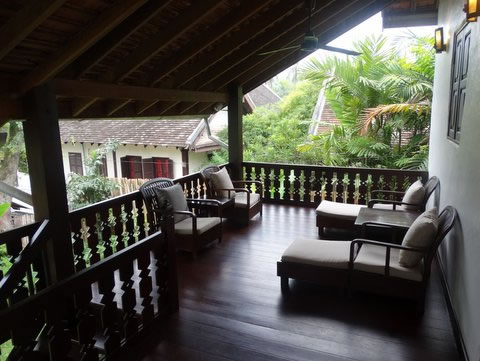 9. Things to do
Since Luang Prabang is so remote, it's easy to get out of the town into the mountains for day trips to visit elephant camps, waterfalls or go jungle trekking.
Apart from visiting the temples in town you can also:
Climb Mount Phousi for views over the Mekong River, the town, and surrounding mountains.
Visit the Uxo Museum to learn about how Laos was affected by the Vietnam War and why it's the most bombed country per capita in the world. The Museum helps raise funds to clear Laos of the bombs dropped by US forces during the war. Even though the Vietnam war ended in 1975, the cluster bombs still maim and kill around 300 Lao children and adults every year.
Visit the morning market on a tour with Sofitel's head chef and take a Lao cookery class at the Sofitel Hotel.
Shop – for silver, handicrafts and beautiful Lao silk dyed with natural products and intricately woven.
Go to the spa – the Sofitel spa is housed in an old wooden building and offers divine treatments including massages, facials, manicures, and pedicures. It's an experience not to be missed.
Take part in or watch the dawn alms giving ceremony.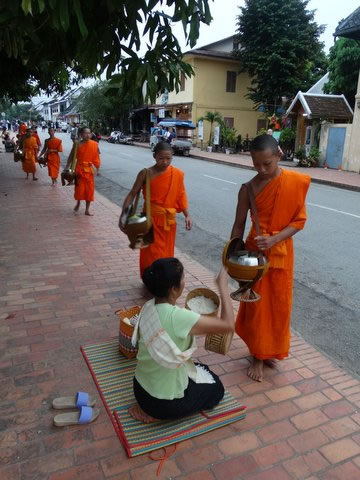 10. Lovely locals and hill tribes
The welcoming, friendly, respectful and laid back locals make Laos a truly special destination.
Furthermore, Luang Prabang is still the main hub for local hill tribes or ethnic minorities of the Yuan, Hmong and Khmu tribes who still live in the remote mountains. Each of these tribes has their own distinct language and cultural identity.
11. That certain je ne sais quoi!
With the muddy Mekong River on one side, the Nam Khan River on the other and 34 ornate temples in between, the little town of Luang Prabang is a magical blend of spirituality, culture, and history set in stunning scenery and populated by warm, welcoming people.
Laos was colonised by France, and Luang Prabang certainly has that je ne sais quoi – a special atmosphere you just can't put your finger on. Whatever it is, you'll always want to experience it again.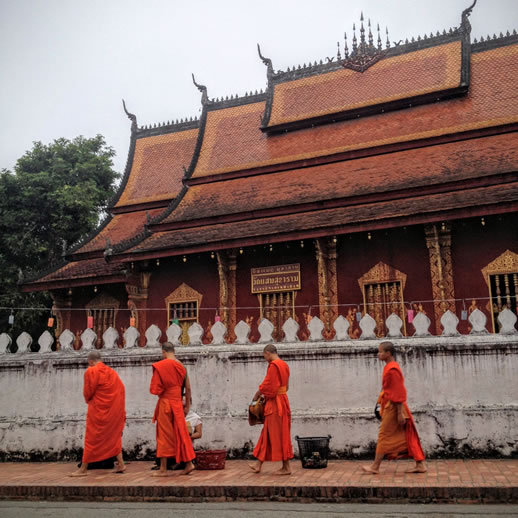 I was a guest of Accor Hotels and flew Scoot business from Australia to Bangkok via Singapore.
Accommodation recommendations
Sofitel Luang Prabang is just outside town and has a pool so it's the best choice if you have children, or if you want to combine a visit to Luang Prabang with some rest and relaxation.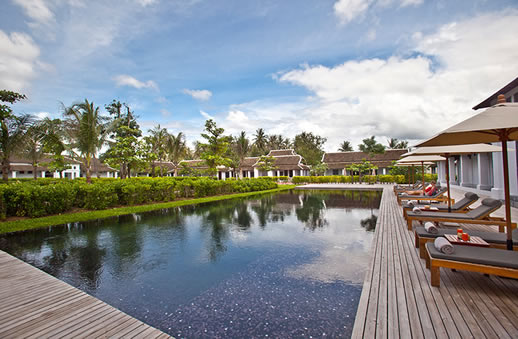 If you're visiting Luang Prabang for a cultural visit or romantic escape stay at the boutique 3 Nagas Hotel. The original rooms and architecture will give you the colonial experience and it's right in town with the alms giving ceremony literally on the doorstep, and many of Luang Prabang's most impressive temples and sights just a short walk away.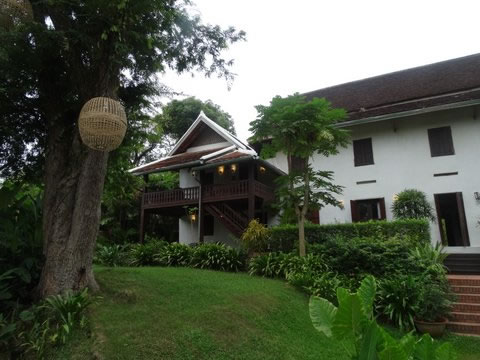 Find out more about Sofitel Luang Prabang and the 3 Nagas Hotel or book a room at the Accor Hotels website.
Want More Travel and Wellbeing Inspiration?
Stay tuned for more travel stories, ideas and inspiration including Thailand and Laos. Get free email updates from Get In the Hot Spot – a weekly injection of tips to help you find fun and adventure. Click here now for free updates.
Share This Story, Choose Your Platform!