52 Exercises #43: Surfing Emotional Waves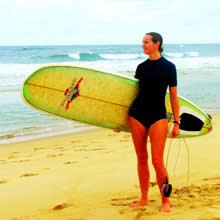 Sometimes my heart sinks at the thought of the weekend stretching ahead with all three children at home, the house a mess and work piling up. But Sundays should be fun days so I feel that sinking feeling and get up early anyway.
I want to take the kids to the beach before it gets too hot and sunburny and this 52 Exercises quest to heal myself and beat depression. bad moods and anger with exercise and mindfulness is keeping me on track. I'm overdue to do another form of exercise and today surfing is in the calendar so surf I must.
It's been two years since I last surfed but I didn't consciously stop surfing, it just happened. Surfing wasn't as fun for me in Australia as it was in Costa Rica. The Noosa waves are crowded, some of the other surfers are unfriendly to newcomers and the surfing group I used to surf with weekly fell apart because we all got too busy at work.
Jobs, parenting and the household drudgery have a nasty habit of taking us away from the things that we enjoy but I love the ocean and the feeling of freedom and adventure surfing brings, so it's time for me to get back on my trusty long board.
I feel bad though because my mum is visiting from England and she's sitting on the beach while we play in the waves. And it's her last day in Australia which is sad because we never know when she'll come again.
I always look forward to her annual visit but it's tricky too. What with work and the kids it's hard to give mum the company she craves and fit in the time alone and meditation that keeps me sane. Plus of course I feel extra guilty this time because I was in Zimbabwe for one week of her visit leaving Rich, Mum and the kids to fend for themselves. I should probably get the worst daughter in the world award for that and guilt is a horrible feeling.
Family relationships are hard for most of us and I have no idea who Ram Dass is but this quote from him is utterly brilliant:
"If you think you're enlightened go spend a week with your family."
Sadly I'm just enlightened enough to know how far from enlightenment I am and my teenaged son agrees. Since family car trips tend to elicit a lot of bad feelings I was explaining mindfulness, meditation and dealing with negative emotions on one journey when the teen piped up:
"It'll be great when you're the next Dalai Lama Mum."
Which pretty much sums up my family's reaction to my valiant attempts to maintain balance and stay sane and the gulf between where I am now spiritually and where I want to be.
Fortunately, because he's a teenager Luke doesn't like to get up early so this morning it's just me, Mum, Max and Kiara at the beach. We're meeting friends and they're already in the sea when we get there and I hurry to join them before I can change my mind.
The water is cold and I'm being a complete wuss about getting in but then a big wave soaks me and it's too late. I hop on the board and paddle out to my friend.
The waves are small and sloppy, not great for surfing but great for new surfers, ageing surfers and people who wouldn't feel confident going in big waves. And I am all of those.
But today I feel right at home in the water and paddle straight out to the back where I can sit up on my board and watch the waves roll in without them breaking on me. There's no fear, no hurry and no expectations.
So I take my time, paddle around, watch the waves to see where they're breaking and look out for the best spot.
When a wave comes I paddle valiantly along to catch it but the wave carries right on by without me. The waves haven't got much power so that happens again and again until finally I paddle hard enough to catch a ride.
I'm in no hurry to stand up, more worried about avoiding a blow to the head or some other horrible injuries than in actually surfing proper. So the wave takes my board while I hang on tight and make no effort to stand up. But then I'm still moving and still on the board so I get up on all fours, gripping the board tightly. It wobbles from side to side and I slowly get to my feet with all the grace of an elephant after a mud bath.
Then I'm standing up and my friend sees me really surfing which makes it feel even better.
We paddle round in the waves some more and Max comes out to join me. It's the first time we've been out back together but I'm not worried because the waves are so gentle no harm could come to us.
We sit up on our boards and look around. The sea is sparkling, I can see Mum and Kiara safe on the beach and Max is by my side. My heart swells with happiness from the beautiful world I'm part of and the joy of being able to do something with my son that we both genuinely enjoy.
I'm still learning to deal with my negative emotions in healthy ways, by acknowledging them and riding them out instead of repressing them or reacting to them, and now it's a pleasure to ride out this feeling of joy.
Like the ocean's waves this feeling will pass because emotions, both good and bad, never stop coming. Like waves on the sea, they're just part of life, constantly changing and a sure sign that we are fully alive.
Life throws wave after wave over us but fighting them tires us out. When life gets rough all we should do is breathe and concentrate on staying afloat.
How do you ride out tough times?
Are you a Hottie?
If you're enjoying Get In the Hot Spot and the 52 Exercise quest please take a moment to share this post on Facebook, Twitter, by email or any way you please using the buttons below. Thank you.
For free weekly email updates from Get In the Hot Spot click here to subscribe now.
Share This Story, Choose Your Platform!