5 Tips to Make Aging Less Painful on Beach Vacations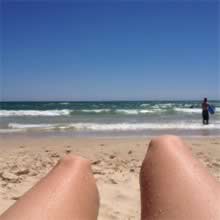 My mother and auntie claim to have a suicide pact. Both former nurses who have cared for and watched patients and parents fall into a sad decline of incontinence and senility, they say that they've agreed to kill each other when their old lives are no longer worth living because they cannot care for themselves.
It's not a depressing topic, just something they used to discuss in a matter of fact way.
So here are my thoughts on aging and how to make it a less painful experience, especially when you're at the beach surrounded by scantily clad young beauties which is when the pain of aging hits me hardest.
1. Think about death to appreciate life
They were children during World War II who grew up in England with rationing, always hungry in their boarding schools, grateful even for bad food. Now they are both well fed, overfed and as, they say themselves, fat old ladies in their mid-seventies. It's hard to imagine how, if ever, they would action this suicide pact. Would my mother hold a pillow over Auntie's face as she slept? Would my Auntie carefully save my mother's pain killers until she had enough to one day administer a fatal dose?
Now I am getting old too and starting to think about the same things. Some friends have already died of cancer or aggressive forms of leukaemia which spirited them away from their young families practically overnight. I wonder if it is better to know you're dying and have a year or two to prepare for death or to have it suddenly sneak up on you and take you out before you really know what's hit you?
2. Don't age gracefully
When I was young I always asked my dad what age he liked me best at. My brother was younger and at some stage it seemed to me that I had fallen from grace and stopped being Dad's favourite. I wanted to trace when that had happened and why.
Now I am 44. My father is dead but my body is deteriorating daily, almost before my eyes, probably accelerating in its decline in the final half of my life. Arches are falling, moles and skin tags appearing where none were before and wrinkles breeding and deepening.
The SKII cream I bought back from Japan helps fight the wrinkles. The face of SKII is Cate Blanchett, a Hollywood actress who was born with blemish-free iridescent skin and who probably gets weekly facials and skin peels.
It's my aging brain that worries me most. I already forget things, keeping lists everywhere of groceries that need to be bought, things that need to be done and birthdays I shouldn't miss. My children tell me I repeat myself.
"What did you say, dear?" I ask them. "I can't hear you."
3. Dress inappropriately for your age
It's the height of summer here in Australia and the beaches are packed.
I have a great bikini my mum bought me on sale at the end of last season. It has a bright floral print which makes me look slimmer, heavily padded cups with a delicate frill round the top which makes me look as if I have breasts and modest bottoms because my bum could not be contained by a string bikini.
But thanks to the fancy bikini I walk up and down the beach thinking I look pretty good. Or at least pretty good for a 40+ year old woman who's had three kids.
I know it's ridiculous though, to feel body confident because my tummy is kind of a pouch. All that stretched skin can never shrink all the way back so there's a tell-tale swollen donut of flesh that sits above my hip bones and below my ribs. I see it on other mums too. Also, everyone must realise there's nothing much inside my bikini top. But let's not even talk about tits here because they deserve a dedicated blog post.
4. Realise in 10 years time you'll look back and think about how great you look now
I stopped wearing a bikini after having my first child because of my donut and switched to a tankini which covered my tummy. But then, after my second baby boy, I changed back to bikinis again because a pouchy brown tummy looks better than a pouchy white tummy. Also I have a small pregnancy-induced hernia by my tummy button and it's amazing how many people mistake it for a six pack.
When my two boys were four and one year old a friend and I went on holiday to Fiji. We stayed on a backpacker island where most of the other guests were 20 years younger than us. So of course I was terrified about baring my body on the beach but, when I did, I found the bodies were almost evenly divided between the great and the not so great and that, despite my age, mine fit somewhere in between those two.
My daughter looks fantastic in a bikini. She is eight so doesn't need to wear a bikini top at all and I wish Australia was like France where all the little girls just wear bikini bottoms. But then I'm glad it's not France because if the young women on the beach were all topless it would kill me and I'd want to kill my husband too. Or at least gouge his eyes out.
5. Laugh at yourself
When I was in my teens my dad bought me a black and pink  neon striped string bikini. I loved that bikini and I loved my body, even though I was badly teased for being skinny at school. I even wrote a letter to Cathy and Claire, the agony aunts at Jackie magazine telling them of my misery and asking for help. They didn't publish my letter but they sent me back a body builders diet which no little girl would be able to eat.
Then when I went to high school someone scratched into one of the wooden desks:
"Annabel Candy I'd tell you a joke that will blow your tits off but I think you've already heard it."
So I was always made to feel that my body was all wrong. But now I am having the last laugh because even though I've packed on weight in the last decade I'm still reasonably slim and increasingly good at dressing to look slimmer.
Today I wear a bikini because I want to be a person who doesn't care what her body looks like, to feel that inner glow I got from my dad, who never criticised my body and walked down the beach aged seventy in a small pair of Speedos with a barrel-shaped grey-haired chest.
Most of all I want to feel liberated knowing that now, even though I'm looking at other people, they probably aren't looking at me.
How do you cope with aging? Does it hit you hardest at the beach? Is there a deadline for my bikini-wearing days?
Share This Story, Choose Your Platform!