What's the Scariest Thing You've Ever Done?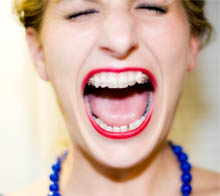 Do you love Halloween, ghost trains and scary roller coasters? I did too until once, when I was old enough to know better, I asked my brother, who was visiting me in New Zealand if he'd do a reverse bungy jump with me.
In case you have no idea what I'm on about in this version of the reverse bungy you sit in a small cage, get buckled in and are then pinged a few hundred meters up into the air where you bounce around helplessly for far too long.
Well, I thought it was a good idea at the time. I thought it would be a good way to prove to the world, or at least myself, that although I now had a baby I was definitely not a boring mum.
Bad idea.
The pinging part was terrible but then me and my long-suffering bro ended up dangling upside down over Auckland for what seemed like hours. It was really most unpleasant.
Oh all right and I was scared senseless, scared in a way I hadn't been before. This wasn't like my naked in Greece episode when my deluded mind played tricks on me and scared me so much I ran outside in my birthday suit, this was real. Really scary and real fear.
Here is a short video so you can see what the bungy ride was like. Sorry, if you are reading in your email or by RSS feed you'll have to visit the blog to see the video.
So there we hung, my brother and I.
Down below I could see the Mucho Man and our teeny new baby waiting for mummy to come back down and I knew then that I shouldn't have done the reverse bungy.
With motherhood the time for reckless thrill-seeking was over. That part of my life was done. The girl who loved those cheap thrills lived on inside me but the new me had no need for such things.
I hadn't become boring, I had become safety conscious but I was still determined never to play it safe.
While my time for enjoying the extreme thrills is over I still love the mild ones like white water rafting or ghost trains and at theme parks. Scary is good, terrifying is not.
Thank you for reading and Happy Halloweento all of you who celebrate it. If you like this post please share it using the handy buttons below or subscribe now for updates by email or by RSS feed.
What's the scariest thing you've ever done? Please share. 
Share This Story, Choose Your Platform!