Halloween, Holidays and Happiness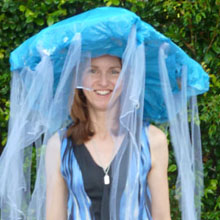 When I was a kid we didn't go trick or treating because my dad banned it saying Halloween was an evil American invention.
Well, he probably didn't use those actual words but that was the gist of it. Even back in the seventies globalization was a concern.
20 years later, when I had kids of my own, a little voice in my head nagged that Halloween was just a commercial holiday, a way to sell more sweets and an unfortunate by-product of globalization and greed.
But part of me just wanted to celebrate Halloween anyway.
When my kids got old enough they were keen to go out trick or treating. Mad keen.
I love dressing up and fancy dress costumes so I was keen for them to have an excuse to get dressed up too. Okay, I admit, I was probably keen for an excuse to get dressed up myself.
But I didn't like the idea of knocking on stranger's doors asking for sweets. Or candies as you call them in North America. Or lollies as you call them in Australia and New Zealand.
So we compromised by dressing up then going trick or treating at friends' houses. They were prewarned about our visit and would be sending their kids round to our house too.
That was in New Zealand and it's no surprise the kids loved it.
I grew up in England and Halloween is very different there than in the United States. In England you have to dress up as something scary – think witch, ghost or zombie – but in North America Halloween seems to embrace dressing up as anything you please.
We went to several fantastic Halloween parties organized by Canadians and Americans in Costa Rica with everything from cheerleaders to gorillas represented.
We don't get enough excuses to dress up and tap into our inner child so now I embrace Halloween.
Yes, I am anti-globalization. I'd love every country to celebrate their own unique festivals and I've enjoyed celebrating many of them too.
I'll never forget Bastille Day in Paris, La Dia de Independencia in Costa Rica or the That Luang Festival in Laos.
But heck if I want to celebrate Halloween I will. Greed and globalization aside it's got a lot going for it.
We have fun on Halloween. We come up with evil ways to make Halloween lanterns out of watermelons, we eat sloppy red jelly disguised as brains and we get dressed up as giant blue jellyfish.
Sorry dad – I've moved to the dark side and I love it.
I just wish you were still around so you could join in too.
What's your take on Halloween? What makes you happy?

Share This Story, Choose Your Platform!