Reasons To Be Cheerful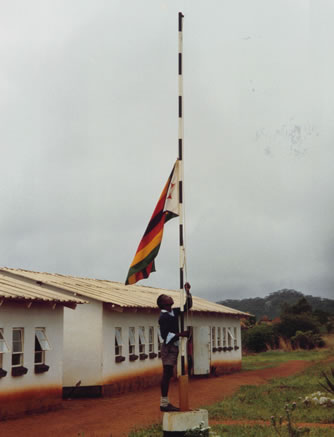 [tweetmeme]
I've been a bad mum. I shouted at my son because he was crying about not having an electric guitar, only an acoustic one.
"Some people haven't even got a normal guitar," I said "and even if they do, they can't have weekly guitar lessons at $30 a pop. Some people haven't even got electricity. Some people haven't even got fingers to play the guitar. Some people haven't even got arms to pick one up. Some people are blind and can't even read music. Some are deaf and can't hear it."
I went over the top and there's no excuse for that or for shouting but I stand by my message. We all need to focus on being positive and seeing the cup as half full, not half empty.
How the Other Half Really Lives
This morning a friend told me about his recent trip to Zimbabwe and how dire the situatiuon is there. You probably know Zimbabwe's been sinking into an ever-decreasing spiral of poverty caused by inflation and corrupt leadership for decades.  My friend told me that in the capital city of Harare traffic lights don't work and electricity is intermittent so most people have generators. Running water is unreliable too so new businesses have popped up delivering water.
That probably sounds bad but I know that in the rural areas of Zimbabwe the situation will be even worse. When I lived there in 1992, teaching in a local rural school, most of the locals didn't have electricity or running water even then. Food was cooked on an open fire and water pumped from a bore and carried home. The villagers where I lived were subsistence farmers and growing enough food to feed the family was a struggle. There was a drought that year and if crops failed then people would die of starvation. And they did.
International aid companies sent food to Zimbabwe during that time but the government administered it in a work for food scheme whereby only those who turned up to work on specific projects, like road improvements or building, would get the food. If you're starving with no access to transport it's hard to get to work so aid never reached most of the hungry people who needed it.
If you were HIV positive, as an estimated 25% of Zimbabweans were in 1992, then you would probably die of related complications eventually and your friends and family would never know what struck you down in the prime of your life because you couldn't get to a hospital or afford treatment. It's safe to say these problems haven't gone away and more likely that they're worse now.
My friend said the Zimbabwean people are still cheerful, friendly and charismatic despite their terrible circumstances.
I feel sad about this and guilty because I know that while me and my family are thriving some of the kids I taught when I was in Zimbabwe, who are now in their early thirties, are struggling to survive. Some have already died. I feel guilty because Coca Cola are treating me to a trip to Shanghai as part of their Live Postitively initiative and I'm not always positive. Right now I'm feeling sad and angry about the injustices in the world and I feel bad because I'll be flying business class and the cost of my trip would probably feed an entire village in Zimbabwe for a month.
Why Your Positivite Attitude Makes a Difference
But Coca Cola have chosen to take me on this trip because they want to learn more about how to talk about serious issues in a postive way and that's what I do. I've noticed that when I've written articles for popular blogs like Problogger and Copyblogger my articles seem to be the most popular ones that week. I'm basing that on the number of times people retweet the posts and the number of comments.
I can't be sure why that is but I have a theory that's based on fact and my training and experience as a teacher. People learn more when they enjoy themselves. When I write I want to make people feel uplifted and inspired. When they've finished reading I want to leave them feeling motivated and ready to take on anything, confident that they can succeed if they put their minds to it. Everyone wants to feel more positive and everyone deserves too.
If I know one thing about being positive it's how important it is to have it and how easily it spreads.
We all have moments of negativity and please do indulge them briefly. It's totally normal and nothing to be ashamed of. Have a quick moan because you don't have an electric guitar, you've lost your job or haven't had a vacation for four years then get over it. Then get back to thinking about what you do have: electricity, running water, a roof over your head, a brain, a bright idea and the determination to put them to good use.
We have to be grateful for and appreciative of everything we have. We have to look after ourselves first. If we teach ourselves how to be happy and fulfilled, that positivity spreads naturally.
We mustn't waste time and energy feeling guilty about how lucky we are compared to other people either. We need to focus on how we can use our skills and experience to make a positive difference in our own lives first and then spread that knowledge and positivity wherever we can.
So I'll be enjoying my trip to Shanghai, the business class perks, the excesses of the World Expo show and the luxurious food and accommodation. I'll be focusing on how to get the most out of that trip and make the most of this opportunity to make a difference and find out how to spread the message on the power of positivity better, further and faster. If my business goes well I dream that I can one day revisit Zimbabwe and use a portion of any profits I make to help Zimbabweans rebuild their country.
[tweetmeme] So son please forgive me. I shouldn't have shouted but do try to always focus on the positive and be grateful for what you have got. Life's a hell of a lot better for everyone when that way and it's one small thing we can all do every day to help make the world a better place.
What have you got to be cheerful for today?
Please Subscribe
Thank you for reading Get In the Hot Spot.
If you're new here make yourself at home and check out some more articles. I hope you'll like what you see and take a moment to subscribe to Get In the Hot Spot. It's a brilliant way to stay motivated and inspired plus it's totally free.
Subscribe now by email or to choose the RSS Feed for updates in your feed reader.
I'd love it if you take a moment to use the hand tool below to add this to Stumble, Digg or Delicous because that will help me get more readers. Thank you friends.
Find Out More About Zimbabwe
To learn more about the situation in Zimbabwe or help by making a donation please visit Zimbabwe Benefit Foundation. Even just talking to other people about what's going on there will help by raising awareness about Zimbabwe and what's happening there. According to the Zimbawe Benefit Foundation website 95% of schools in Zimbabwe have shut down. Imagine the implications of that for parents, children and teachers ~ the effects of having a generation of children with no access to education is unthinkable.
For a lighter story about Zimbabwe read Lessons From an African Witchdoctor, one of the many strange and funny things that happened to me while I was there.
More Articles
>> 5 Instructions For Better Writing and Living
>> How To Bounce Back From Rejection
>> What To Do With Your Life If You Don't Know What To Do With It
>> Live Your Dream In a Material World
>> 5 Secrets For Avoiding an Average Life
Share This Story, Choose Your Platform!