How To Bounce Back From Rejection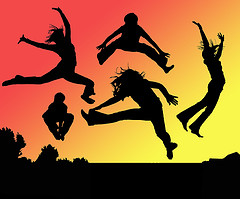 As a writer you've got to get used to rejection. It happens and you learn to deal with it in one way or another.
It's probably true in every aspect of life. If you want to succeed you've got to be able to deal with rejection or failure then carry on with your grand plans anyway.
You wouldn't be a writer<!–more–>, business person or any type of artist if you couldn't handle rejection. You'd be a mail person or a check out clerk. No one ever says to them:
we don't like your work.
we don't want anything to do with you.
we"re going to get our mail delivery and groceries sorted out by someone else.
If you take risks you will experience rejection and failure
For writers, rejection is a writer's rite of passage that I've discussed before.
Often we get rejected in other areas of our life too. If you've ever been rejected in love, for a job or for anything else you'll know how rejection feels. But you have to learn to accept it and move on.
Here's How To Bounce Back From Rejection
1. Don't take it personally
Even it you're a sensitive, creative type you can't succeed in life unless you stop taking rejection personally and stop being over-sensitive. My parents warned me not to go into writing saying:
"It's too competitive, dear."
They probably thought that with my sensitive personality I wouldn't be able to cope with the necessary and inevitable rejections.
Writers are by nature sensitive types but we need to toughen up too. Cultivate developing a hide as thick as a rhinoceros. It won't be easy but it'll get easier with time and the more rejections you get the easier it will become.
Most of all remember that rejection is probably not a personal thing. Often there are other forces at work that caused you to be rejected that have nothing to do with you.
Maybe the lover who spurned you was just not ready for committment. Or your boss was just feeling the pressure to make staff cutbacks from her boss. The rejection is probably more about them or other external forces than it is about you.
2. Choose carefully who you share with
Some people won't give you the feedback  you hoped for. Either they won't care about how you feel once they've given their feedback, or they think that being tough is the best way to help you learn.
I've found that there are many wonderful mentors around who love to help, teach and encourage other people who are learning their field. These type of people will give you the constructive criticism you need. They'll provide concrete pointers on how you can improve your writing, job skills, communication problems or whatever has caused you to be rejected. Their input and advice will help you get better.
Unfortunately, not everyone makes a good mentor. You need to pick and choose carefully who to share your precious work with.
3. Think back to your successes
Remember that this one rejection is not indicative of your whole life.
There are plenty of things that you've succeeded in. Don't let yourself get too down. Dwell on your successes and be kind on yourself.
4. Take a moment to lick your wounds
Being rejected does hurt. It's okay to feel down, wounded, sad, despondent. It's okay to feel like a failure. It happens to everyone sometimes. Just give yourself  time to come to terms with it. A day, maybe a week, a month at the most. But not longer. You have to move on.
Take comfort from the fine company you keep too. If your writing's been rejected you probably think you're the only person in the world that's experienced it. Or at the very least that only you and a handful of other no-hoper, wannabe writers. But it's not just bad writers who get rejected. Have a long look at your rejection letter and consider it a badge of pride.
You can now join the ranks of successful writers like Rudyard Kipling, Dr. Seuss, George Orwell and JK Rowling. There's a short list of illustrious writers who've been rejected here which makes interesting reading and all goes to show that a rejection by one person is just that. It's a personal judgment that may not be shared by other people.
Even paid professionals – editors, writer's agents and publishers sometimes get it wrong and fail to recognise the next big thing in the writing world. You know that they get it wrong because they do accept writing that fails to resonate with readers and ends up languishing in the bargain bin at book stores.
5. Assess
Usually when you get rejected by someone you get an indication of why. If not do email or phone them asking why. Be polite and calm. Just ask one simple question such as:
"Please can you tell me why you decided not to give me the job this time?"
Listen to the reasons and ask yourself what you can do better next time. If it's appropriate you might want to ask for a second chance. This year I've been rejected by three editors and each time I've rewritten the article or written another completely different article for them which was then accepted. Learn from your mistakes and never give up.
Remember too that the person who rejected your work expressed their opinion. You need to decide if they personally don't relate to your work or if it has flaws which need fixing.
If you want to bounce back from rejection this is the most important step. Work out why you failed then get on and have another go.
Be persistent and believe in yourself
When you get rejected or fail just climb back on that proverbial horse and refuse to dwell on it.
Unless you're ready to be a mail person or a check out clerk. Of course, writing is so badly paid that many writers will have to take on jobs like those to support our writing habit. But that's another story.
Do what  you have to do to pay your way in life, but don't be afraid to take risks because you may be rejected.
You've got a right to have a dream. You owe it to yourself to be persistent and resilient and keep pursuing that dream no matter what.
Thanks for reading
Please add your comments below and don't forget to get free updates by email now or with the RSS Feed, if you haven't already. That way, you won't miss out. Thanks to Lauren Clemson for the photo.
Please Support Me: Tell People About This Website
If you like this article, please Tweet it or email a friend with the link. My clever computer boffin has added a little tool to make it easier for you to email it to friends, or add it to your favorite social media website.
I hear that if you Digg it, or bookmark it on Delicious or Stumbleupon, that will get more readers here. Many thanks for your help, I appreciate it.
More Personal Development Articles
>> A Surfer's Guide to Living Life to the Full
>> 10 Things To Be Grateful For and Why You Should Be
>> 10 Ways To Get The Life You Want
Share This Story, Choose Your Platform!