Personal Travel Map Arrives to Keep Memories Alive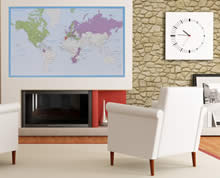 One of my friends calls Facebook brag book because so many people use it to boast about their latest news. Social media has become a way of showing off what you've done, bought or achieved for the world to see.
I'm as guilty as anyone of getting on Facebook for the occasional brag about the Candy family news and I'm a little bit boastful about my travels too but I don't think I'm alone in that either.
When you've had some amazing travel adventures like seeing the sunrise over Uluru on a camel, sleeping rough at the Oktoberfest or spraying water everywhere after pressing the wrong button on a high-tech Japanese loo, you're so proud of yourself for getting there, surviving it and returning home again safely, it's only natural you want to tell the whole world about your adventures.
But the urge to tell people about your adventures isn't just about boasting and telling people your funny travel stories, it's also about keeping those precious travel memories alive and I've found a great way to do that with the personal travel map.
Unlike regular travel souvenirs which you have to lug home from your adventures, which take up valuable space and which often end up looking wrong when you get them home, the personal travel map is a way of recording your adventure and turning them into a map you can put on your wall.
You can get the personal travel map details here but I wanted to show you my personal travel map which arrived last month just in time for me to present to my husband for Christmas. Which made him very happy.
What I like about our personal travel map. Apart from being a very personal memento of our travels with pins to show where we've been and what we've done I love the map because:
It's big and bold. I ordered the large size world map which is 47″ x 29″ and will suit a big wall because we have a big house. It also comes in small, medium and extra large.
It's a great conversation starter. Everyone mentions it when they see it so I get to explain a bit about our travels, where we've been and what we've done.
It's good strong material so it will last well.
The muted colors go well with any decor and, since we're renting a house right now, that's a good thing.
I can roll it up and put it back in the tube when we move house so it's easy to transport and won't get damaged.
It would look amazing framed so when we do buy a house I'd love to choose a fun frame to really show it off.
Unboxing the Personal Travel Map on Video
Get 10% off your own personal travel map
If you'd like to get a map from Personal Travel Maps as a souvenir of your travels just use the discount code getinthehotspot for 10% off your personal travel map.
How do you keep those travel memories alive? 
Sponsored blog post in accordance with disclosure policy.
Share This Story, Choose Your Platform!