Kings Canyon Walk on the Wild Side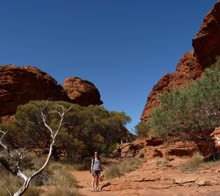 Do you like walking? Once a sacred site for the Luritja people, Kings Canyon has been revered for thousands of years, but until 1961 only a handful of people had ever seen its dramatic cliffs, endless domes and vibrant colours.
Today its remote location, mid-way between Alice Springs and Uluru in Australia's Red Centre, means Kings Canyon is still a hidden gem, visited mainly by nature lovers who aren't afraid to get off the beaten track and rough it a little. Better yet these days you don't even need to rough it because there's now an exclusive glamping lodge just a short drive from the canyon.
I love walking, I walk all the time and when I'm traveling I always take a hike whenever I can but the six kilometre (four mile) Kings Canyon loop walk was one of the best I've ever been on.
The walk takes about three hours to complete but you'll want to leave plenty of time to explore all the nooks and crannies of Kings Canyon, take photos and sit down to enjoy the views and vibe.
If you like walking then you'll love Kings Canyon.
Kings Canyon Walk Travel Tips
Make sure you leave early in the morning or late in the afternoon as Kings Canyon is HOT in all senses of the word. I was there in September when the walking weather was perfect but I can imagine it would get too hot for comfort in the height of summer so avoid walking in January, February or March if you can.
Australia has a reputation for flies and we saw a couple of tourists from overseas who were wearing nets over their hats and looked like bee keepers but there weren't any flies around when I was there.
I was a guest of Tourism NT during my trip to Kings Canyon and the Red Centre so maybe they organised that specially which was very thoughtful of them. You can find out more about visiting the Northern Territory on their Facebook page.
What's the best walk you've ever been on?
Share This Story, Choose Your Platform!