Do You Know Melbourne's Hidden Secrets?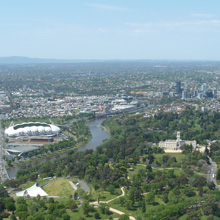 After packing in one conference, 300 bloggers and a private city tour I was ready to spend my last day in Melbourne just hanging out.
Rather than wander round like a lemon missing everything fabulous and getting sore feet I followed a hot tip from The Tailor travel agent.
The Tailor's top dog Drew is a font of knowledge on Australian travel for the well heeled and he recommended I explore Melbourne's lanes so I did.
Melbourne is famous for its network of lanes and arcades which are home to some of the best designers, independent store owners and local characters.
But the lanes are as twisty and extensive as a rabbit's warren so Drew put me in touch with Fiona from the Hidden Secrets Tour. I'd just missed one of her tours but friendly Fiona gave me a short self-guided walk which made me feel like a Melbourne travel insider and gave me a real feel for what it means to be a Melbournian. Or is it Melbournette?
Here's a photo tour for you.
I got a really good feel for Melbourne city on my flying visit but I'm keen to go back. Next time I need to get out of the city too and travel along the Great Ocean Road.
If you visit Melbourne don't forget to get in touch with Drew to organize your accommodation or a tour in or around the city.
Then you'll know where to go next time you're hanging out in Melbourne.
My Splendid Sponsor
I was thrilled to be sponsored by The Tailor for my trip to the Problogger conference in Melbourne. The Tailor is a luxury travel company that creates and organizes Australian and African travel experiences for discerning travelers.
Thanks to the Tailor I spent four nights at The Lyall Hotel in Melbourne and toured the city.
This is my last update about Melbourne. I hope you enjoyed the experience as much as I did.
Tell us about any hidden Melbourne secrets I missed or some in a city you love.
Share This Story, Choose Your Platform!