Secrets of a Poker Star: Video Interview with Joe Hachem, WSOP 2005 Winner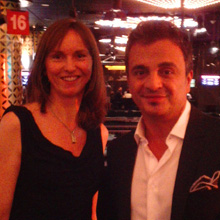 Liz Hurley can keep Shane Warne with his perma-tan, gleaming teeth and dodgy sexual history. I'm not into him at all.
As far as I'm concerned there are only two male stars in Melbourne. One the bald, bespectacled preacher and blogging professional called Darren Rowse but better know as Problogger. The other, professional poker playing and world champion Joe Hachem.
You probably couldn't find a more diverse pair but they both appeal to me because they're family men who've worked hard and deservedly make a big name for themselves in their field.
So imagine my delight when I got to see both of them on a recent trip to Melbourne.
I'll leave all the adulation for Darren Rowse over at Successful Blogging but I wanted to share Joe Hachem with you here. His story is both exciting and inspiring with the rags to riches element of a modern fairy tale.
If you want to find out more about Joe and his winning mindset I recommend his book Pass the Sugar but here's a potted history to whet your appetite.
If you have no idea who Liz Hurley or Shane Warne are then good for you. But if  you want to fill that gap in your knowledge there's a good shot of them here.
The Joe Hachem Story
Born in Lebanon, Joe Hachem was six years old when his family moved to Australia to start a new life.
As new immigrants the odds were stacked against them but Joe worked hard to fit in and succeed.
By 2005 Joe was just another Melbourne family man with a wife, four kids and a big mortgage.
Unfortunately Joe had been forced to end his dream career as a chiropractor due to health problems. So now he spent more and more of his time playing poker, mostly at home in his garage with friends and later in tournaments at the Crown Casino in Melbourne.
In 2005 Joe shouldn't have gone to Las Vegas to play in the World Series of Poker. He nearly didn't due to the expense. But in a last minute turn of events he ended up going along to try his luck.
There were 5,619 entrants to the main event that year.
Each player had paid $10,000 to enter what was the largest poker tournament ever played in a brick and mortar casino at the time. Many entrants had won their seat in online poker tournaments and all of them were keen to win, not just for the coveted title, but for the prizes which totaled over US$50 million.
On the first day of the tournament Joe's chances of winning were equal to the other 5,618 players but by day seven, the last day of the tournament his chances were looking better.
The odds were still stacked against him but Joe showed incredible focus and determination to win the series and take home US$7.5 million in prize money.
Today, despite this life-changing event Joe is still your average family guy in many ways. He's still married to his childhood sweet heart and still lives in Melbourne with his four kids.
I was thrilled Joe agreed to be interviewed by me and loved seeing him on his home ground at the Crown Casino in Melbourne.
I wanted to get tips from Joe on focus, determination and following your passion to help us achieve our goals. I also wanted to find out what makes Melbourne so special that, when you could live anywhere in the world, you stay right there.
These are some of the questions I asked Joe:
How do you focus for long enough to achieve your goals?
How do you maintain your passion for something when it becomes your job?
What's so good about Melbourne?
I hope you enjoy the interview.
Reading by email? Please hop over to the blog to watch the interview.

Thank Yous All Round
Many thanks to Joe Hachem for kindly agreeing to be interviewed by me after I sent him a cheeky tweet and for following through on his promise. What a gent.
Thank you also to the kind staff at the Crown Casino for welcoming me and making the interview possible.
Finally a big thank you to my readers for following my diverse interests. I hope you find Joe as inspiring as I do. If so, don't forget to check out his book Pass the Sugar.
My Splendid Sponsor
I was thrilled to be sponsored by The Tailor for my trip to Melbourne. The Tailor is a luxury travel company that creates and organizes Australian and African travel experiences for discerning travelers.
Thanks to the Tailor I spent four nights at The Lyall Hotel in Melbourne and toured the city. It was utterly excellent.
What do you think about Joe's story, poker or succeeding against the odds?
Share This Story, Choose Your Platform!