BlogWorld Bonanza and Other Ambitious Plans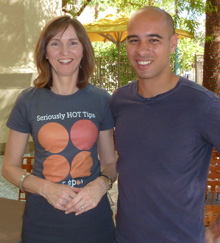 BlogWorld blew my mind. Seriously. I've been home for five days now and I'm only just starting to recover and piece things together. Many thanks to all the wonderful guest posters, commenters and tweeters who kept things humming along here while I was away. You're marvelous and it was wonderful to see things tick along here without me but I'm happy to be back in action now.
Post BlogWorld Blues
Am I the only BlogWorld attendee who experienced this? Every other blogger seemed to come down with a common cold after BlogWorld but I felt totally blah. It's hard to explain why I felt down after all my dreams of going to BlogWorld and meeting my blogging idols and blogging peers had all come true. But I fell back to earth with a bump.

General tiredness and lack of exercise played a part but I also think I had culture shock the whole time I was in the States. Culture shock isn't like other ailments. No matter how many times you've had it you never become immune and no matter how big, brashy and flashy I expected Las Vegas to be, I could never have prepared myself for the reality of it.
My entire home town is home to the same number of people as the Mandalay Bay Hotel where the conference took place. One day there were 4,000 bloggers in attendance, mega pop star Shakira and thousands of squealing Shakirites, eight weddings and more gambling addicts, silicone breasts, party animals and scantily dressed women than I'd ever seen in my entire life.

It's a crazy place and it's also an entirely artificial environment.
We only have two sets of traffic lights in my home town Noosa and one helicopter which leaps into action for rare emergencies. Las Vegas has flashing lights, billboards and laserbeams everywhere. Plus someone with a wicked sense of humor organised for a helicopter to swoop around my hotel room 24 hours a day. What with all the excitement, unnatural lighting and jet lag sleep was well nigh impossible.
I kept getting lost too. My usual point of references like a bush with pretty red flowers, or a stream had gone, replaced by neon signs that, to my uneducated country eye all looked the same.

BlogWorld Bonanza
Meanwhile the BlogWorld and New Media Expo and conference has so much going on that some people don't even buy tickets but just hang out in the hall ways. It's probably quite sensible. I only attended five sessions during the three day event  – three good and two excellent but it still seems a bit wasteful since I paid over $700 for the ticket.
Obviously I didn't make the Shakira concert either but what blogger in their right mind would be interested in that when you've got Leo Babauta, Darren Rowse, Jonathan Fields, Brian Clark and Sonia Simone to see? They're our rock stars and they definitely rocked at BlogWorld.

I wanted to go to to BlogWorld because I reckon blogging's massive and under-appreciated. But it turned out to be bigger than I imagined. BlogWorld's a place where bloggers aren't spurned or reviled but welcomed with open arms and plied with goodies by hundereds of charming exhibitors. Omaha Steaks flew five people to Las Vegas specially so they could feed some lucky bloggers their yummy food. I don't eat steak but the scallops, prawns and puddings went down a treat.  They even gave us a free poker set as a going home present and let us take photos of ourselves with their handsome president Mr. Todd Simons.
I know that  many of the bloggers at BlogWorld think blogging's mainstream. Srinivas Rao I'm paraphrasing you here and normally I agree with everything you say but I beg to differ on this one. Blogging is not mainstream. This is just the beginning. Those bloggers at BlogWorld are the first few stones falling off the mountain, the avalanche is still to come.

Let's compare the USA with Australia. Las Vegas is wired. They have billboards exhorting you to follow them on Facebook or Twitter. The entire airport has free wifi. Meanwhile back in Brisbane (Australia's 3rd largest city with a similar population to Las Vegas of around 2 million people) the airport has four miserable computers with a slot you can put $2 in for 20 minutes Internet access. After being in Las Vegas it's like going back to the dark ages.
Blogging isn't mainstream in Australia and it's not mainstream in the States either because there are millions of people my age or older who don't have a blog but should. People who would benefit from blogging and who have great things to say. I've personally succeeded in getting some of them to start blogging but there are many more bloggers still to come and I won't rest until they're all at it.

In Praise of Bloggers
Penelope Trunk didn't go to BlogWorld. She prefers the sanity and simple pleasures of rural life and after my Vegas outing I can see why. But Penelope wrote a recommendation for my new book and says that most successful bloggers aren't geeks. I thought they were, but then realised Penelope is right. The most successful bloggers aren't geeks. They're just people who've embraced new technology because it had something to offer them. They're people who weren't afraid to try something new, who have good skills in writing, business or teaching and aren't afraid to experiment and take risks.
If I'd only been able to meet one blogger during BlogWorld it would have been Leo Babauta of Zen Habits fame. I asked Leo for an interview then flew into a panic when he agreed as I've never done an interview before. Luckily the sensational Sid Savara kindly spared his time to video the interview and I can't wait to share that with you.
You know sometimes you meet someone you've been dying to meet and it's a bit of a disappointment – they seem hurried, they have a squeaky voice or you just don't click. That didn't happen with Leo. I was a true evangelist for his writing and blogs before but now I'm even worse. We had a good laugh and I got some brilliant insights into the inner workings of Leo's mind as well as his some interesting revelations about his underpants but I'll save those for another story.

I asked Leo how he gets the confidence to follow through with his ideas and love his idea that failure is just a natural part of our journey to success. It's hard to imagine Leo failing at anything but I'm sure he must have. He's certainly overcome fears and succeeded in living his dream life of working for himself and living the simple life he craves and being able to spend time with his family.
By setting up his blog Leo took a risk and gave it a go. And that's a gutsy move that I saw everywhere at BlogWorld. Risk-taking is a quality that unites all the bloggers I met. They're just normal people with the normal fears of failure but they don't let that get in their way. Bloggers are people who are prepared to try something that many people still see as a waste of time and a indication of social failure and every one of those bloggers has been met with success because of that.

I went to Vegas and I met more dreamers, time wasters and social failures than I could count and I loved it. And I loved those bloggers for daring to put themselves out there and do what they love doing no matter what anyone else may think.
Bloggers rule
For many BlogWorld speakers and attendees blogging has been a path to unexpected success. Others are just starting their blogging adventures and wondering where it will lead them. The buzz around blogging is building and the promise of great things still to come is exciting. When you go to BlogWorld you can feel it, see it and touch it all around you. It's a great place to be and a great feeling to be part of something huge and connected to so many amazing people.

Other Ambitious Plans
My new book Successful Blogging in 12 Simple Steps has been written, edited, laid out and formatted for easy reading. The podcasts have been recorded, the case studies complied. We're nearly there. Launch date is:
Thursday 28 October – Los Angeles 4pm, Houston 5pm, New York & Miami 6pm, Toronto 7pm, London Midnight
Friday 29 October – Auckland 7am, Brisbane 9am, Sydney & Melbourne 10am
Have You Ever Been to a Web Party?
You're invited to the launch party on Thursday 28th PDT 8.30pm or Friday 29th 1.30pm in Queensland, Australia. Use time zone coverter to find out what time it is where you are.
Some people call them webinars but the hot spot team are pioneering web parties. Just sign up with Vokle below and you'll be reminded before the event. When the big day comes I'll be live streaming on video. You can ask me questions by typing them in or chat via instant messaging with the other party people.
It's fun and a great way to pick up more tips, get your specific questions answered asap, chat with other lovely hot spot readers and hear my funny British/Kiwi/Aussie accent. I'd love to see you there and hope to make this a regular events – either weekly or monthly depending on your feedback.
Exclusive Interview with Leo Babauta
I'll put up the amazing interview with Leo on Monday 1 November on the Successful Blogging website. Affiliates can start selling the book on that date so I hope it will help with that. If you want to become an affiliate please sign up at the Successful Blogging website and if there's anything else I can do to help you let me know. I want to make it a fun program with monthly thank you gifts, feedback on our progress and a real team spirit. If you can help me with my goal of getting this book out to as many people as possible I'll be here to help you with your plans too.
RSVP Now and Feel Free to Bring a Friend
Reading by Email? Please visit the blog to sign up.
Thank You For Reading – Stay Tuned For More
I have plenty more stories, tips and photos from BlogWorld to share with you in the fullness of time. I just don't want to blow your mind too by bombarding you with them all at once.
How many of those happy, smiley bloggers pictured above do you recognise?
Share This Story, Choose Your Platform!