Hiking the Tongariro Alpine Crossing: a Classic New Zealand Adventure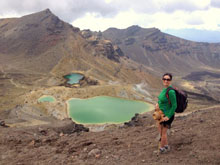 True friends add fun to life. Like family, they know you better than anyone else and love you just the way you are but without any of the emotional baggage that can affect family relationships. Just a crazy combination of of deep sharing and shallow jokes.
My Kiwi friends are all very special ladies. I think because we (mostly) lived together on a small island (beautiful Waiheke Island) where we had babies and raised our young families we've been though a lot together but we also had lots of free time to make our own fun together.
So the main reason for my recent trip to New Zealand was to visit friends but I also wanted to have a wee adventure. I picked hiking the Tongariro Alpine Crossing because, in a land of gorgeous hikes, it's reputed to be one of the best one day walks in New Zealand.

Alas all my friends said they were too old and unfit to join me. That wasn't what I wanted to hear at all!
You're never too old or unfit for adventure so I'm sure their main worry was that they are busy working and looking after their beautiful families. So I was thrilled when my old mate Mishi Moo Cow suddenly had a change of heart and said she wanted to join me.
I only booked my flight to New Zealand a few weeks before leaving and we only had one week before the hike. I keep fit so I'm ever-ready for adventure and am a fitness freak these days so I sent Mishi a training plan with daily walks and emailed her every day:
To: Mishi
From: Anni Baa Lamb (that's me!)
Subject: 6 more sleeps until adventure time!

How did the training go today?!
To: Annabel
From: Mishi
Subject: RE 6 more sleeps until adventure time!

Great! I had a lie in!!!
I got the same reply every day. But with or without training we were going on an adventure and we were going to hike the Tongariro Alpine Crossing no matter what!
Finally there were no more sleeps to go. Mishi me up at Auckland airport at 6pm on Friday evening after my three hour Air New Zealand flight from the Sunshine Coast and we drove straight down to Mount Ruapehu gabbing all the way. It's been seven years since my last New Zealand visit so we had lots to catch up on.
We booked a backpackers called The Crossing for our first night because we'd only have a few hours for sleeping and they would organise a shuttle bus to the start and end of the hike. Feeling very tired on arrival at 11pm we were a bit perturbed to find they'd messed up our booking. But in true Kiwi style they kicked a builder friend out of a quad room and we eventually crawled into our bunk beds.
I get pretty spoiled with all my press trips and luxury accommodation but a bed's a bed and we even managed to oversleep in the morning.
Luckily Mishi was super organised (she's a domestic goddess) so our picnic, day packs and all weather gear were ready to roll. Mishi had borrowed walking sticks, merino hiking gear and beanies so we would be well equipped.
A few things to know about the Tongariro Alpine Crossing
1. It's a 19.4km (12.1 mile) hike.
2. It's described as "strenuous" because you have to go across some big, rocky mountains so it's not easy walking.
3. You pass three live volcanoes (Mount Ruapehu, Mount Ngauruhoe and Mount Tongariro) so there's a real chance one of them might "hiccup" and send a hot stream of lava your way. An earthquake, an eruption or a stream of hot lava coming  your way would mean the walk's off!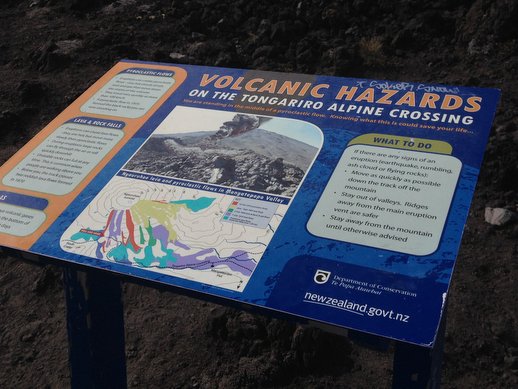 4. The scenery is diverse and includes lush forest and bubbling mountain streams but most of the walk is through a land of fire and brimstone. It's a desert moonscape with sulfurous steam rushing out of the ground.
5. The Tongariro Alpine Crossing is incredibly popular. It's estimated that 500 people a day hike the Tongariro Alpine Crossing in summer (December to March) and the trail was heaving with walkers. It's busy on the trail although you can still find some spots to enjoy the scenery away from the crowds.
6. The weather is highly changeable and often so cold, rainy or cloudy that you can't do the hike. We were lucky it was a perfect summer day for our hike but, even during a New Zealand heatwave, we still needed our beanies (woolly hats). A cold wind blows through those mountains!
7. The Tongariro Alpine Crossing starts near National Park and Mount Ruapehu roughly a four hour drive from Auckland, or five hours if you hit traffic or stop for sustenance on the way there.
8. The hike starts and ends at different points so you need to book a shuttle bus but there are heaps of them to choose from costing around $30-40 return.
9. There are five loo stops on the hike with longdrop toilets. Hold your nose and bring your own loo paper!
10. If you're energetic and adventurous you can extend the hike with side trips to the summit of Mount Ngauruhoe (2,287m) or Mount Tongariro (1,967m). Personally I found 19km was quite long enough and I think most other hikers agreed although I did see a few people who seemed to be running and looked like they could go for miles.
11. There's no drinking water or food along the way so you need to carry your supplies. I took 3 litres of water and drank most of it.
What you'll see and do on the Tongariro Alpine Crossing
The hike starts from the Mangetepopo Road with a flat walk through alpine shrub and  past snow-capped (even in summer) Mount Ruapehu and the Soda Springs. Mount Ruapehu is a popular ski resort from June to October so if you've ever wanted to ski or snowboard on a live volcano visit in the New Zealand winter.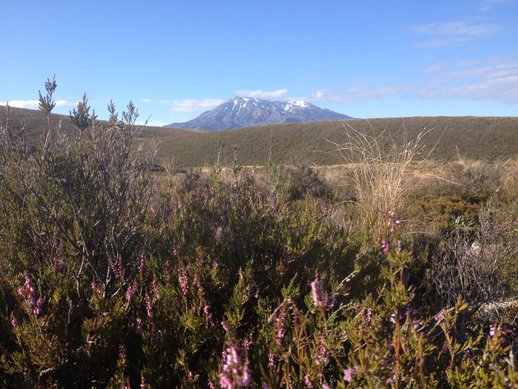 Then there's a lovely board walk through shrub.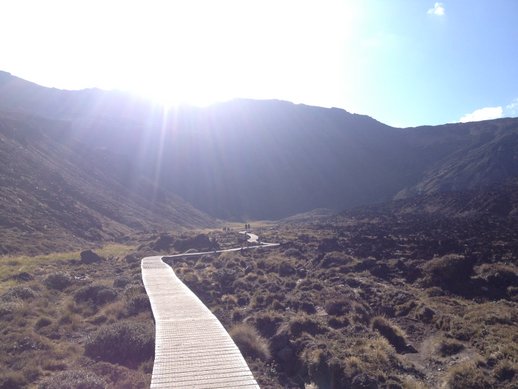 Next there's a steep climb up lots of steps to the South Crater at 1,886m (yards) between Mount Tongariro and Mount Ngauruhoe. The views are epic. Look at Mishi go in her cowboy hat. She turned out to be a good little walker.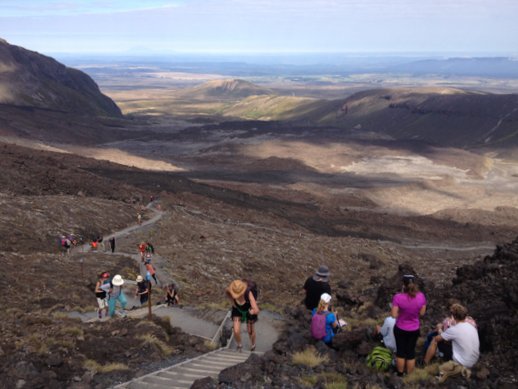 You can distract yourself from the screaming of your thighs by looking at the view or the mountain flowers.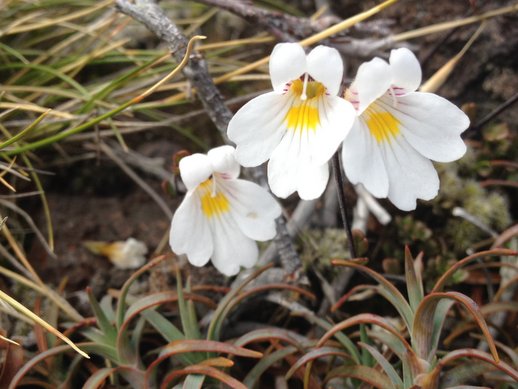 The South Crater is a big one and Mishi Moo was all smiles as she posed in front of Mount Ngauruhoe.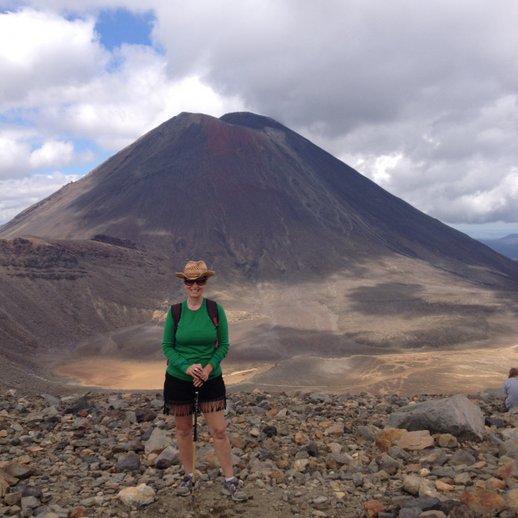 Although it's teeny weeny this panoramic photo gives you an idea of the panorama you can expect.

The Red Crater is another highlight and geological case study. That gash is a volcanic dyke which once spouted lava. Mish loved the earthy brown and red color scheme.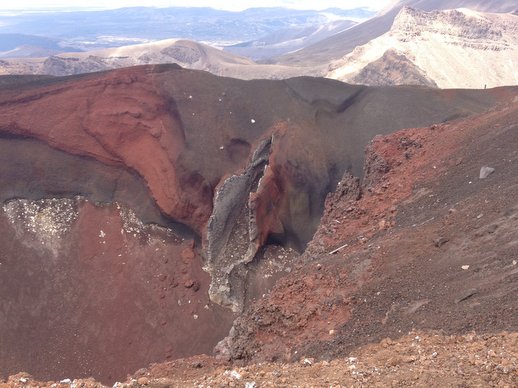 But the climb's not over. You have to climb in final stint crest (to 1,900m) but when you get to the other side, after 10km of walking, you're rewarded with a view of the crater lakes. It's magical. Here we are posing with the blue lake behind us. Phew!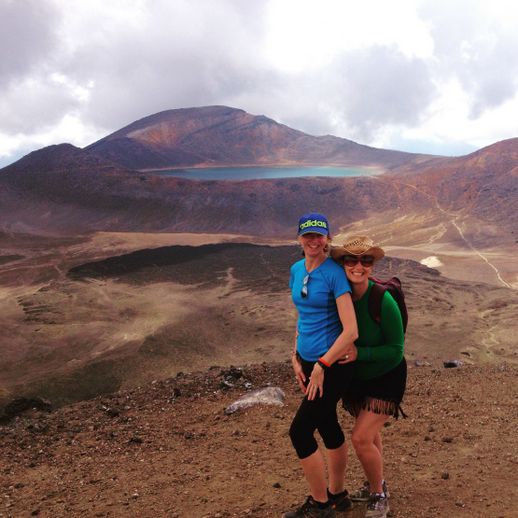 The Emerald Lakes are clearly visible too and I so wish I'd taken another panoramic photo. Can you see the steaming steam around the lakes?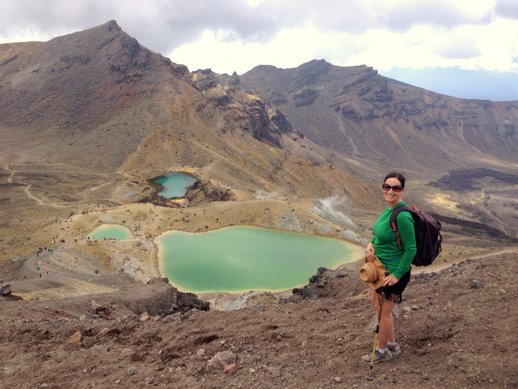 The walk down the other side is worse than the climb up. It's very steep, rocky and sandy. It's hell on the knees and my eyes and nose were streaming and sore, possibly from the dust being kicked up by hundreds of hikers. Fortunately the amazing colors and geological formations of the Red Crater and crater lakes divert you from the pain and fear!
Even if you're walking slowly like us there's plenty of time to stop and enjoy a picnic by the Emerald Lakes. It's stunning and you know you're half way there with the biggest climb behind you.
Then there's only a bit more climbing to the big blue crater lake.
Finally it's more or less down hill from then on. This is a relaxing part of the walk with gorgeous views of distant lakes and fuming steam holes.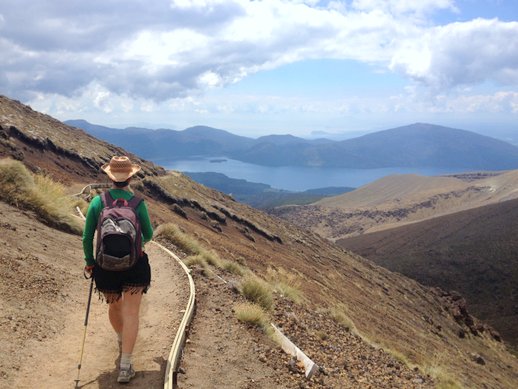 I was loving the pink merino top and orange beanie Mishi lent me as well as the steam magically pouring out of the ground.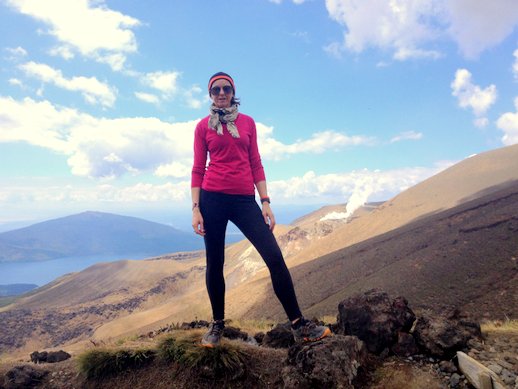 Finally the scenery changes to forest passing through a lahar zone with a big warning sign telling you to hurry through and past a perfect mountain stream.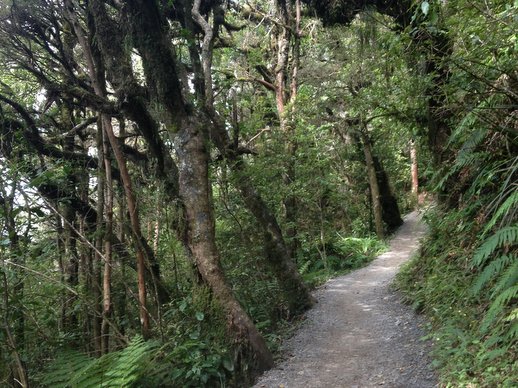 I had a Siddharta moment and sat down for a wee rest by the stream. I badly wanted to bathe my aching feet but it would have been horrid putting my hiking trainers back on again.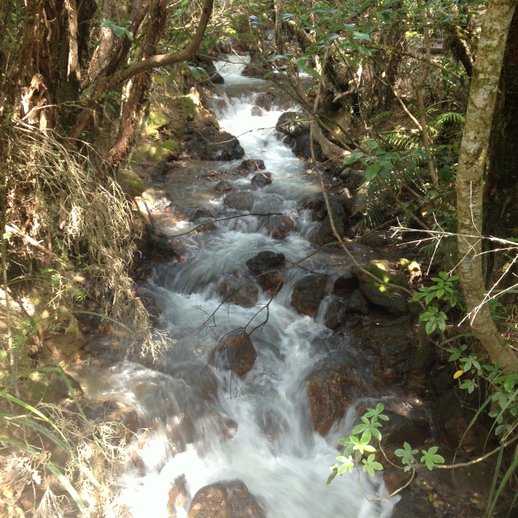 A lot of people (including me and Mishi) have had enough of walking by this stage. Our thighs, knees and feet ached!
Mishi was a trooper and, despite her no training training schedule, kept a strong, steady pace up the mountain. But, even with a proper hikers walking stick, she suffered on the way down with an old knee injury flaring up. In truth that downhill section would kill anyone's knees.
Finally we emerged at the Ketetahi car park where our shuttle bus awaited. What a relief!
We zoomed off to Mishi's bro's ski chalet in a peaceful country setting with stunning Mount Ruapehu views. I loved it and could have stayed a week. Mishi cooked some yummy meals, we played some fiercely competitive games of banagram (a brilliant word game that's great for travel) and even went for some more lovely walks.
Ohakune's a lovely tranquil spot with lots of hiking trails and waterfalls nearby. It's the perfect spot for nature lovers seeking a digital detox or a writers/yoga/mums retreat.
But more on that another time…
Mainly we just basked in the pleasure of having completed our adventure: the Tongariro Alpine Crossing – Tick! Been there, done that… and loved it.
Would you like to hike the Tongariro Alpine Crossing?
Thank You!
Big ups to Mishi Moo Cow for joining me on the hike and letting me use all the beautiful photos of her and to Mishi Moo Cow's brother who kindly let us stay in his ski chalet. Thank you Mishi – our little adventure was so good for the soul if not for the knees and feet!
My trip to New Zealand was funded by my copywriting, travel writing and tourism marketing services, so thank you also to my lovely copywriting clients, especially those of you in Gympie, Sydney, Melbourne and Tanzania. You know who you are and it's always great working with you.
Want more inspiring travel, adventure and wellbeing stories?
Join thousands of HOT readers by subscribing to the free weekly Get In the Hot Spot newsletter.
Share This Story, Choose Your Platform!