24 Hours of Luxury and Laughs on the Gold Coast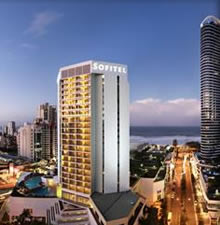 Sometimes the stars align. In the course of my travel loving ways I did a contra with the Sofitel Gold Coast hotel. In return for helping promote their My Bed video on social media they offered to host me and the Candy family for a sleepover.
That seemed like a win win but, since the Gold Coast is three hour drive from our home in Noosa, and even the shortest drive with the Candy kids can seem like an eternity, their kind offer was about to expire.
Then Shell Australia sent me a gift to promote their new Love Drives social sharing site including a $100 gas voucher. That seemed like a sign to should take courage, chuck the kids in the car and set off for a road trip to the Sofitel.
So we set off bright and early on Saturday morning for The Goldie as the Gold Coast is affectionately known.
No family trip to the Gold Coast is complete without visiting a theme park so, after much debating about the various merits of places like White Water World and Movie World, our first stop was Wet 'n' Wild.
We saved our pennies by buying the tickets online and taking a healthy packed lunch including my spectacular tuna rice salad. Teenager Luke was not happy though. He wanted Dominoes Pizza like the family at the table next to us.
I was keen to recreate a family photo from 2010 taken on the Mammoth Falls ride but the rules have changed and only four people are allowed on that ride now which was a shame. 
But we had fun running around between water slides like the Constrictor, the Tornado and the Black Hole.
Lots of fun, although I got the biggest thrill when we checked into the Sofitel because I'm a sucker for posh hotels and, as a Francophile, I was keen to see how this famous French chain would translate to the Gold Coast.
But just before we left the theme park Rich caved to the pressure and bought the kids churros (long thin donuts) with chocolate sauce. It made the 30 minute drive to Broadbeach hellish with the kids tickling each other and shrieking with laughter all the way.
They were deliriously happy while we adults were wishing we'd left the kids at home.
At last we were there. The Sofitel lobby was light and airy with super-sized flower arrangements.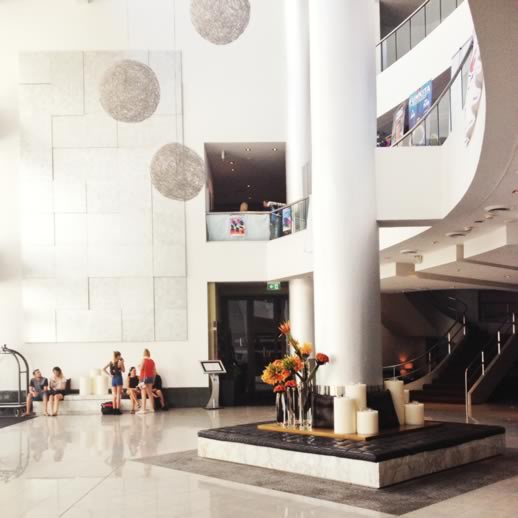 We got interconnecting rooms with twin double beds for the boys in the testosterone room  and a king bed for Rich and I next door. A quick call was made to reception and soon a foldaway bed with fresh sheets, towels and toiletries were delivered and set up for Kiara and her new stuffed rabbit, Big Buns.
There was an ocean view from our balcony but I only had eyes for the bed with its striped white sheets, fluffy pillows and snugly duvet. Roll on bed time. It looked bliss.
I headed straight for a hot shower and thoroughly enjoyed the smell of Provence delivered by the Roger & Galet products.
Max discovered the mini bar menu.
"Look Mum, Tim Tams are only $2!" he said. The he recoiled in disbelief when he saw it was for a mini pack of just two Tim Tams.
The kids wanted to explore the gym and pool and in the course of our explorations we discovered the Oasis Shopping Centre right next door with a big supermarket.
We went back to our room then I sent the three Candy kids on a mission to buy biscuits and chocolate for their desert. I was fearful they might get lost/injured/stolen but loving the peace. All too soon they were back again with treats for later in hand. They settled in to watch TV.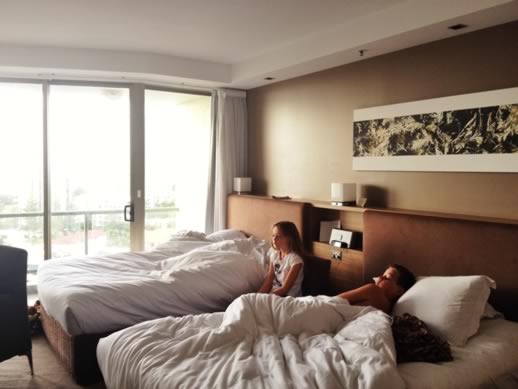 We stashed the treats and headed out for supper at KooKoo Tepenyaki restaurant a short drive away in Surfer's Paradise.
Surfer's Paradise main drag was still awash in road works (apparently it's been that way for years) but the new tram lines are in place now with trams in training running. I can't wait to see what it looks like when it's all finished and hope the trams get well used.
KooKoo is run by a ruthlessly efficient and wonderfully friendly Chinese lady. There was a long wait for a table but when we did get seated the kids loved watching the chef juggle knives and eggs, throw food into our mouths and send flames shooting up to the ceiling.
We were soon tucking in to salad, miso soup, squid, chicken, steak, prawns, Moreton bay bugs, barramundi, salmon and veggies. A veritable feast and excellent value at $200 for all of us including lemonade for the kids with beer and sake for Rich.
When we got back to the Sofitel my bed looked even better than ever. I washed, slipped into my Peter Alexander nightie and between the sheets.
Rich ventured out for a walk and said there was lots going on. If I was a better wife I would have accompanied him or at least gone to the fancy lobby bar for a drink. But I am a bad wife so I read in bed with Kiara and Big Buns tucked up in their little bed next to me. It was a heavenly cocoon.
Many, many hours later, I left the teen sleeping and Rich reading his complimentary Sunday paper and took Kiara and Max to the gym and pool. They love gym machines and I was keen to get them hungry ready for our buffet breakfast.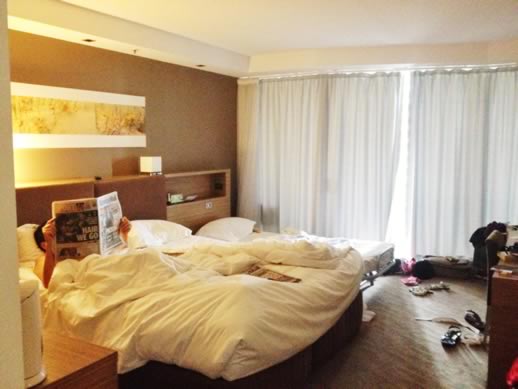 After a brief workout we swam and soaked in the spa. The roof top pool and leaf-shaped loungers are as gorgeous as our little lass.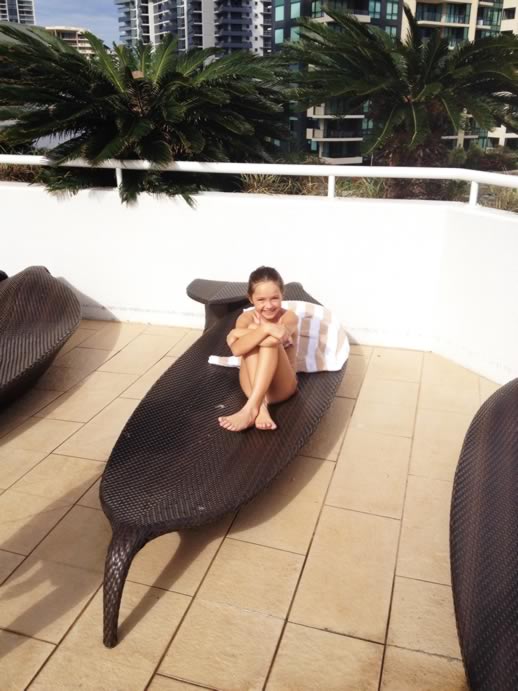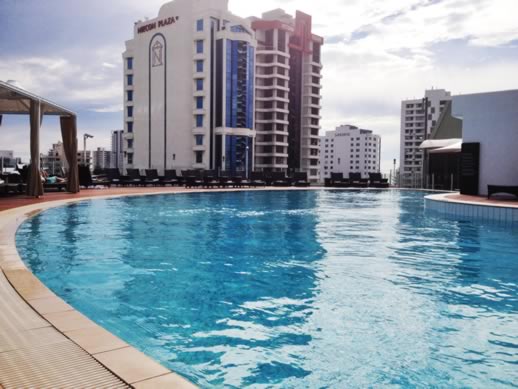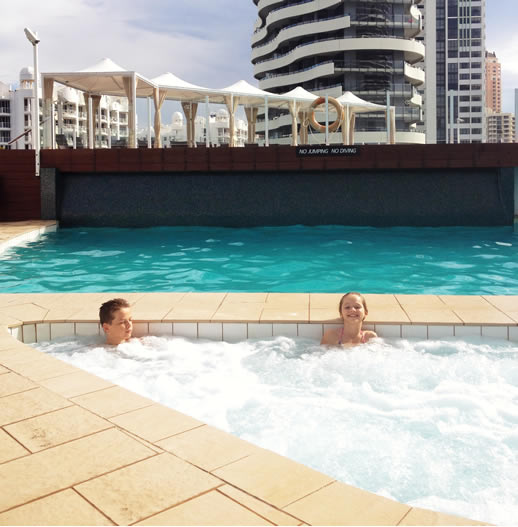 Next it was time for the long awaited (by me!) buffet breakfast which I'd been talking up big time. It did not disappoint.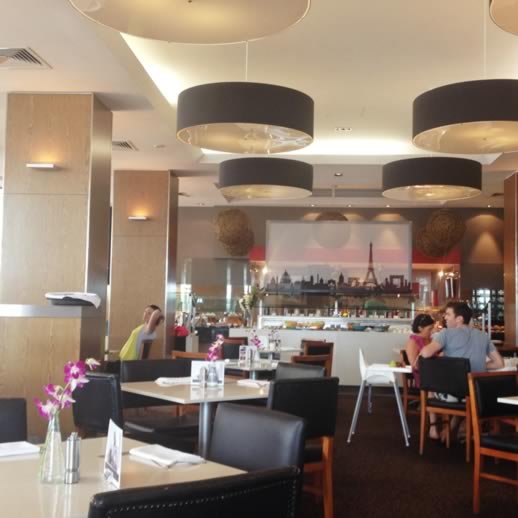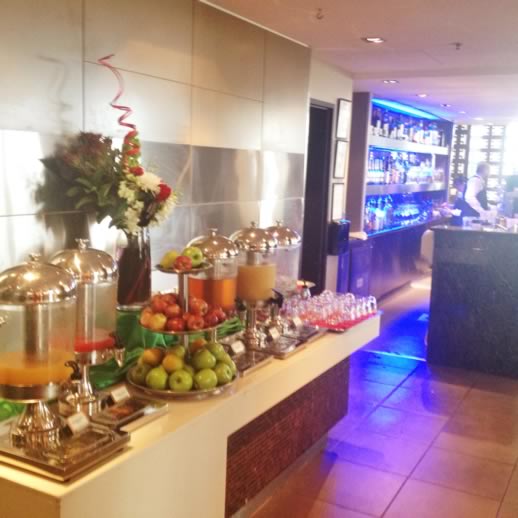 Our favourites included the pancake machine with a big selection of cream, berries and sauces, the homemade hash browns, the vegetarian omelette with spinach and the gluten free friands.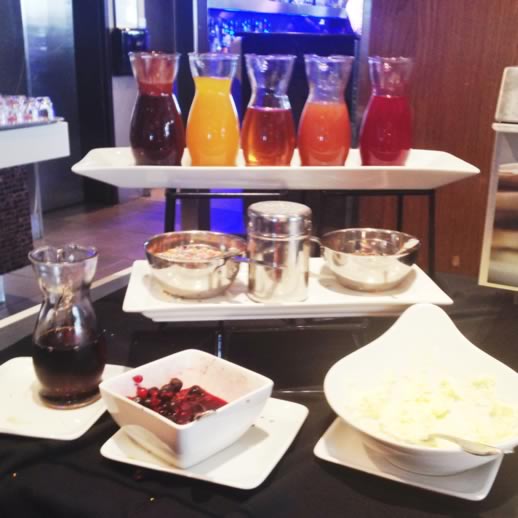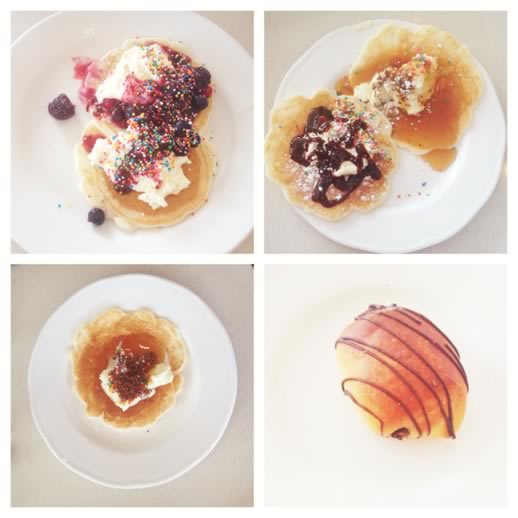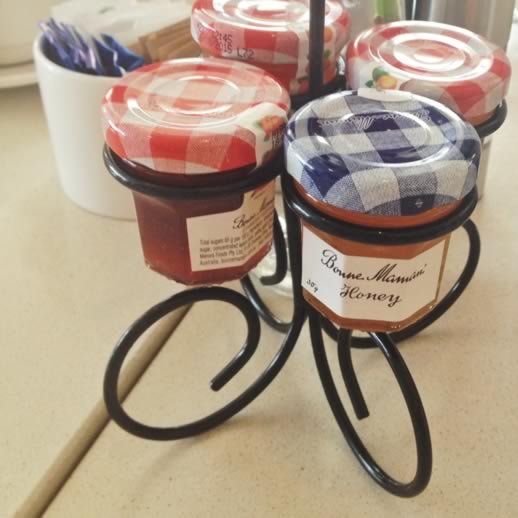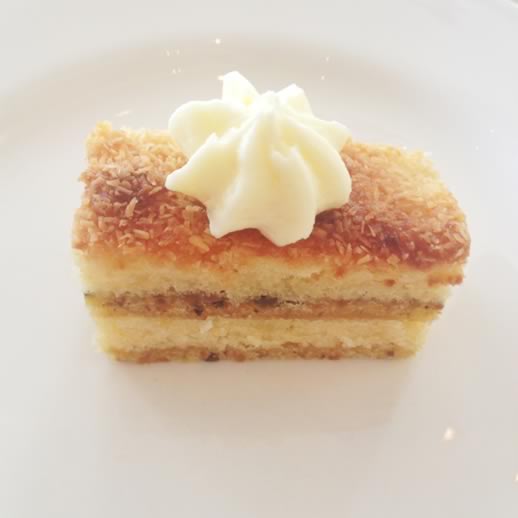 We lingered in the Bistro on3 restaurant for an hour and ate our weight in pastries, fruit, fried food and yogurt. Despite being extremely full when the waitress suggested I take a few pastries home and gave me a goody box to put them in I did.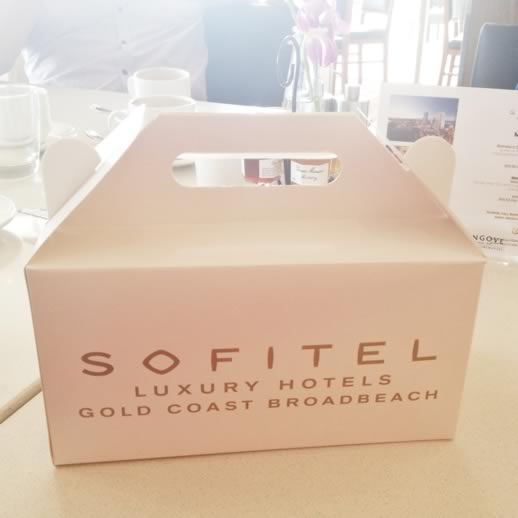 Check out time was 11am and it was sad to leave the sanctuary of the Sofitel. We  lingered by the pool a bit longer before finally dragging ourselves away.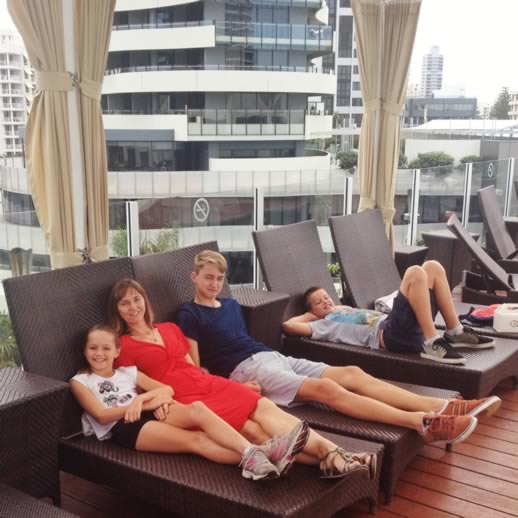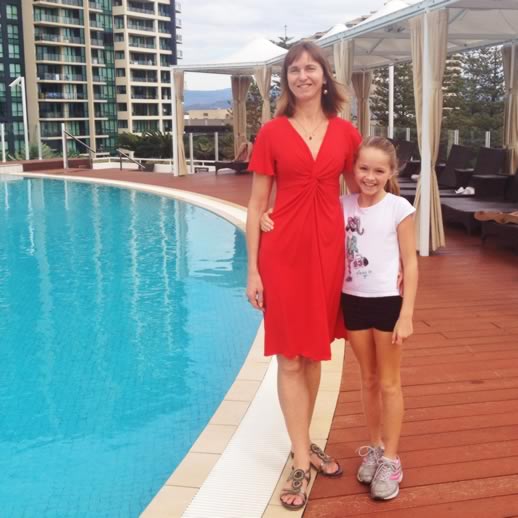 Still we had the Ripleys Believe it or Not Odditorium to visit and very good it was too; almost a world tour of the strange, weird and downright freakish.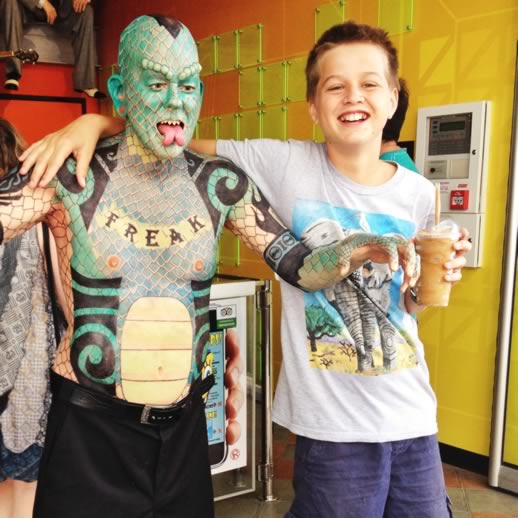 There were some pretty odd things happening streetside too like these scantily clad meter maids which Rich says the Gold Coast is famous for but which I'd never heard of. Funny that.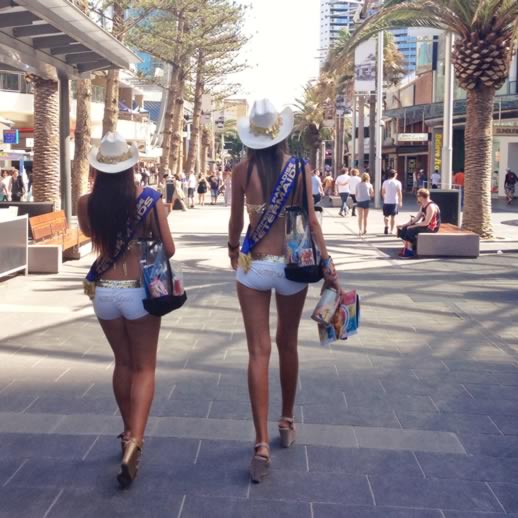 We took a quick look at the Gold Coast beach and hopped back in the car for our long drive home. The Sofitel's takeaway box with jammy donuts, muffins and friands helped ease our pain.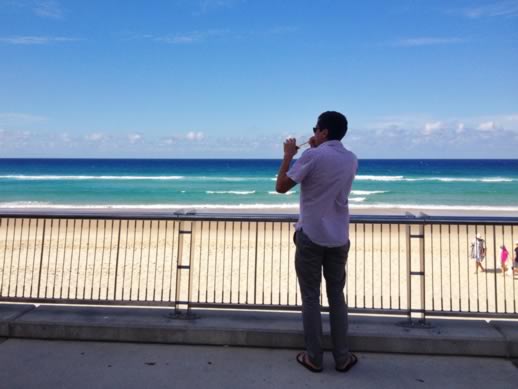 Back home, as I busied myself unpacking and doing the first of many loads of laundry, my mind started to wander away from the drudgery and onto wondering what the next trip would be.
Now the family road trip was over I'm thinking a girl's getaway would be fun but where to next?
Where next? That's always the big question for travel lovers and one I get asked all the time.
Right now I don't know where I'm going next, don't know when, but I hope my travel stars align again soon.
——————————————————————-
Thank you to the Sofitel Gold Coast for hosting us and to Shell Australia for supplying the petrol for our road trip.
If you've got a favourite Aussie road trip you can share it at the Love Drives site.
If you'd like to experience the Sofitel Gold Coast there's currently a Magnifique Family package for families who book two interconnected superior rooms like ours for $450 per night for both rooms which could sleep a  maximum of six people. The Sofitel buffet breakfast in Bistro On3 usually costs $42 per adult and $19.50 per child but it's included in the Magnifique Family package.
——————————————————————-
Never Miss a Post!
Get free email updates from Get In the Hot Spot – it's a weekly injection of tips to help you be more adventurous, have more fun and feel fabulous. Sounds good? Click here to get started now.
——————————————————————-
Where do you go when you need a quick break?
Share This Story, Choose Your Platform!