Family Fun at a Farmstay in the Tweed Valley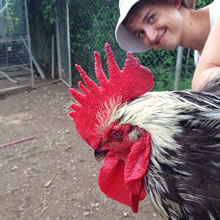 With a babbling brook running through it, a muddy dam for swimming and domestic animals galore, Hosanna Farmstay in the Tweed Valley is perfect for family fun.
It's not one of those boutique farmstays that cost as much as a four star hotel either. This place is the real deal which makes it a cheap and cheerful family holiday.
You can pitch a tent in the extensive camping areas at Hosanna, hole up in an ultra basic a-frame hut or treat yourself to a much fancier looking cabin set high above the dam.
We spent five days at Hosanna over New Year's Eve in 2014/2015 and visited again in January 2015 because we loved it so much. We camped with a few other families each time so the kids had friends to play with and we adults has moral support.
I'm not a natural camper but I love camping when there's no other option, like in remote Mana Pools in Zimbabwe. Secretly though I'd rather be glamping than camping leaving someone else to do the hard work.
But we have a budget to stick to on family holidays and camping is a great way to stretch it as far as possible. Plus the kids love camping. They enjoy not washing, eating constantly and roaming free in the bush or at a farm. So they're as happy as pigs in mud on a farmstay.
Here's what we like most about Hosanna farmstay.
1. Proper bathrooms!
This is such a treat as our regular camping spot doesn't have real bathrooms. Even if you're camping at Hosanna you can still have a hot shower and do your washing up in a sink with hot water. Which I enjoy very much.
Don't forget if you're not a happy camper you can always get a cabin.
2. Lots of space
There's plenty of room to spread out at Hosanna which is lucky for us – we took three tents, a gazebo and two cars just for our family – plus around 15 friends.
Noisy kids aren't an issue either – most other guests have a few rug rats in tow. If your kids do bother you just give them a mohawk which is what happened to our Max. He was a wiling victim but he soon got bored of the 'hawk and ended up with his regular short back and sides.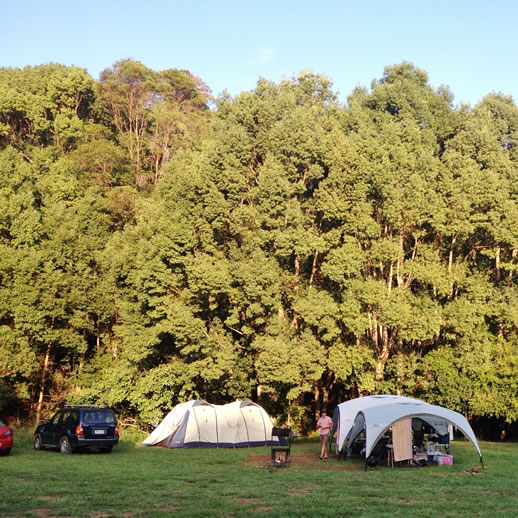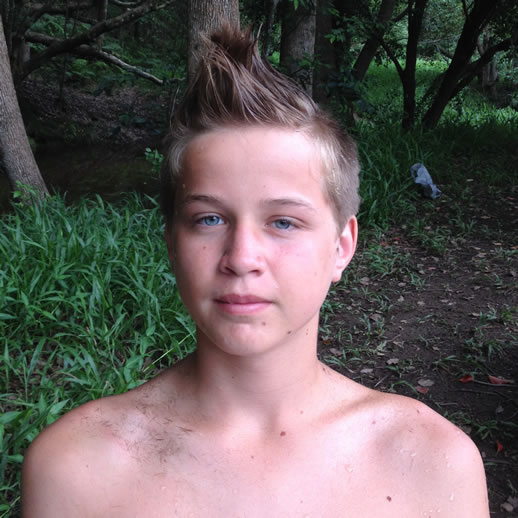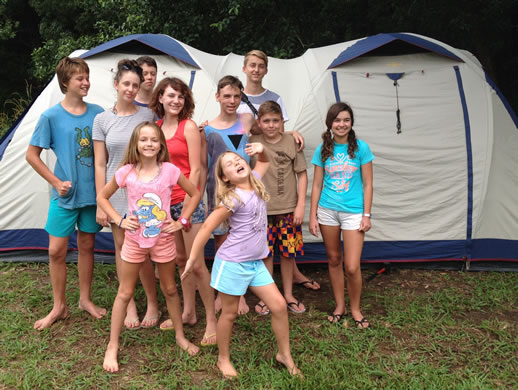 3. Real farm experience
Even the older kids enjoy the animals but Kiara aged 10 is mad about them. She gets up at 6am to help milk the cows and spends hours petting the rabbits and guinea pigs.
The goats and pigs are strangely fascinating too. I like the chickens and their lovely fresh eggs.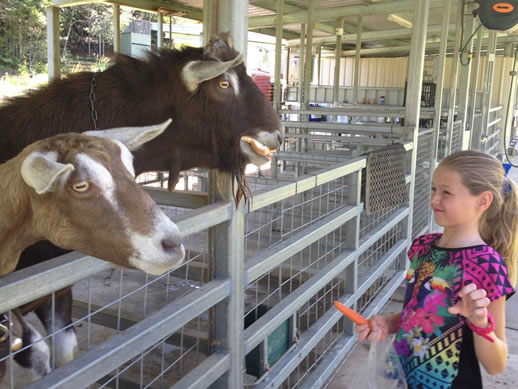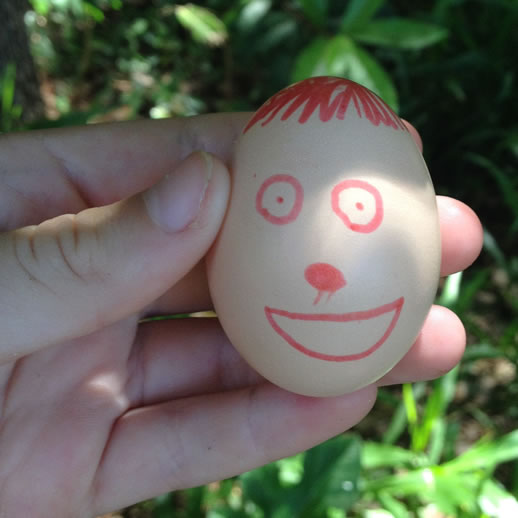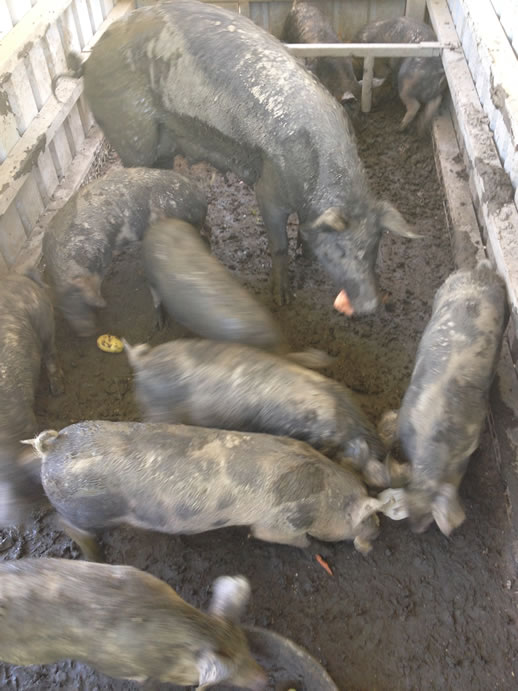 4. Lots to do around the farm
There's a muddy dam to swim in, stocked with kayaks and tubes to play on and a high diving board which the kids spend hours leaping off. We had fun making a fire and getting sweaty in the sauna too.
In the evenings you can sit around a real camp fire and roast marshmallows or walk down the railway tracks to see the glow worms. That's fun.
Don't forget to take the farm tour. Hosanna farmstay owner Alex is a fountain of knowledge about the local area and animals. The kids love getting up close and personal with the creatures and bumping round the fields and through the creek in her ancient jeep.
There are a few other activities too during busy periods. In the school holidays the friendly Hosanna team put up a slippery slide for kids.
On New Year's Eve last year they threw a party with a massive bonfire and some home made fireworks at 9pm. Just the way I like it because staying up until midnight can be hard for tired mums!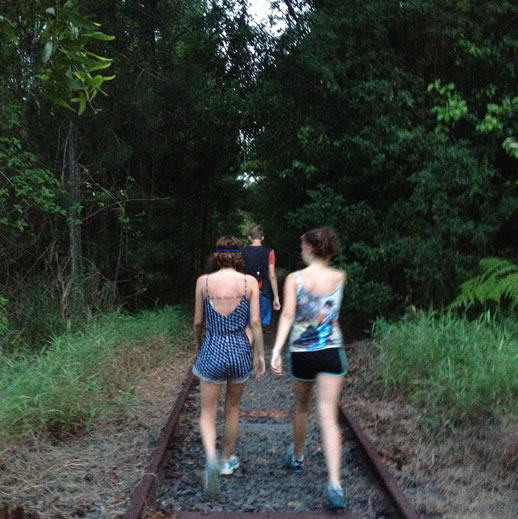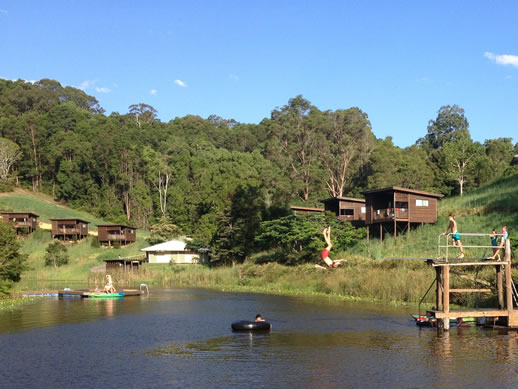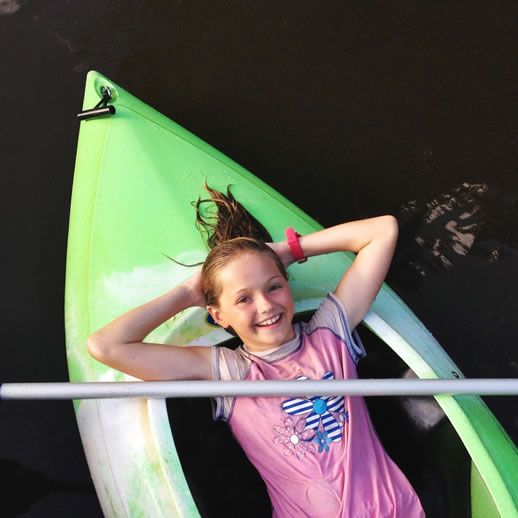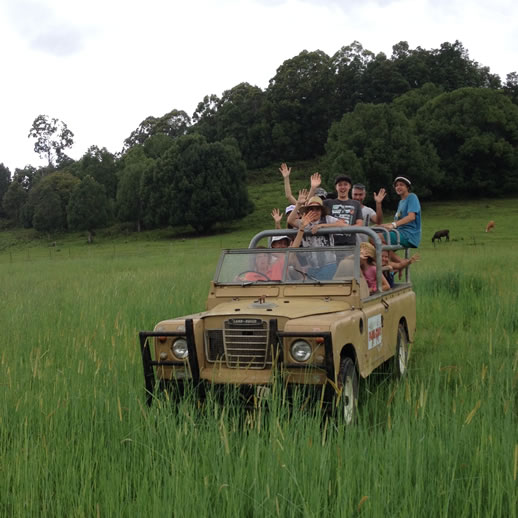 5. Plenty to see and do in the Tweed Valley area
Hosanna is in Stoker's Siding near Murwillumbah. The beaches of Byron Bay and Brunswick Heads are about 30 minutes away if you want to wash off the farm dust in the ocean or river.
Byron Bay markets on Sunday mornings are a 60 minute drive but worth visiting to enjoy the hippy vibes.
Culture vultures can drive five minutes from the farm to the fabulous Tweed River Art Gallery. It's a great air-conditioned space to escape the heat and sun with fabulous exhibitions and views. The cafe is popular too and the kids can get busy making their own art.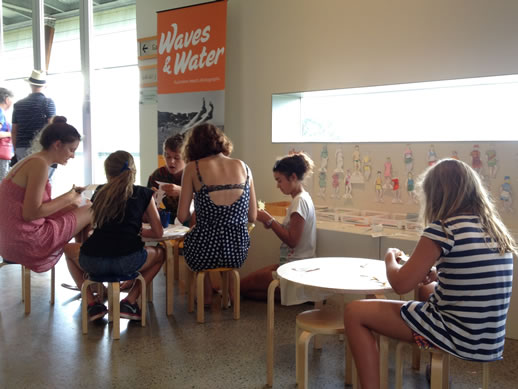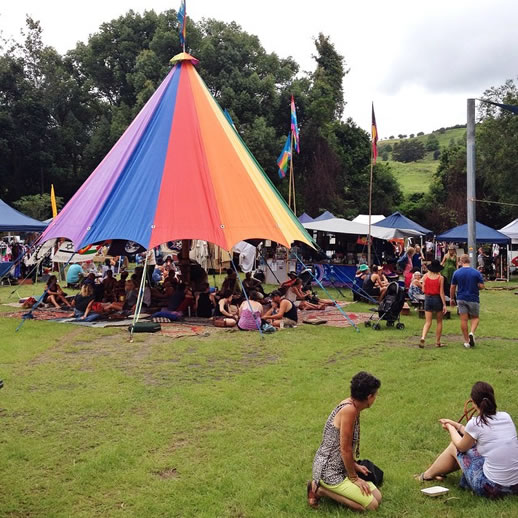 Active types and adventure seekers (like me!) can drive 30 minutes to climb beautiful Mount Warning. It's a long hike but because I'm a born again fitness freak I climbed it twice, once when the peak was in the clouds and once when the views were spectacular.
It took me three hours to get to the top and back but allow four or five hours if you have kids with you or want to go at a more relaxing pace.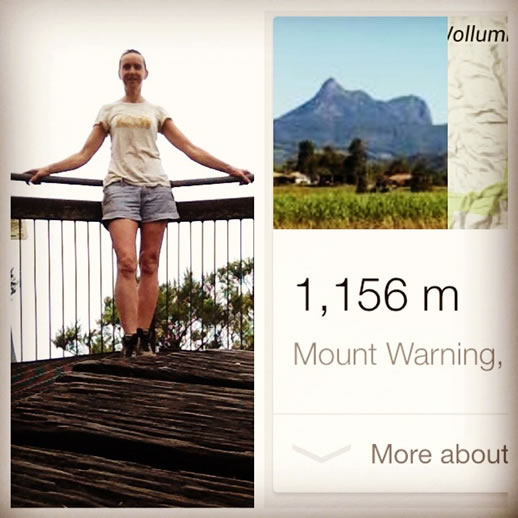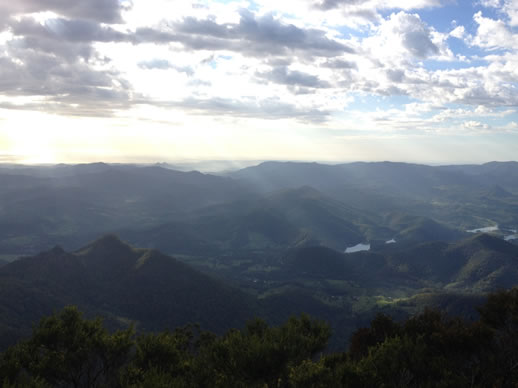 So if you're after a family farmstay escape try Hosanna in the Tweed Valley. You'll have all kinds of fun and new experiences.
Seriously, where else can you see what it feels like to be roosted on by a rooster? No matter how well traveled and worldwide I'll be impressed if you've already experienced that!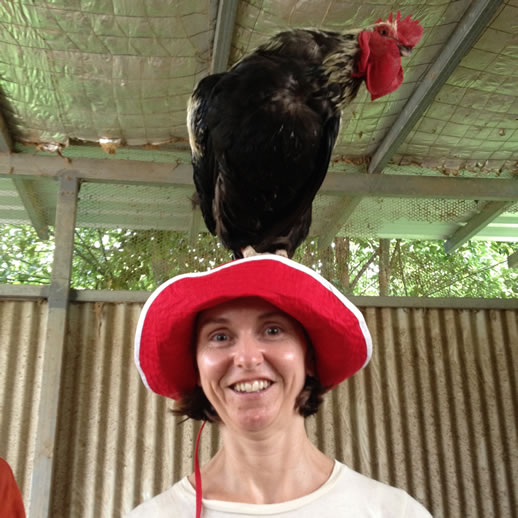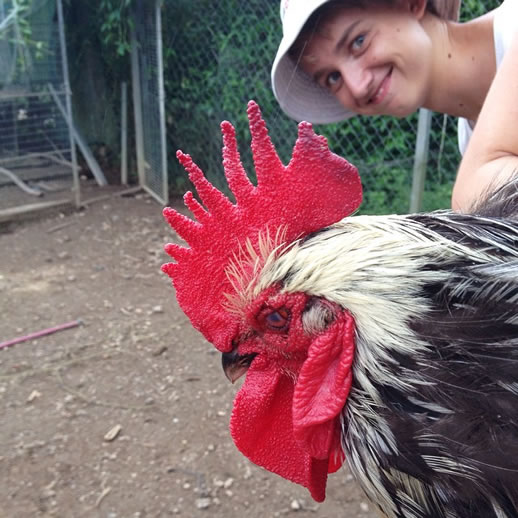 Would your family enjoy a farmstay at Hosanna?
Travel Well and Feel Fabulous with Get In the Hot Spot!
Stay tuned to Get In the Hot Spot with our free newsletter, a weekly injection of tips to help you travel well, feel fabulous and live your dream. Hit this link to join us now.
Share This Story, Choose Your Platform!