Chillaxing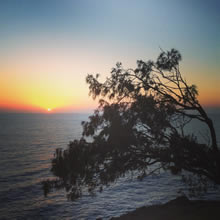 Easter is one of my favorite holidays, not just because I love chocolate, but because the eggs, chicks and bunnies are all symbols of spring, renewal and regrowth.
But as Australia slides into autumn chances are you're embracing spring. It's a time of year when living Down Under makes me feel upside down and quite envious of all my dear readers who are looking forward to spring and summer ahead of you.
So even though the summer is coming to an end here I'm with you in spirit, enjoying the spring blossom, frolicking lambs and signs of nature slowly waking up.
Still March, April and May are a beautiful time of year here in Noosa too with the ocean still warm enough for swimming and the water as clear as I've ever seen it. The Candy kids have just finished a two week school holiday which was mainly spent at home with lots of beach trips, long walks and endless reading.
We celebrated Rich's birthday in the middle of all that with chocolate fudge cake and a meal in an Indian restaurant. We treated the kids to endless frozen slushies as a reward for the long walks in Noosa National Park (pictured above) and marveled at how busy the beaches were.
It was all about doing less and being happy with what we've got. About accepting that no matter how good we have it I'm the type of person that still wants more. And about doing nothing about that at all.
I didn't work (unless it was essential), I didn't write and I didn't even exercise. Instead I dedicated the time to chillaxing and thoroughly enjoyed that.
It's easy to laugh off new words like chillax but a cross between chilling out and relaxing was just what I needed. I feel renewed, refreshed and ready to roll again.
Not too quickly though. Easy does it. Once you've got that chillax vibe going you want to hang onto it as long as you can.
How do you chillax? Are you going easy on yourself right now?
Share This Story, Choose Your Platform!