52 Exercises: #38 The Stampede Obstacle Race for Anxious People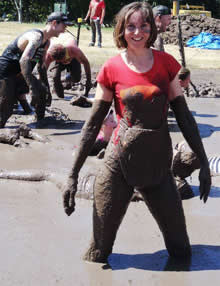 For someone who hates getting dirty, out of breath and sweaty The Stampede is about as bad as it gets. It's one of those muddy obstacle course races which are strangely popular these days.
A quick Internet search shows that there are literally hundreds of different obstacle races going on all over the world. So why do people pay good money to run miles and crawl through oozing mud? Last weekend I found out – although I almost chickened out.
Many months ago a friend asked me to join her Stampede team. I thought long and hard about it, knowing it would push me way out of my comfort zone in a good way and make a great story for the 52 Exercises quest but my heart wasn't in it. I just wanted to chill out at yoga or have fun at dance and cardio tennis classes.
I've been exercise shy all my life so I definitely did not want to go hard and get muddy in the process. Plus I'm recovering from depression and anxiety so I need to take it easy.
But then someone dropped out of the team a week before the event and my friend asked me to join her again. This time I agreed because I am lucky to have friends who invite me to do anything and it would be rude to say no twice. The great thing was that I didn't have time to train but I knew I could go the distance because I run 10km (7 miles) once a week, do weights weekly and am fitter than I've ever been.
So off we went on the 10km Stampede at Woodford near Brisbane, a group of mums and one dad – but definitely not my Rich. The great thing about obstacle races is that they are not really a race and our team got into that non-competitive spirit by walking most of the way.
It was more of a plod than a stampede which gave us time to enjoy the atmosphere, challenges and scenery.
The 10km course had 30 obstacles including:
Running over a rock bed;
Crawling under a net through deep thick sucking mud;
Jumping across floaties over a river – and falling in;
Terror tunnel – I can't remember what this one involved – must have suppressed it;
Devil cave – walking through a dark steamy room then suddenly being sprayed with freezing water;
Crawling across a bog through a plastic tube like a giant condom;
Walking across a huge seesaw;
Climbing over a bus covered in nets – not great for those with vertigo;
Sliding down a fireman's pole -sadly there were no firemen around;
Scaling a tower made of tires;
Ice-bath plunge (horrid);
Electric shock run being zapped by 10,ooo volts – makes you glad you've never been tasered – that's 50,000 volts;
Water slide into muddy bubbles – something fun!
Running up ramp, grab rope and haul yourself over -see video;
Rope swing onto net- for that Tarzan moment;
Climbing over giant cables – leg ups from team mates and help from kind strangers needed here;
Swimming across a muddy creek;
Carrying tyres up and down a hill – you really feel silly paying for that;
Balancing across fences and poles;
Climbing wall;
Crawling 20m under a long building – I nearly dodged this one but then I did it;
Fire jumping;
Running past gladiators who whack you;
Final mud crawl under barbed wire to the finish line.
One of my team mates who has recently lost 13kg (28lbs)  commented:
"It's not often at our age that you get to do something that you've never done before and don't know what to expect."
She seemed to thoroughly enjoy her Stampede experience, frequently encouraging me to run more so we can get back for lunch.
And what she said is so true. Getting out of your comfort zone IS good for you but I could feel my anxiety levels rise when height was involved in the challenges and the ice bath was no fun either.
We took our sweet time on the course and had a good laugh, completing the race in two hours and 45 minutes without skipping any obstacles.
I've never had a better shower in my life to rinse off all the mud and went to bed early only to have a nightmare in which a tsunami of liquid mud swept my husband Rich and daughter Kiara away. I woke up sweaty and anxious.
I guess my anxiety levels were high during and after the obstacle race but at least I know I'm anxious now. I classed myself as depressed earlier in the year and only realized I had an anxiety problem when my shrink mentioned it.
I didn't think of myself as an anxious person because I do things all the time that other people call courageous. I've lived in eight different countries so far and this year I've skydived, done body building and rock climbed.
I don't let anxiety stop me from doing what I want to do and you shouldn't either. It's okay to feel anxious as long as you notice the anxiety, acknowledge it and do what you want to do anyway.
Over $89,ooo was raised for charity from The Stampede obstacle race and despite the anxiety I'm already thinking of doing another one next year. It's strange but I enjoyed it, even though I definitely got out of breath, sweaty and very dirty indeed.
Do you run away from anxiety or lean into it?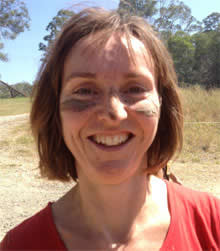 Thank You for Reading
If you're enjoying Get In the Hot Spot and the 52 Exercises Quest please take a moment to share this post. Thank you.
Join Thousands of Vibrant Readers with the Free Weekly Newsletter
Click here to subscribe now for free email updates from Get In the Hot Spot. You won't get an email every time I update the blog but I will try to create a weekly newsletter with some exclusive content not shared on the blog and a round up of the best stories.
Share This Story, Choose Your Platform!