Who Cares About Animal-Friendly Travel?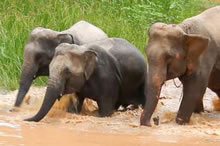 One of the downsides of travel can be exposure to animal cruelty. I still feel sad when I think about the starving cats I saw on the streets in Egypt 20 years ago. It's a shocking memory that's stuck with me as much as the thrill of my first sight of the great pyramids of Giza.
I've seen monkeys confined in shadeless cages in Guatemala, emaciated horses pulling tourist carriages in India and beautiful live birds for sale at the food market in Laos. All of those experiences have lingered with me for decades.
If I could change one thing about travel I'd wish that all animals could be as pampered and loved as my own cat. Of course I understand that humans are more important than animals but we still need to consider animals when we travel.
Most of us love animals or want to have positive experiences when we travel. But it's easy to get caught up in the excitement of travel and do things we normally wouldn't do, or accept things we'd normally reject in our own country.
Sometimes negative travel experiences seem to be based on cultural differences and other times we do things we wouldn't normally do when we were at home just because it's there or other people are doing it (so it  must be okay!).
No wonder I was excited to see that Isan Explorer are offering elephant-friendly elephant encounter tours in Thailand. That's an experience I'd love to have with my children but could only enjoy if I knew that the elephants were happy and I've heard so much about elephant cruelty in Thailand.
You won't be able to ride the elephants on an Isan Explorer tour because elephant chair rides for tourists can seriously and permanently damage an elephant's spine. But you will get to enjoy responsible, elephant-friendly activities like walking with the elephants, watching them splash around at waterholes and helping bathe the elephants.
You definitely won't see any elephants on chains or being beaten into obedience so all your travel memories will be positive ones. Which is great news for anyone who loves elephants – and I know I do – after all, Babar the elephant is one of my original travel heros!
Three cheers also to STA Travel for severing all ties with SeaWorld which is renowned for animal cruelty, and to tour group Tribes Travel who've followed PETA (People for the Ethical Treatment of Animals) recommendations and banned ostrich riding from their brochures and tours.
"Like all wild animals, ostriches avoid human contact in the wild, and they can be seriously injured when forced to carry human beings", explains PETA Director Mimi Bekhechi.
"PETA encourages travelers to follow the compassionate example set by Tribes Travel and avoid any establishment offering wild-animal rides."
I for one haven't been faultless in the past. I confess that I rode a zebra in France when I was a girl. More recently I published a guest post called Things to See and Do in Chiang Mai which mentioned elephant riding. I've since updated that post to help stop the practice.
Now I'm glad to have some guidelines to follow next time I encounter animals on my travels and happy as a lark to hear about travel companies and other travelers who love animals as much as they love travel.
Have you ever been shocked by cruelty to animals when travelling? Or maybe you've got bright ideas about how we can help reduce animal suffering on our travels?
Travel Well and Feel Fabulous with Get In the Hot Spot!
Stay tuned to Get In the Hot Spot with our free newsletter, a weekly injection of tips to help you travel well, feel fabulous and live your dream. Hit this link now to get updates by email.
Share This Story, Choose Your Platform!