My Life as a Zebra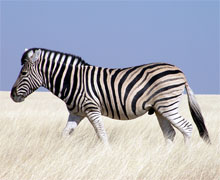 I've always has a soft spot for zebras. Horses are beautiful animals but when you add black and white stripes, a pattern so simple and stunning, the result is magical.
Zebras are better than unicorns because they actually exist.
Riding a Zebra
My love of zebras started earlier but was cemented when I was 12. My parents had a holiday house in the Loire region of France on a small island called Noirmoutier. You may have seen it on TV recently, because this year the famous Tour de France bike race started from the Isle de Noirmoutier, on the causeway that links Noirmoutier to the mainland.
That causeway is the longest in the world but only accessible at low tide. The rest of the time it's deep under sea water so there's a real element of risk driving over it. Huge poles with ladders on are strategically placed for people who get the timing wrong and needed an escape route.
Sometimes people tried to drive over the causeway just before the tide turned and didn't make it. They say that the tides come in faster than a galloping horse in some areas of France and what was just an empty causeway quickly disappears under meters of sea water.
Driving over the causeway was a thrill on family holidays but the other thing we looked forward to each summer was a visit to the touring circus.
The circus usually came to the island to catch the summer crowds and one year they rented a field by our house for their exotic animals. They didn't put the lions in it, but suddenly we had llamas and zebras peeping over the fence at us. There was even a giraffe.
I couldn't resist and, when there was no sign of mum, dad or any circus folk, I climbed the fence into the field, took a running jump and leaped onto a zebra's back for a little ride.
I don't think the zebra moved at all but I still lay claim to having ridden a zebra.
Wearing a Zebra Dress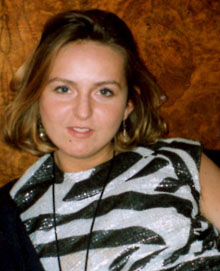 A decade or so later, back in England, I was off to live in Zimbabwe in Africa for a year and threw a safari party before leaving.
The safari theme fitted well with my African adventure but the real reason I chose it was because I had this fantastic zebra print dress to wear.
It's a glittery sleeveless shift with a huge split right up one thigh. My mum must have been the belle of the ball in the seventies when she wore it, especially accompanied by my Austin Power lookalike dad with his black framed glasses, gently flicked hair and pink satin frill necked shirt. I'm not kidding.
I love that zebra print dress and still wear it sometimes to seventies parties. But it's a classic style and design. I'm sure you could wear it to the Oscars and get on the best dressed list.
Becoming a Zebra
My relationship with zebras deepened that year in Zimbabwe when I met a Zimbabwean man who asked me:
"What is your tribe?"
"Huh? Tribe? What do you mean tribe?"
He explained that everyone in Zimbabwe belonged to a tribe and, since I was tribeless (sadly we don't have tribes in England just social classes) he invited me to join his tribe, Madube.
"Madube?" I asked.
"Yes, it means zebra. Madube is the shishona word for zebra so will you be part of our zebra tribe?"
I happily agreed. Now I'd gone from being a zebra lover to actually being a zebra.
Zebra Print Nails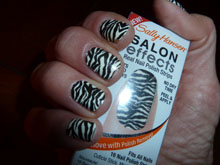 Many years later here I am in Australia and with another strange hankering. This time I'm after gorgeous hands and nails.
I'm a busy lady. No time or patience for manicures and every time I do my own nails they end up looking terrible. I just cannot sit still for long enough to let them dry properly so they always get messed up.
Then I discovered this brilliant idea called a 14 Day Nail Shield by Sally Hansen. It's real nail varnish that you stick onto your own nails to give them that lovely clean, shiny  look and protect them from the ravages of daily life.
They're brilliant when you're traveling too, because all that packing and unpacking always takes its toll on my nails.
I love that you can do the manicure yourself anywhere, and whenever you have time.
I've even applied them on a plane and while watching my kids play basketball. Please understand these were separate occasions – the Candy children are strictly banned from  playing basketball on airplanes.
Best of all there's no drying time. You just stick the polish on, press it down, file the edges off and you're ready to go with a gorgeous manicure that last ages.
The clear nail protectors are great but then I looked online and saw that they have colored versions too plus some crazy psychedelic prints or glittery versions.
They're called Sally Hansen Salon Effects Real Nail Polish Strips but I couldn't find them near where I live so, out of sheer desperation, and because I really do love this product, I emailed Sally Hansen and cheekily asked if they'd send me some so I could try it out.
I told them the real nail polish trips are perfect for travel and I'm nuts about them. In my enthusiasm and desperation I might have gone on a bit but they got the message. Or maybe they just sent me some samples just to get rid of me.
But when my Salon Effects Real Nail Polish Strips arrived, instead of the conservative pale pink nails (yawn) I'd normally sport, they'd sent me bright orange, silver glitter and even zebra print nails. How did they know?
So now the zebra woman has gorgeous zebra nails.
I admit, at first I thought these zebra print nails were a bit wild for me. I'm more the classic (read boring) type, so it took me a while to actually try them out. B ut as soon as I did I loved them too.
Sadly I can't ride a zebra or wear my Shirley Bassey zebra glitter dress every day but I've got the zebra nails. They're a brilliant conversation piece too.
So thanks so much to the lovely PR lady at Sally Hansen who succumbed to my pleas and sent me a lovely bundle of Salon Effects nails and even threw in some gorgeous citrus-scented 24 hour moisture hand creme with shea butter which I loved too.
Find Out More About Zebra Nails or Find Them
There's a video on YouTube (where else) showing the different Salon Effects colors and patterns including zebra nails and how to apply them.
If you're in Australia you can get the clear 14 Day Nail Shield in BigW. The classic design and wild and wacky Sally Hansen Salon Effects Real Nail Polish Strips print nails can be snagged at Priceline Pharmacies and David Jones.
If you're in the USA check out the Sally Hansen website to find your nearest stockist.
Have fun.
Welcome to the Zebra Tribe
Oh, and since I'm a zebra and you're in my tribe I guess that makes you a zebra too which is brilliant news…. as long as there aren't any lions around.
Photo credit: Coda
Share This Story, Choose Your Platform!