An Unlikely Travel Hero: Clue – He's a Large, Grey, Fictitious Animal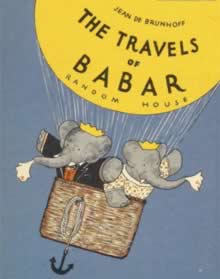 I fell in love with the romance of travel and hot air ballooning as a child.
Seeing the beautiful illustrations of Babar the elephant and his blushing bride Celeste going on their honeymoon in a hot air balloon made me yearn to travel widely and go hot air ballooning too.
Reading The Travels of Babar made me want to drift off on my own adventures.
I haven't been hot air ballooning yet but just seeing hot air balloons float across the sky is magical. It's the silence, the color, the shape, the wonder of knowing that all that's keeping those balloons afloat is a roaring flame and some hot air.
We sometimes saw a hot air balloons from the roof garden of Dingley Hall and last time we stayed there little Luke enjoyed watching one float by.
Every time I see a hot air balloon it takes me on a little journey back to Babar, my childhood travel hero, and forward as I wonder when and where I'll be when I follow in Babar's elephanty foot steps and finally take flight in a hot air balloon.
But mostly seeing a hot air balloon makes me stop whatever I'm doing and watch, wonder and enjoy.
I'm trying to practice mindfulness right now so I guess that's a good thing. I'm learning to notice my thoughts and acknowledge them but not judge them.
To notice thoughts then watch them drift away like so many hot air balloons on a balmy summer's evening.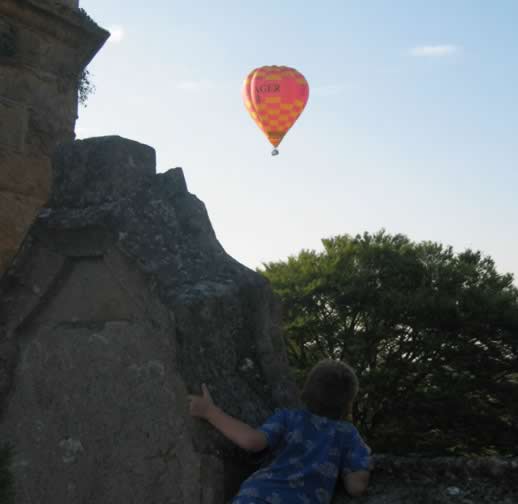 You can find the excellent book The Travels of Babar by Jean De Brunhoff on Amazon. Check it out here.
Do you have any travel heros? Either real people or fictitious animals?! Just tell us who or what makes you want to travel in the comments below. We'd love to know. Thank you. 
Share This Story, Choose Your Platform!