3 Ways to Inject New Life Into Your Life or Blog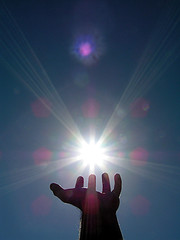 Last month I felt as if my writing was getting a bit stale. Of course, I was doing some solid writing, covering important topics and dishing out sound advice. But I felt as if the spark was missing.
I hadn't written a strange personal update about my parenting experiences for months, or given readers a laugh at my expense. I think I was playing it too safe and frankly it was starting to bore me a little.
Playing it safe is not my style and it's certainly not something I want to model to anyone else either.
But I think it's a common phenomena. You get into a routine with your life, work or relationships. At first it's easy and comfortable, things are ticking along nicely but then it starts to get boring. That's when you need to shake up your life or inject new life into what you're already doing. Here's how:
1. Do something scary every day
I was recently interviewed by Jennifer Gresham at Everyday Bright to see if my claims that I do something scary every day are true. They are but it's pretty easy to make a habit of it when just about everything scares you. Well, I exaggerate, I'm not agoraphobic or anything but I'm quite shy, so speaking to new people can be hard and I'm far too self conscious about what other people will think about what I say or do.
Some days I feel gung ho and have a great 'sod it' attitude where I think if people don't like my hair/opinion/behavior/jokes then that's their problem. This is definitely much healthier and I wish I could have it 100% of the time.
Plus, I've heard the type of paranoid attitude where you worry about what other people think about you is delusional because no one else is even noticing what you're up to ~ they're too busy thinking about their own problems.
And that's why you're here isn't it? You've got a problem and you're seeking the solution.
Hopefully you've got a dream and you want help making it come true. Maybe you're feeling flat and you need a pick up. You could be keen to do something new but paralyzed by the fear of the unknown. Well, don't worry, I'm still going to help you out with all of that and more, but hopefully in a less formulaic way.
2. Don't take things too seriously
I've been taking this whole blogging stuff too seriously. Reading up on it, studying blog success stories and striving to fit the mold. But I'm not going to fit in and you probably don't want me to anyway. You want a happy, unique writer who dips from one topic to the other and keeps it interesting so expect more of a mixed bag around here.
In the future I might write about travel, Internet marketing, Australia or just life in general. But whatever it is I'm going to keep it interesting, upbeat and useful and relate it all back to living your dream and getting the life you really want.
Playing it safe with my blog by sticking to my topic and writing relevant, useful posts has been reasonably successful. But look at the titles of some of my last 10 posts and remember they represent 10 weeks since I only post once a week: How To Sleep, The Real Secret To Success in 4 Words and Here's a Fast Way To Improve Your Relationships. See what I mean? I need to cut lose.
3. Mix things up
So stay tuned if you want to see change, if you want to mix things up a bit and if you're ready to expect the unexpected.
I'm planning on a series of posts with information about some of the countries I've lived in to give you an idea what you might find if you visit, and I hope they'll make you want to. I'll cover France, Costa Rica, New Zealand, Laos and Zimbabwe to begin with.
I also plan to write more about blogging, website design and Internet marketing for small businesses. Thanks so much to everyone who commented on my blogging dilemma and agreed that it would be fun to combine this new topic into the self improvement articles.
Don't worry, I'm not interested in boring you with techie news and tips. I just want to give the essential information you need to make sure your website or blog reflects well on you and gives your site visitors what they want.
There's far too much information on internet marketing on the Internet and I think people are drowning in it. So I'm going to toss you a lifering and offer you the essential information you need to keep you afloat without any of the fluff.
I'm looking forward to hanging out with you, improving my writing and making my blog an invaluable resource for people who are going places.
3 Ways to Inject New Life Into Your Life or Blog
Take risks. Start by doing something that scares you every day. It's easy when you get started and I guarantee you'll start to look forward to it.
Have fun first. Stop playing it safe and slavishly following the rules.
Mix things up and don't get stuck in a rut.
Thanks for reading GetIntheHotSpot.com
A huge welcome to my new readers who've come here from Problogger and of course to all the old faithfuls. Please add your comments below and don't forget to get free updates by email now or with the RSS Feed, if you haven't already. That way, you won't miss out! Photo credit: Bohman.
Please Support Me: Tell People About This Website
If you like this article, please Tweet it or email a friend with the link. My clever computer boffin has added a little tool to make it easier for you to email it to friends, or add it to your favorite social media website. I hear that if you Digg it, or bookmark it on Delicious or Stumbleupon, that will get more readers here. Many thanks for your help, I appreciate it.
Guest Posts
Problogger – 4 Classic Mistakes I Made In My First Year of Blogging (and How I Got 1000 Subscribers Anyway)
Numbered Lists To Get You Going
>> 10 Things To Be Grateful For and Why You Should Be
>> 5 Ways To Prevent Depression
>> 10 Ways To Get The Life You Want
Share This Story, Choose Your Platform!