Here's A Fast Way To Improve Your Relationships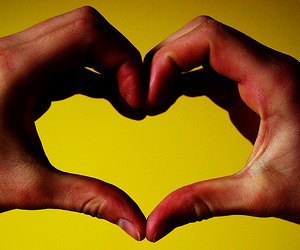 Love it in the air. Or is it?
Wether you think Valentine's Day's a load of commerical clap trap, designed purely to get you to spend your hard earned money on love tokens, or a romatic way to tell your loved ones you care, it does serve as a useful reminder to think about love.
The annual love fest on February 14th is eagerly anticipated by many young lovers, while other people hate it, and some of us barely give it a passing thought.
My husband falls into the latter category and I'm not much better ~ I usually scrawl him a quick love poem at the last minute and present it on a dog-eared bit of paper torn from one of the kid's exercise books. Sadly, this routine leaves us both unimpressed but read on to discover how to bridge the gulf between loving someone and actually making them feel loved.
It's quick, easy and surprisingly effective because improving your personal relationships can be as simple as finding out the best way to make someone feel loved. Best of all, with a little creativity and forward thinking, you can use these ideas to improve your relationships with friends, colleagues, kids and family, not just with your partner in romance.
Often expressing your love is hard
In the States, I know that some parents send Valentine's Day cards to their kids and vice versa where as in the UK, New Zealand and Australia the concept is confined purely to romantic love. I spent a lot of time with North Americans in Costa Rica and noticed that on Valentine's Day some of them even posted messages of love to their platonic friends on Facebook. One good friend held a Valentine's Day family party where all the kids made crafty stuff with hearts.
I embrace this free flow of love but sadly it doesn't come as easily for most Brits. (Please remember that although I live in Australia and have a New Zealand passport, I was born and raised in the UK.)
My lovely north American girl friends in Costa Rica often told me they loved me or my family enthusing:
"We love you guys!"
This was awkward for my husband and me at first. Being British, we don't even tell our closest family that we love them, let alone friends. Still, I soon got into the flow of it and became quite adept at telling people I love them, even if they weren't related by blood or marriage. Telling someone you love them and hearing that someone loves you is pretty special and it's not something we can hear too often, but there are other great ways to show people you care.
What's the best way to make someone feel loved?
There's no simple answer to that but by the end of this article you'll have a few guidelines.
Have you heard of the five languages of love?
They were noted by Dr. Gary Chapman, in his book, The Five Love Languages, published in 1992 and on the New York Times bestseller list for over two years, you can buy it on Amazon.
But if you don't have time to read it or can't get hold of it immediately, here's a cheat sheet. I read The Five Love Languages of Children by Chapman and Ross Campbell years ago and it made a lasting impression. I think the basic principles and the love languages are the same for adults and children.
How understanding the love languages can improve your personal relationships
You'll be able to show people you care about them in the way that means the most for them.
You won't waste time trying to tell them you love them in a way that leaves them cold.
It makes sense to me that some of us have different ways of showing their love. Some husbands buy gifts for their wives. Some kids pick flowers for their mums. Some adult children take their dad to see the big game. Some friends give each other a massage. They're all valid ways to show you care but there is one problem.
If you don't actually say "I love you," then will the loved one know you care?
The book explains that everyone has different ways of knowing that they're loved. Obviously we all need to feel loved, but if everyone experiences that in different ways how can we know what the best way to show them we love them is?
The Five Languages of Love
The answer is to know and understand the five languages of love and tailor how you show love to suit different people.
For example, my oldest child's love language is gifts. So I can tell him I love him and hug him daily. I can hang out with him at the skate park and help him with his homework but he won't really feel loved until I give him a gift.
The five languages of love are:
Words – Actually telling someone you love them.
Touch – For example, a hug, kiss or a foot rub.
Gifts – Giving them something they desire.
Time – Spending quality time with someone
Favors – Performing an act of service them.
How do you work out what someone's love language is?
There are two main choices:
1. Just ask them.
2. Watch how they show other people they love them as that proably holds clues to their love language.
What's Your Love Language?
In case you're wondering, my love language is favors. When someone does an act of service for me I know they really care about me and I'll definitely return the favor. So if you want to let me know you love me this Valentine's Day, the best way to do it is Stumble, Tweet or Digg this post using the buttons below:)
As for my husband, hopefully he'll make me lunch. And I'll be giving him a big hug.
What's your love language and what's the best way for someone to show they care about you?
Don't Delay Subscribe Today
Most new readers spend a minute subscribing to Get In the Hot Spot because it's a brilliant way to stay motivated and inspired plus it's totally free. Don't miss out. Subscribe now by email or to choose the RSS Feed for updates in your feed reader.
Thanks for Reading
A warm welcome to all my new subscribers and welcome back to the old faithfuls – it's great to connect with you. Many thanks also to Le vent le cri for use of the photo.
Please Support Me: Tell People About Get In the Hot Spot
If you like this article, please Tweet it or email a friend with the link. My clever computer boffin has added a little tool to make it easier for you to email it to friends, or add it to your favorite social media website. I hear that if you Digg it, or bookmark it on Delicious or Stumbleupon, that will get more readers here. Many thanks for your help, I appreciate it.
Other Self Development Articles
>> 5 Instructions For Better Writing and Life
>> 10 Things To Be Grateful For and Why You Should Be
>> 5 Ways To Prevent Depression
>> 10 Ways To Get The Life You Want
Share This Story, Choose Your Platform!