Using a DNA Test to Guide Your Travels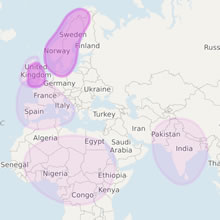 Have you ever wondered where some of your unique interests, habits or characteristics come from? For example, I've often:
Wondered if my love of all things French could be because of a distant French heritage;
Joked that I must have been a Hindu in a previous life because I refuse to eat beef;
Felt intrigued about why my Mum and her family all tend to be very tall, while my dad and his family were on the smaller side.
So when MyHeritage DNA offered me and Rich a complementary DNA test that could discover the answers to some of these questions, I jumped at the chance.
The science and number of ethnicities available is still being improved but getting a DNA test could help you understand some of these little mysteries, and help you decide where to travel on your next holiday.
What does a My Heritage DNA test tell you?

I won't attempt to explain a process I don't fully understand but, put simply, a DNA can reveal your unique heritage including the ethnic groups and geographic regions you originate from.
It can also help you find relatives through your shared DNA if you're interested in creating a family tree or researching your genealogy.
How do you take a DNA test?
1. Buy the DNA test
They're currently on sale for AU $87.99 at MyHeritage DNA so it's pretty affordable and would make a unique gift. 
2. Get the kit in the post and take a cheek swab


If you buy a DNA kit from MyHeritage DNA you'll be posted a kit including an easy to use cheek swab. The packaging is simple yet fun and the contents are easy-to-use, with clear instructions.
All you do is:
Register your unique barcode online;
Take a cheek swab with the swabs provided and place them in the tiny vials provided;
Pack the vials in the ziplock bag and envelope provided;
Take the envelope to your nearest post office and post it to MyHeritage DNA in Texas, USA.
3. Await your results
Communication is excellent so you'll get regular emails telling you when your sample has arrived and how long it will take to get the results. Results usually take about four weeks and you can track the status online if you're feeling impatient.
While you're twiddling your thumbs at home, your DNA sample will be inspected by technicians to make sure it's intact.
Then your DNA will be extracted from your cells in the vial, placed on a custom-made DNA genotyping chip and heated to a high temperature so the DNA can attach itself to the chip. A computer then reads the hybridized chips and produces your DNA data.
4. Get your DNA results and learn about your ethnicity
Once the process is completed, your DNA data is uploaded to the MyHeritage website where it is analyzed and matched. When the results are ready you'll get an email so you can visit the website and view them.
What will you learn about your heritage and ethnicity?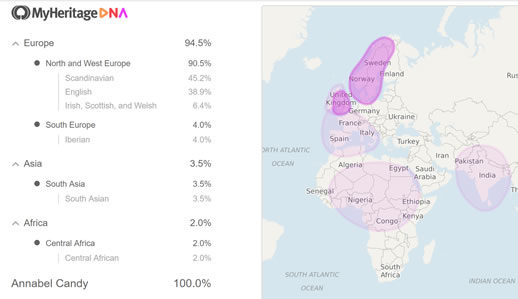 MyHeritage DNA covers ethnicity from around the world. I'll share my results here to give you an example of the detail.
My ethnicity according to MyHeritage DNA:
Europe: 94.5% – No surprise there since I'm from the UK.
Scandinavian – 45.2% – Big surprise! Maybe that's where the height comes from on my Mum's side of the family. When I mention it to her, she also suggested that would explain the strong blue-eyed gene on her side of the family.
English: 38.9% – Again, no surprise; I am English after all.
Irish, Scottish, and Welsh: 6.4% – My dad created family trees before he died and discovered a direct link to Robert the Bruce (the last King of Scotland!) on my Mum's side of the family. So I was expecting (and hoping) to see some Scottish heritage which confirms this royal link!
South Europe: 4.0% Iberian – Big surprise. This area includes Spain and Portugal which could explain my dad's diminutive stature and dark hair. I love this area and certainly felt at home there during my Catalunya Experience.
South Asian: 3.5% – This area includes India and Pakistan so maybe my distant relatives were Hindus! Holy cow! So that's why I don't eat beef. Never have, never will…
Central African: 2.0% – Incredible and happy surprise. The area covered on the map at MyHeritage DNA is huge for this ethnicity, including Nigeria, the Congo and other Central Africa countries. Africa is a continent I love and I've spent a lot of time in Zimbabwe and Kenya, but never considered that I could have African roots.
My dad's family tree revealed that one of our distant relatives lived on Haiti for some time so I was half expecting to find some French or Polynesian connection because of that. Nothing of the type was revealed by the DNA test though.
Still, according to the results, my ethnicity seems wonderfully exotic and diverse. The experience has left me feeling incredibly cosmopolitan.
It's made me want to travel to Scandinavia even more and to revisit Spain and Portugal.  Maybe one day I'll also visit Central Africa to see the gorillas and Nepal to the North of India for trekking. Both destinations have long been a travel bucket list dream which is supported by this DNA experiment.
Find out more or get your own DNA test
To find out more or buy your own DNA test visit MyHeritage DNA.  It's a fun, thought-provoking experience and would make a fantastic gift for anyone.
Would you like get your DNA tested? What would the results mean to you?
Share This Story, Choose Your Platform!