The Terrible Truth About Travel Writing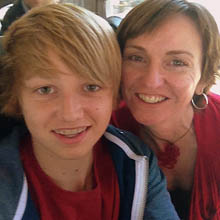 It is a truth universally acknowledged, that being a travel writer is the best job in the world. Unless you want to earn money in which case it sucks. Big time. So why, oh why, do people do it?
First and foremost for love. I love travel and I love writing, but I also write about travel professionally for the glory because what could possibly make people more envious when they ask what you do than being able to say:
"I'm a travel writer."
Those four words thrill me more than 50 Shades of Grey ever could.
But apart from that big fat ego trip and a few dollars that get thrown my way just when I least expect it, there is one more good thing that comes from becoming a travel writer: press trips – or free trips as civilians and non-travel writers call them.
Once you've been travel writing for a while, two years in my case, and mostly for very little pay, you will start to get invited on press trips. Who else wants to get whisked off on press trips to Canada? Japan? Uluru?
It sounds marvellous doesn't it? But so far this year I've turned down four international and several local press trips. Why? Because press trips don't usually pay me for my time and I have a three children to feed.
But last month I got taken on a press trip that was a bit different. I was invited to visit Canberra with my kids as part of the The Human Brochure Visit Canberra tourism marketing campaign. Which meant that not only would I be fed and entertained for the weekend but my kids would too and, best of all, we'd be able to enjoy some new and exciting experiences together.
The Human Brochure Back Story in Bullet Points (if you missed it)
Canberra is the capital of Australia. Don't worry if you didn't know that because they even have to teach it to Australian schoolchildren again every year since Sydney and Melbourne hog all the attention.
Amongst those who have heard of our capital city, Canberra has a reputation for being as boring as bat shit. A unique Australian expression which is not at all complimentary.
So their pioneering tourism board, Visit Canberra and digital advertising agency The Works invited 500 social media savvy people to Canberra to set the record straight and (hopefully) get more people to visit Canberra.
The first weekend took place in October when 250 people, including me and the three Candy kids, swarmed into Canberra to see and do as much as possible while tweeting, photographing and Facebooking it all.
All the social media updates were then compiled in real-time on The Human Brochure website.
Being able to take the Candy kids to Canberra with me excited me because, if I've learnt one thing this year, it's that sightseeing and checking things off bucket lists is best done in the company of loved ones, not on a press trip with other travel writers you've only just met.
While press trips can be fun and do satisfy those travel urges I prefer to go off on my own adventures and, even though towing a husband and three kids along on those adventures cramps my travel style, without them I feel as if something's missing.
The Candy kids were excited about our trip to Canberra too, and quickly jumped on the "free trip" bandwagon.
But I work hard, probably too hard, and I don't want my children to think press trips are free because they're not. I explained it to my 14-year-old like this:
"People take me to places because they want me to mention it to Get In the Hot Spot readers and my Twitter followers. They are not free trips. Travel writing and blogging is a job."

"Okay Mum, I get it," the teenager replied, "but it's a cool job."
I didn't have the heart to tell him that travel writing and blogging may be a cool job but it doesn't pay the bills, because I want him to dream big first and deal with real life later.
I want him to know that if you work hard and do what you love great things can come from that. Most of all I want him to know that, although it helps, happiness and job satisfaction aren't connected to how much money you make.
Which is why I quit the worst job in the world, keep on writing about travel and still class travel writing as one of the best jobs in the world.
I was invited to Canberra with my kids as a guest of Visit Canberra. Check out our first day in Blueprint for Traveling with kids. I'll be writing about it more soon because we had some most excellent adventures. You can also check out my Canberra photos on Instagram or at The Human Brochure site in the Family Fun section.
PS. In case you're wondering how I do make money I own and run the web design company Mucho along with my husband, the Mucho Man.
So if you need help setting up or updating your blog or website we'd love to help.
I've been designing websites since 1995 and, when the teenager was born in 1998, we set up our own web design agency to help small business owners compete successfully with bigger companies – a source of satisfaction and happiness for everyone involved.
We are uniquely skilled and experienced which is why our websites and blogs stand the test of time and get results.
There are a million other web designers in the world but there's only one that I can guarantee will work to your budget, deliver on their promises and make your business look as good as it is. That's me.
I work with clever clients all over the world so email [email protected] to find out more about how you can work with me too.
Share This Story, Choose Your Platform!