How to Become a Travel Writer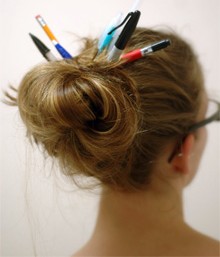 Do you dream of traveling the world and getting paid for writing about your travels? Many travel writers enjoy all expenses paid trips to travel hot spots called press trips or media famils. They get to work from home and choose your own work hours. Those are the three main benefits of travel writing and they're the reason why so many people keep asking me how to become a travel writer.
Why I Became a Copywriter and a Travel Writer
I've been writing about my travels in my diaries ever since I started traveling but it was many years later that I became a paid travel writer.
I don't call myself a travel writer because being a copywriter and freelance writer allows me to write about a wide variety of topics as well as travel.
Full time travel writers spend a lot of time traveling on press trips and they don't usually get to take their families with them. While I'm happy to travel away from my family from sometimes I don't want to spend longer than 6 weeks a year away from home so it's important that I write about things other than travel.
I'm lucky to be able to work from my hometown even though it's a small holiday resort where jobs outside tourism are scarce.
There's a lot of competition for freelance travel writers and the pay isn't great with rates from $50 to $1,000 per article depending on who you write for and how long the piece is.
Copywriting pays better and you don't have to spend a week or longer traveling to research your story.
But the travel writing is fun and has led to some great opportunities like one sweet job for  my local tourism board where I did fun things like get a massage and wrote about it for their new blog.
Sounds good doesn't it?
But before we get to the fun stuff let's talk about the downsides of becoming a travel writer.
Do You Really Want to Become  a Travel Writer?
These are the drawbacks to consider before you rush into your new travel writing career:
1. If you set up your own business and work for yourself it will take time to get your business started. You may be looking at a period of six to twelve months when you earn little. This is true of most businesses but if you can get through the initial setting up period and have either a financial cushion to keep you going, or a full or part-time job that you can maintain while you become a full time travel writer the long-term rewards are worth it.
2. Even once your writing business has been established a year of more when you're self-employed you have to get used to having an irregular income. Some months you may earn only $2,000, the next month $10,000. That's why I believe it's better to diversify your writing and write about other topics as well as travel.
3. It can be lonely working from home. No more chats around the water cooler or after work drinks with your colleagues. Of course we have Twitter, Facebook and now Google+ to help fill that gap but social media can never replace face to face meets ups.
4. You need to be self-motivated, create your own deadlines and work on making new connections and getting your work published even when you don't have any regular paid travel writing work.
5. Like any job there are hard parts to being a travel writer. Waiting around at airports and going on press trips where every minute of your day is scheduled by a PR company or tourism board and you don't have any time to yourself or time to write.
Still up for becoming a travel writer? Then let's get down to the nitty gritty.
How I Became a Travel Writer
It took me a while to get to the point where I get paid to have a massage and write about it but this is the route I followed to get to where I am today:
I have a degree in French and English so have a strong background in writing, grammar and communication.
I've worked as a journalist which helped improve my writing skills and taught me how to write faster and more accurately.
I have an MA in Design for Interactive Media which helped me understand how people read online compared to in print. This allowed me to specialize in being a web copywriter and, after I set up this travel blog, a travel writer. I can and will write for print but the online environment is my specialty.
I set up my own web design business and started  writing copy for my tourism clients free of charge because all too often the copy they provided didn't do justice to their company, services and products or their website.
When demand picked up I was able to start charging for travel writing and now I also earn money through my travel blog by selling advertising and writing sponsored blog posts.
How Can You Become a Travel Writer?
1. Practice your writing skills regularly
My advice to everyone who wants to become a travel writer is to travel widely and start writing. You need to get writing to start practicing and improving your writing skills.
2. Consider getting formal qualifications and supportive mentors

Sometimes having a qualification, some training or a mentor can help give you the confidence and determination you need to succeed.
3. Get some travel writing experience under your belt
I love education, and having qualifications improved my confidence, but you don't need any formal qualifications to become a great travel writer. You need travel writing experience.
4. Work for free
Getting your first paid travel writing job is always the hardest but the best way to get it is to work first for nothing.
Offer your writing skills to friends and ask if they'd like help writing or rewriting copy for their leaflets or website. Write guest posts for well known travel blogs.
5. Start a travel blog
Create a showcase of your skills by starting your own travel blog. Make sure it looks good and presents you as the professional, well paid travel writer you want to be. A sloppy looking blog or website will make you look sloppy.
Think about what static content you want to share and make sure your about, contact and services page are relevant and up to date.
In time you can add a portfolio or testimonials page.
Start adding blog posts to your blog and stick to a niche.
Write guest posts for other blogs to grow your own blog and boost your portfolio.
6. Get your first paid job
There are plenty of places you can look for work like Elance but I recommend getting a book like The Australian Writer's Marketplace or borrowing it from your library.
This book has lists of all newspapers and magazines as well as the editors you need to get touch with. Make sure you read the publication before you pitch them with a travel article.
In my experience that's  how to become a travel writer. I love travel writing and am proud to be a professional travel writer.
The main key is to stick with it because no business is built overnight but in time you will gain the experience you need to truly get paid to travel the world and write about it.
Resources to Help You Become a Travel Writer
Online Resources
Successful Blogging – For online marketing tips for writers and small business owners.
Books
Successful Blogging in 12 Simple Steps is a timeless resource that will help you set up your own business and market it effectively. I wrote it specially to help small business owners and writers tap into the power of blogging.
The book demystifies blogging and is designed as a self-study course with checklists and activities so you don't miss anything. It covers everything from blog planning and design to content writing and blog promotion.
There's also a chapter on guest posting and a bonus chapter on motivation to make sure you stick with blogging long enough to reap the benefits. Click here to find out more here.
Got Questions About How to Become a Travel Writer
Fire away in the comments below. I'll try to answer all questions.
Photo credit: Erin
Share This Story, Choose Your Platform!