The 5 Hottest Travel Spots in Outback Australia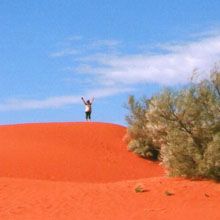 Looking for red hot travel ideas for your next trip to Outback Australia?
Australia's Red Centre set my world on fire so I wanted to share more outback Australia travel tips with you from a true Aussie explorer.
Happily outback adventurer extraordinaire Red Nomad Oz kindly agreed to share her five favourite places in Australia with us here and it's bound to inspire you as much as it does me. Over to you Red…
5 Red Hot RED HOT Aussie Outback Spots
Red Hot spots are easy to find in the Australian Outback – even if you don't take RED HOT literally! That's because Australia (arguably) leads the world numerically, geographically and scenically with natural wonders both red AND hot.
And RED HOT!
Luckily, travelling the Outback – that's the large, empty looking area in the middle of the Australian map – in the southern hemisphere winter is the best way to see the RED with WAAAY less of the HOT.   Even more luckily, this won't affect the RED HOT factor of some of the most scenic locations on earth!
So how do you find the reddest hottest RED HOT spots in a zone half the size of Europe?
Too easy!  Customise your Outback experience with my handy location guide to 5 Outback RED HOT spots – complete with 5 star RED-intensity ratings!
1.  Red SUNSET at Woomera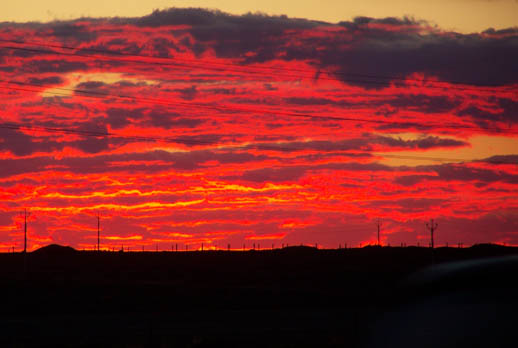 Only three ingredients are needed for a perfect sunset.  Endless sky.  Scattered cloud.  And red, Red, RED!  And the best place to find them?  In the Outback – as we discovered in the small town of Woomera, deep in the South Australian desert.
But sunsets aren't the only red to be found in this purpose-built town inside an international pioneering space exploration and missile testing prohibited zone the size of England.  Visit the open air missile park for possibly the only place in the world to see the sun setting over a Jindivik into the Outback emptiness beyond!
Of course a RED HOT sunset like this can't be guaranteed.  But because Woomera is a remote outpost en route to either Central Australia, Adelaide or Andamooka and the Oodnadatta track, if a red sunset doesn't happen there, chances are it'll happen somewhere up – or down – the road!
RED HOT Australian Outback Travel rating:  «««
2.  Red EARTH at White Cliffs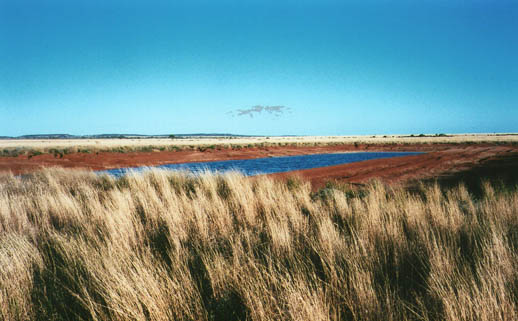 Don't be fooled by the never-ending landscape of stark white mullock heaps under the endless blue sky surrounding opal mining town White Cliffs.  Because in an unintentionally patriotic nod to the red, white and blue of the Aussie flag, the earth under the surface of this remote New South Wales Outback settlement is RED!
Out of town, drive to the even more remote Lake Peery and Paroo-Darling National Park to enter the deep Outback, its spectacular scenery offset by the twin hazards of rocky roads and no facilities.
Back in the field of a thousand dreams where fortunes are made and lost, visitors trying to find a cure for their opal fever scratch beneath the surface hoping the red earth will yield the real prize – world famous black opal!  But if your fossicking forays are as unsuccessful as mine, compensate yourself with something RED HOT from the Red Earth café and gift shop, and admire the sunset over red, red earth!
RED HOT Australian Outback Travel rating:  «««
3.  Red WALLS at Victoria River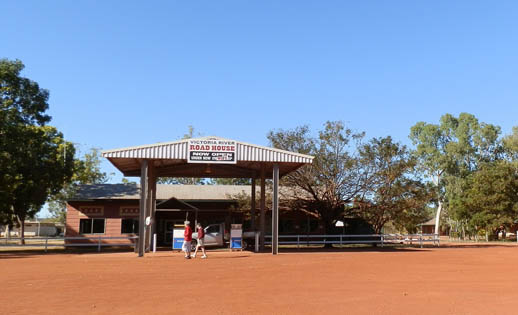 Imagine the Northern Territory Outback's vast RED zone, and you're immediately thinking Central Australia and Uluru, right?  Or maybe its red rocky gorges like Glen Helen, or Standley Chasm.  But venture further north-west into the Territory's wild zone to find a far less well-known world of magnificent, sweeping red escarpments and red-walled amphitheatres.
Walk to the escarpment lookout through red rocky cliffs for magnificent views over the Victoria River Valley – and the Victoria River roadhouse, which, like many fuel stops in the sparsely populated Territory, also provides a campground, accommodation, meals, souvenirs – and, of course, drinks!
A late afternoon walk from nearby Joe's Creek picnic area, up a crumbling trail passing Aboriginal rock paintings and incongruous Livistona palms leads into a magnificent amphitheatre, glowing RED!
Back at the roadhouse don't miss sunset on the escarpment.  Or moonrise.  Or sunrise.  Actually, it's pretty much RED HOT anytime!
RED HOT Australian Outback Travel rating:  ««««
4.  Red … SAND at Windorah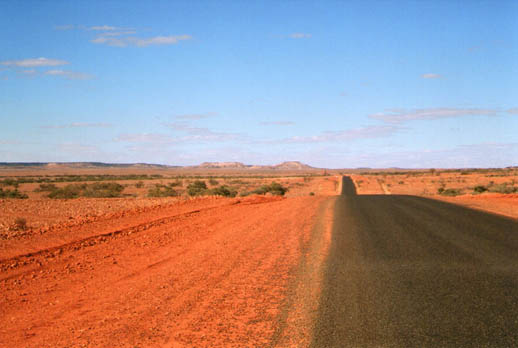 Travel into Outback Queensland at your peril because there's no known antidote for Red-Sand-Dune-Overload!  So go with the flow and head to iconic Aussie waterway Coopers Creek at Windorah; then drive west towards Bedourie for some of the reddest red sand dunes ever!
The famous Windorah dunes are of such intense and vivid RED that on a clear day, the overwhelming combination of bright blue sky, bright red sand, bright pink flowers and bright green undergrowth causes sensory meltdown!
Try donning your shades to stop red-sand-blindness.
And for a RED HOT bonus, drive further west along the red RED road for a bizarrely named 'Point of Interest' and the Little Public Toilet at the end of the Universe!
RED HOT Australian Outback Travel rating:  ««««
5.  Red ROCK at Karijini National Park
To avoid RED HOT red rock overload, stay away from Outback Western Australia's staggeringly spectacular Hamersley Range.  Because it's BEYOND red!
At Karijini National Park the RED experience starts with the 360º red rock landscape surrounding the Dales Creek campground.  Then it continues through the gloriously red rocky gorges, cliffs, plateaus, lookouts and roads, creating some of the most stunning scenic vistas in the country.
But walk this extreme red landscape at your peril!  The plentiful (and soap-resistant!) red dust will find its way into crevices and crannies you never imagined!  And I'm not just talking vehicles and camping gear, either!
But that's just one of the reasons the RED rock of RED HOT Karijini will stay with you forever …
Where was the most stunning scenery you've ever seen?
RED HOT Australian Outback Travel rating:  «««««
Ready to set your world on fire too? Don't forget this handy red-rated Australian Outback travel guide when you're planning your next trip into the Outback Australia red zone.
Guest post by Red Nomad OZ
Touring Australia is an amazing adventure with Aussie travel expert Red Nomad OZ as she shows you first hand the spectacular scenery, unique wildlife, awesome natural wonders and bizarre quirks of life downunder.
There's never a dull moment with giant crocodiles and cane toad races; landscapes and wildflowers in colours so bright they hurt the eyes; 'Big Things' and Aussie oddities;  soaring mountains and scenic lookouts; the Outback's magnificent emptiness and coastal crowds; scenic public toilets – but wait!  After 21+ years of Aussie travel, there's WAY too much to describe here.
So escape downunder to the wonderful land of Oz with Red's Amazing Australian Adventures and, if all this RED is too HOT to handle, kick back with the companion post 5 Cool Blue Oz Top Spots.
Share This Story, Choose Your Platform!