11 Things to Do in Zimbabwe Off the Beaten Track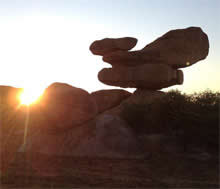 There's a lot of controversy about what the seven wonders of the natural world are but Victoria Falls in Zimbabwe is a shoo in. The sight of millions of gallons of water rushing down the cliff, the roar of it pounding against the rocks and the feel of the spray against your skin is something you'll never forget.
I'm a sucker for waterfalls and I loved Victoria Falls so much I spent a whole week there in 1992. It's no wonder that Victoria Falls is Zimbabwe's most popular and most famous tourist attraction but there's a lot more to Zimbabwe than just Victoria Falls so if you visit Victoria Falls you'll be missing out if you don't explore more of the country.
There's spectacular wildlife and scenery all over Zimbabwe but it's full of surprises too. Here's a round up of a few different things to do in Zimbabwe for adventurous travellers who like to get off the beaten track and do something a little bit different.
1. Take a Harare Township Tour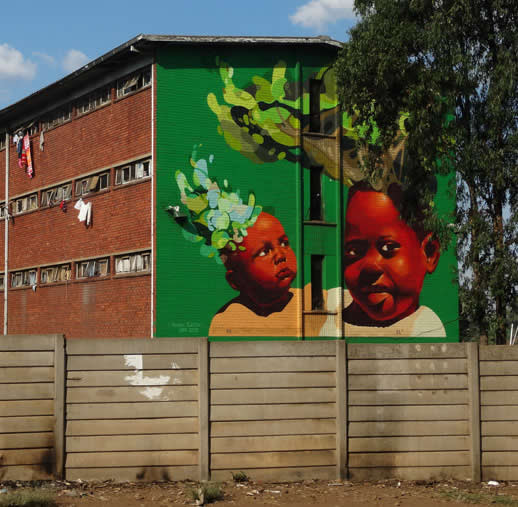 If you're flying to Zimbabwe you'll probably land in the capital city of Harare. Like many big cities outside the galleries, museums and shops there's often not much to keep travellers in town but it's worth making time for a Harare Township Tour if you
Harare Township Tours has been taking people on tours of the urban high density areas for three years. The tours visit Mbare township which was established in 1907 and Highfields. The tours go by bike and on foot taking in markets, artists studios, historic and cultural places and, if you're there on a Thursday or Friday, apostolic sects.
The tours cost $30 per person for six hours including lunch which is sure to include sadza, the national dish of Zimbabwe and staple food  which is made from ground maize. They offer a unique opportunity to get off the tourist track and interact with locals in their home and workplaces.
Above you can see an example of some of the amazing street art on the side of a high density residential building.
Find out more on the Harare Township Tours Facebook page or at It's a small world lodge and backpackers in Harare.
2. Visit the balancing rocks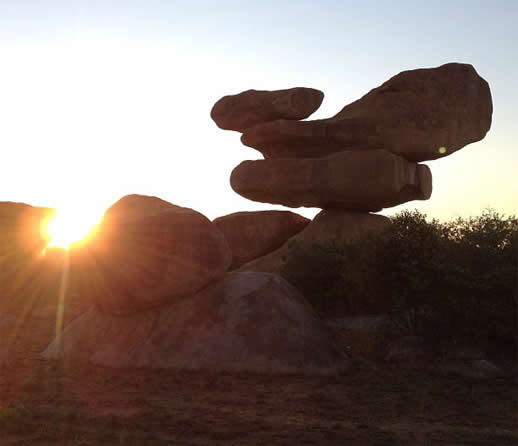 Just a 20 minute ride outside Harare the balancing rocks are Zimbabwe's second most famous landmark after Victoria Falls. Although Old Zimbabwe is joint second.
I got a taxi driver to take me to the balancing rocks at sunrise for $20 return from the Rainbow Towers Hotel. The rocks are near the township of Epworth to the southeast of Harare and the park was actually shut when I arrived but the nightwatchman kindly opened the gates specially to let me in. No sooner had we driven in and turned a corner on the dusty road than we spotted an impala which was a surprise so close to the city.
Even outside the park there are balancing rocks everywhere in Epworth and it's amazing to see people living in tiny huts under balancing rocks twice as big as their homes.
3. Take the train
I love a train journey, they're romantic, old fashioned and they definitely make getting there fun.
You can take a wood-paneled train to Victoria Falls from Harare to Bulawayo and Bulawayo to Victoria Falls. The trains run at night and the sleeper carriages have compartments sleeping four people in pull-down bunks. If you start your journey in Harare you'll need to spend a day in Bulawayo visiting the city or Matopos National Park.
I traveled first class many years ago which costs just  $12 but now they've also introduced Premier class air conditioned coaches for $60 still with the original wood-paneled carriages although apparently the plumbing and dining options have been hugely improved!
The old coaches have been in service since 1951 and it's a thrill to see wildlife from the train and arrive at Victoria Falls station early in the morning. Although the trains can get delayed so expect the unexpected.
If you've got time to spare and love trains there are some great stories and information about train travel in Zimababwe here. 

4. White water raft
If you're up for a real adventure in nature as opposed to the artificial adventures like bungy jumping white water rafting is the best. It's not for the faint-hearted though. The Zambezi River is big and bouncy outside Victoria Falls (I mean the town! Obviously you can't raft over the waterfall!) and you'll be taking on some of the biggest commercially navigable rapids in the world.
I loved it and went white water rafting three times when I was in Victoria Falls, twice on the day trip and once on the three day trip where you set up camp and sleep out on the river bank.
The white water rafting guides are phenomenal and going to the bar in the evening after your rafting trip to compare bruises and watch the video is part of the fun. Hold on tight for a wild ride through rapids with name like The Boiling Pot and The Washing Machine.
5. Walk with lions
You can walk with lions at the Antelope Park near Gweru in the Midlands (you'll pass through if you're driving from Harare to Bulawayo) or at Victoria Falls. I've never done this and it's a big dream of mine so I'll have to go back to Zimbabwe for this. Any excuse really.
6. Eat Mopane Worms
The delightful Miss Footloose suggested I add Mopane worms to this list of things to do in Zimbabwe so here's my Instagram photo of mopane worms taken at the Rainbow Towers Hotel lunch buffet in Harare.
Mopane worms are a delicacy in Zimbabwe although I regret to say I never tried one. I wanted to, I really did, but my adventurous spirit does not extend to eating mopane worms even though, before being deep fried and served for luncheon, they're actually a rather pretty caterpillar  as you can see on Miss Footloose's post about a mopane worm hunt here.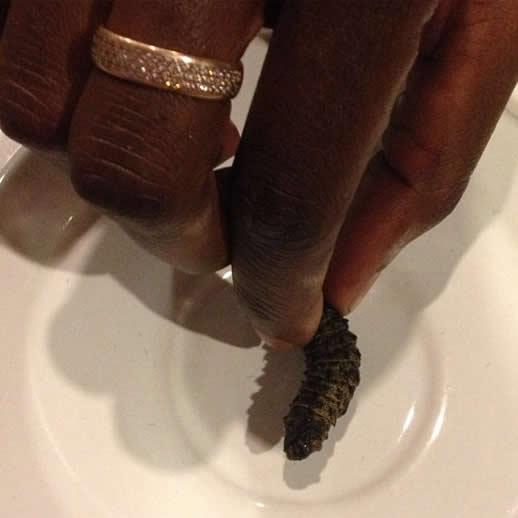 7. Chill out at the Chilojo Cliffs
Prepare to feel very small. These massive cliffs can be found in the pristine wilderness of Gonarezhou National Park which borders Mozambique and has only opened to non-Zimbabweans recently. Chilo Gorge Safari Lodge which opened in Oct 2012 has options for catered or self catering stays with a family lodge if you've got kids.
8. Stay in a basha
It's a Small World backpackers in Harare run an ecolodge and campsite and in the  Mavuradonha Wilderness area which is about a two hour drive north of Harare. They can organise tours and overnight stays for hiking, waterfalls and wildlife viewing includes elephant, buffalo, zebra and many different types of antelope.
It's a Small World owner George Seremwe comes from Mount Darwin which you'll pass on the way to Mavuradonha Wilderness area giving you a chance to get a glimpse of rural life in Zimbabwe.
I visited  the  Mavuradonha Wilderness area in 1992 and stayed an A-frame basha or open-sided hut made from straw. You can still stay in the original bashas if you enjoy a bit of rustic charm or choose a more comfortable chalet if you prefer.
9. Catch a big one… fish that is
I'm the world's most impatient fisher but Lake Kariba and the Zambezi River boasts some of the best fresh water fishing in the world so if you like fishing you'll love Zimbabwe.
The tiger fish are monsters and great for catch and release fishing or hook a tilapia if you'd like to enjoy a fish feast following your successful fishing trip.
Staying on a houseboat on Lake Kariba is hugely popular with Zimbabweans or you can take a boat across Lake Kariba to Matusadona National Park where Changa Safari Camp will take you fishing and rhino tracking on a full day game drive if you'd like to see an elusive rhino in the wild.
10. Canoe with hippos and crocs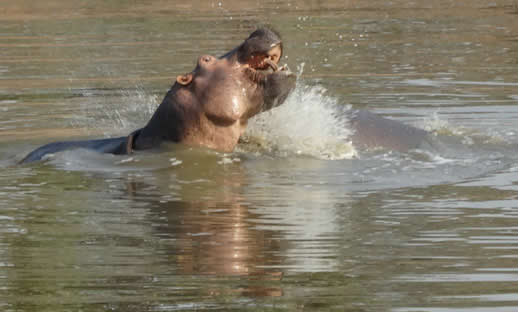 The lower Zambezi River and floodplains are home to hippopotamus and Nile crocodile galore. If you love nature and living on the edge you can take a one day or overnight canoe trip along the Zambezi and look out for elephant and buffalo on the riverbank as well as hippo and crocodile under your boat. Just make sure you don't capsize.
11. Walking safari in Mana Pools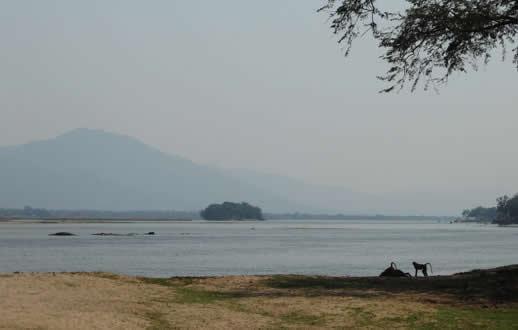 Mana Pools is the only national park in Zimbabwe where you can walk around the park without a guide. But it's teeming with wildlife and a game walk in Mana Pools is best experienced with a professional guide who can teach you all about the massive diversity of animals and birds as well as the trees and environment. They also carry a loaded rifle to keep you safe in case you run into a lion, buffalo or elephant.
Walking safaris at the best way to experience the bush and Mana Pools which borders the Zambezi River is the best national park in Zimbabwe. I spent four nights at Kanga Camp in Mana Pools and saw elephant, lion, buffalo, leopards, painted dogs and much more.
It was an incredible experience, one of the best travel and wildlife experiences I've ever had and I'll be writing much more about Mana Pools and Kanga Camp soon.
Zimbabwe as a whole is one of the best travel experiences I've ever had – it was in 1992 and it still is in 2013.
But Zimbabwe is so much more than Victoria Falls. It has incredible wildlife and plenty of opportunities to get off the beaten track and do something different too.
It's an amazing travel experience for any who loves adventure and there's nothing controversial about that.
What would you most like to do in Zimbabwe? Or maybe you've got more ideas for things to do in Zimbabwe that are off the beaten track?
Share This Story, Choose Your Platform!