The Great Aussie Barbie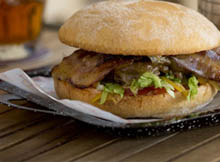 Smell those prawns grilling, hear the sausages sizzling and watch the smoke wafting up into the trees. That's the great Aussie barbecue for you, an Australian institution and celebration that's more popular than Vegemite, surfing and Kylie Minogue put together.
Almost nothing makes Australian blokes happier than hanging round the barbie with their mates swigging beer and roasting large slabs of meat. I might cop some flack here for pushing this cliché but you'll forgive me for saying that clichés become clichés because they're true.
Sure, there are men in Australia who don't drink beer, and they are very lovely men too, like outback chef Bob Taylor in Alice Springs, but I have yet to find an Australian man, woman, or child for that matter, who doesn't enjoy a barbecue.
Head to any little beauty spot in Australia and you'll find the council has kindly provided free barbecues to keep their locals happy. In my home town of Noosa, one of Australia's favourite beach resorts, there are free barbecues all over the place, and Gympie Terrace by the Noosa River is a classic spot for that great Australian barbecue.
There are about 10 free barbecues along a three kilometre stretch of the Noosa River and on a warm summer's evening you'll need to arrive early to bagsy your spot. Even when it's cold and rainy you'll invariably find someone down by the river who'd prefer to spend the evening cooking outside, enjoying the scenery and fresh air rather than huddling over a TV dinner.
It's the simple food, great surroundings and good company that really make a barbecue.
Yes, you can do a posh barbecue, marinate the meat days in advance, whip up some top-notch salads and buy some fancy bread, but all you really need is a dozen sausages, including some veggie ones for me, a loaf of sliced bread and some ketchup or barbecue sauce.
Sometimes the only fancy thing you can manage is a bit of fried onion on the side, but that's all you need because nothing tastes better than good, simple food eaten outside.
Capitalising on our love of barbies a new barbecue-style restaurant has opened at the Crown in Perth called The Merrywell serving "good, simple nostalgic food with a fun twist."
The menu sounds like a meat lover's paradise with offerings like 'spicy buffalo lollipop wings' and 'killer hot dogs' with pickled corn and watermelon mustard which would put my barbecue offerings to shame.
Of course there's an outdoor area and beer garden too so you can enjoy a real Aussie barbie experience.
Well, almost, because somehow I don't think there will be a single singed sausages in sight.
This blog post was published on behalf of The Merrywell. If you're traveling to Perth swing by and check it out because I'm pretty sure that if you like barbecues you'll love The Merrywell.
Even if you can't make it to Perth The Merrywell's hot barbie chefs have shared some of their favourite barbecue recipes here so now there's no excuse for just serving a few slabs of meat and some tired salads at your next barbie. Damn.
My best barbecue offering is a trusty bean salad which goes with every grilled food possible. What do you normally take to a barbie?
Share This Story, Choose Your Platform!