Packing for the Tropics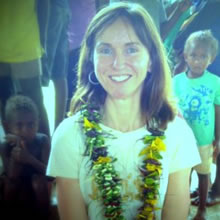 Travelling light is over-rated sometimes. It makes travel easier if you're constantly on the move but it can also cramp your style.
Sometimes you want to take everything but the kitchen sink with you when you travel, and that's the case for me when I travel to a developing country where you can't easily buy something you've forgotten.
Travelling light is also unnecessary when you're only staying in one or two different places and don't need to continually pack and unpack. In that case it's fun to have more things with you so you can wear, read or do whatever suits you.
So what did I pack for my eight night trip to the tropical Solomon Islands? Here's an exhaustive listof what I packed which includes a few things I never used.
To wear on plane
This was tricky as I was coming from a Noosa winter to the tropics and had been asked to dress smartly for the flight in case we got upgraded to business class. So I wore:
Dress with tights;
Light Cardigan;
Cashmere cardigan;
Swedish hasbeen clogs which are super comfy and stylish with or without tights.
As the temperature rose I could easily peel off my cardigans and the tights.
Luggage and Packing
I took my Packlite Escape Duffel for this trip. I still love it because it's smart enough to take to a fancy hotel but rugged enough to go anywhere. I also find the size ideal for one or two week trips allowing me room to pack plenty of gear but not so much room that it gets silly.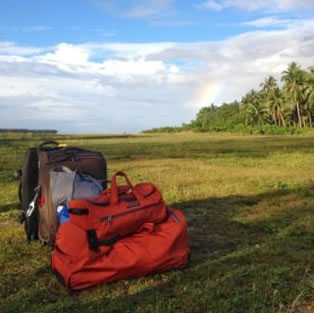 Clothes
Apart from exercise gear I didn't take any shorts because I find skirts or dresses comfier and it is not appropriate to bare your thighs in the Solomon Islands.
One bikini – I love Hive bikinis and the top doubles as a comfy bra or crop top;
One sarong;
One pair of sports shorts, a sports bra and a quick dry top for gym workouts;
One spare pair of shorts and a quick dry tshirt to double as spare gym outfit or to wear when swimming or snorkelling for sun protection or to preserve modesty when getting in and out of canoes!
One skirt;
Two tshirts;
One kaftan to coverup at hotel pool;
Six dresses including one Kathmandu travel dress and one pink silk dress for dining out;
Eight pairs undies plus two flesh coloured bras;
One pair trousers;
Long sleeve silk shirt for evenings when mosquito protective clothes are needed.
Shoes
Chaco raft sandals which you can wear anywhere;
Trainers;
Swedish Hasbeens.
Toiletries
Miniatures of the basics (I collect them from hotels when I go on trips and decant face cream into tiny pots);
Sunscreen (decanted into a tiny bottle);
Mosquito repellent;
Panty liners;
Wet wipes.
Emergency supplies
Anti-malarial pills;
Torch (never used although it could have been handy if we'd stayed on an outer island);
Spare batteries (never used).
Gadgets
Laptop – I usually don't take a laptop on travel blogging trips but did so as I wasn't moving around much and had spare time in my itinerary for writing);
iPhone – My preferred camera – see iPhone photography tips;
Camera – If there might be wildlife around I take a bigger camera with zoom lens;
Selfie stick because it comes with tripod (never used it);
Recharging plugs and cords.
Gifts
Hand cream and Australian cookies for local hosts;
Exercise books, pencils and erasers for local villagers.
Other
Three books – because my ideal holiday involves reading time and there is nothing worse than being stuck without a book;
Sun magazine.
Packing for the tropics isn't easy but I did pretty well on this trip taking care to use most of the things I packed, and although I probably didn't need six dresses it was fun to have them!
Have you got any tips on packing for the tropics?
Catch Every New Story on Get In the Hot Spot!
Our free newsletter is a weekly injection of tips for midlife adventure to help you travel well, feel fabulous and live your dream. Hit this link now for free email updates.
Share This Story, Choose Your Platform!