Get Set for Adventure with Paklite Escape Duffel Bags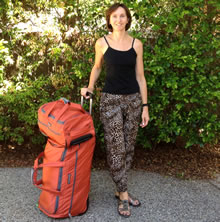 When Paklite asked if I'd like to test drive their escape range of duffel bags during my trip to Catalonia I jumped at the chance.
Being a travel addict I have a lot of bags but none of them were really suitable for the journey I'd be going on.
I'd been invited to visit Catalonia to take part in a TV travel show filmed by TV3 and partly sponsored by the Catalonian Tourism. The itinerary was top secret because they wanted to surprise me and film my spontaneous reactions to whatever would unfold. But I told them I like action and adventure.
My existing bags were both too business like and too flimsy for the adventure trip I was hoping for.
But as soon as I saw a photo of Paklite's Escape duffel bags I knew they'd be perfect for adventure travel. They looked sturdy and would be tested to their limits in Catalonia because I'd be moving to a new place every night.
I try to travel light because it makes packing, unpacking and moving around so much easier, but I'm definitely not one of those people who can throw everything in a hand luggage bag then wear the same clothes and shoes every day.
Especially on this trip I wants to take a lot of clothes with me. Partly because I naturally wanted to look as good as possible in the TV show but also because the trip was in February so I'd need lots of layers, boots,a winter coat and plenty of warm clothes.
What I liked about the Paklite Escape Duffel bags
Versatile – They look rugged, ideal for an adventure trip, or even camping, but still smart so I wouldn't look like a scruffy backpacker.
Easy to wheel around – Both the large bag and the small hand luggage size have wheels which made them easy to bump up and down pavements and cobblestones in the old town of Barcelona. The small bag can also be stacked on top of the big bag sp you only have to wheel one piece of luggage and still have a hand free for other things.
Great colors – The Escape duffels come in black, green and orange. I chose orange because it best matches my branding on Get In the Hot Spot as well as the colors I like to wear. In the picture the orange looked quite bright but actually it's more of a subdued rusty orange which would go well with lots of colors.
Lots of space – When the bags arrived I was worried because they were quite a lot smaller than my usual luggage. But because the outside is soft there was plenty of room to cram lots of stuff in while also leaving space for stuff I'd doubtless accumulate on my travels.
Light – When I left Brisbane my checked bag weighted just 13kg which I thought  was good considering everything I had with me. But on the way home after being gifted a very heavy Gaudi tile, a bottle of Cava and some heavy duty hiking boots, plus buying lots of presents for Rich and the Candy kids it weighted 25kg. Only 2.8kg of that was bag – the rest was my stuff.
Strong – On the way home the bag was stuffed to the brim with considerable strain on the zips. I didn't have a luggage strap so I was praying the zip would hold and I wouldn't have to suffer the indignity of seeing all my dirty laundry revolving round in the luggage conveyor belt. Thankfully the zip did hold out to a really good strength test.
Two smaller zipped pockets – The Escape duffel bags are identical in everything but size. They all have a mesh zipped pocket inside where you can put little things like chargers, makeup or jewelry so they're always easy to find. There's also a zipped picket on the outside where you can put non-valuables that you'll need to access easily like washing products, tampons or maps.
Great value – My bags were gifted to me for review but the price of $159 for the small hand luggage bag and $199 for the biggest bag is very reasonable, especially as you can easily pay up to $500 for some luggage.
Australian brand – All you true blue Aussies or anyone looking for a useful Australian souvenir will be glad to know Paklite is an Aussie company and the Escape duffels are designed in Australia. But I think their bags look just as good for travel locally to our favourite camping spot as they do at a boutique hotel in Barcelona.
Drawbacks of the Paklite Escape Duffels
I was hard pressed to find fault with the bags. The zips held out under the strain, they looked good and they were easy to move around with. In fact I wouldn't mind getting the medium sized one too. They're definitely the kind of bag I'd recommend to anyone or gift to my kids when they set off on their own round the world adventures.
If I could make any design changes I'd probably add a mesh pocket under the main bag opening but I managed perfectly well without it!
Paklite Escape Duffel Bag Specs
• The range features lightweight fabric construction without sacrificing durability.
• High quality wheels, bearings, trolleys and components are used to ensure durability.
• Lockable exteral sleeve pocket.
• Each bag has internal compression straps and and internal mesh sleeve pocket.
• The Cabin size duffle features a smart loop to enable convenient transport over  the trolley tubes of a larger bag.
• Lightweight aluminium locking trolley handle.
• Strong PVC scuff guard on back and base of trolley case for added protection.
• Durable bearing wheels.
Small
Size: 48 x 25 x 27cm
Capacity: 32L
Weight: 1.90Kg
RRP: $159
Medium
Size: 61 x 28 x 29cm
Capacity: 50L
Weight: 2.40Kg
RRP: $179
Large
Size: 71 x 32 x 33cm
Capacity: 75L
Weight: 2.80Kg
RRP: $199
Visit the Paklite site for more details and stockists.
What travel bags do you prefer for adventure travel?
Share This Story, Choose Your Platform!