Online Image for Women With Before and After Photos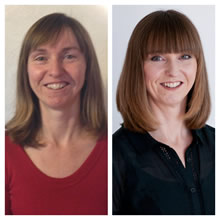 We had a huge basket filled with costumes, outfits and my mum's old fifties-style petticoats and skirts when I was a child. I loved dressing up then and I still enjoy dressing up for fancy dress parties – you can see some photos of that here. Which was what it felt like recently when I had a professional photo taken. Professional in the sense that I'm planning to use it only on my digital marketing business website.
It was just a cheapie photo shoot that cost $50 and a fun experiment because I'm fascinated by how important online image is women. I understand branding and online image is crucial for business success but I still resist it so I wanted to play the game and see if I could look more polished.
I read an article recently about how many women bloggers are investing up to $10,000 per shoot for glamour model perfect images of themselves to use online on their websites, Facebook pages and Twitter accounts. It fascinated me because for most women that's an awful lot of  money to spend on anything, let alone your online image.
Maybe it's meanness that stops me. Maybe it's a lack of self-belief or the fear of failure that holds me back from investing big money in regular professional shoots. Or maybe it just feels impossible for a busy work-from-home middle-aged mum like me to compete with the bevvy of female online entrepreneurs who sell themselves and their services by painting a glamorous lifestyle picture, complete with model-perfect looks and clothes, exotic locations and famous friends.
But I get it. They're selling the dream lifestyle and other women want to buy into that. It makes sense. Image sells and if you've got a product to sell it's smart to present yourself as an extension of your product in the best possible light to make sure it reaches as many people as possible.
Plus all women want to look as good as we can online and in real life. That's human vanity and I'm guilty of it too. Hence my professional photo shoot experiment.
Before the five minute shoot a friend spent two hours cutting my hair, styling it and putting makeup on my face. That was also the first time I've even had my makeup done professionally and I paid $200 for it. For a woman who never colors her hair and hasn't been to a hairdresser for seven years (someone comes to my home) that seemed like a huge spend.
It was hard for me to sit still for two hours but fun to wonder what I'd look like in the end. The results were interesting too. I like the photo and I'm glad I had it taken but I know it could be probably be way better if taken in a studio or using professional lighting.
Maybe one day I'll spend more and have a proper photo shoot done to present myself in the best possible way but even if I do that I want to keep it real and present the real me online too, depression, anxiety, breakdowns and all.
It's fun to play dress ups, good to see you can scrub up and look good when needed but better to know that people like you because of what you say and do, no matter how scruffy, tired or wrinkled you look.
It's equally important to know that glamour shots of other women are just an illusion, even if they're not Vogue cover photos, and that even if we don't look picture perfect we can still feel good about ourselves. That our readers and followers will still appreciate us for the value we add to them and the fun we bring, even if we're not drop-dead gorgeous glamour pusses.
After all, most writers and bloggers choose to work from home because we can wear whatever we like. I always joke with friends that the scruffier I look the better my writing output. It's true too.
My best writing outfit is a pair of ancient holey sweat pants paired with an old t-shirt. In winter I add a cardigan and slippers. Right now it's so cold I'm wearing my dressing gown over my clothes. Not glamorous but comfy. I'll show you a photo of that another day.
But in the meantime here are the before and after shots from my photo shoot. In the before shot, taken on my iPhone, I was makeup free and had left my hair to dry naturally. That's the way I look 99% of the time.
In the after shot a fabulous professional artist had spent two hours on my hair and makeup and a photographer took the photo.
Both shots present a different picture but they're still the same person. You can play spot the difference if you like. It's a harmless game for children that's still fun. Just like playing dress ups.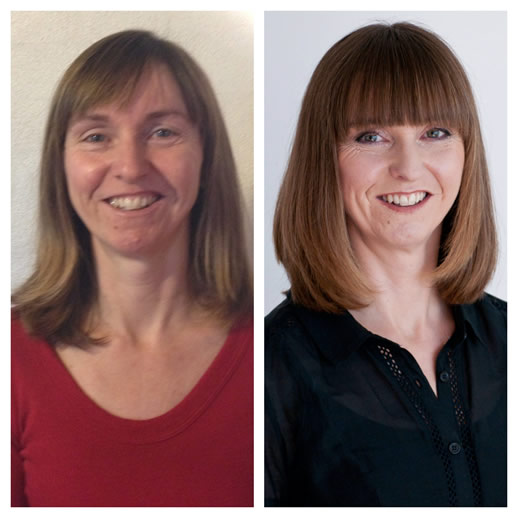 How important is online image for women? Is it more important for women online or in business to appear perfect or to be real and authentic? How can we find a balance between those two things?
Share This Story, Choose Your Platform!