52 Exercises: #44 Noosa Triathlon Fun Run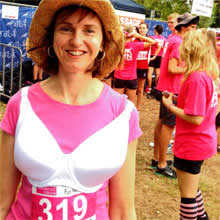 Fun run always seemed to be an oxymoron to me. You know, one of those phrases with contradictory elements like deafening silence, living dead or open secret where two things together are just impossible.
For me the terms fun and run seemed to be mutually exclusive. I couldn't understand how anyone could have fun while running. it would be like having fun while getting a filling at the dentist or having your mammogram.
Historically I've always hated running, avoided it where possible and failed every time I have tried to start running for heath reasons.
In January I struggled to keep up with a friend while attempting jogging for the 52 Exercises Quest, but this year, after several decades of failure, I have finally cracked running. I wouldn't say I like it but I have succeeded in running regularly and and slowly lengthening my runs to the point where I now run 10km once a week.
So physically the fun run should be reasonable. But the other problem is that I don't like crowds so I wasn't looking forward to the fun run.
Still, it was part of the Noosa Triathlon weekend, a huge local event I've never taken part in before, and a fundraiser breast cancer. It's always good to support charities but I can think of easier ways to raise money than getting up at the crack of dawn and running five kilometers.
My eight year old daughter was more keen than me but only because she had no idea what running 5km would feel like. I was glad about that and felt confident that we wouldn't have to run and would just walk our way round the course. But it didn't turn out like that.
We got up at 5.30am and joined over 2,000 other people who did think the idea of running sounded fun in Noosa Woods at the end of Hastings Street. It's one of my favourite parts of Noosa and it was heaving with people collecting their running bibs.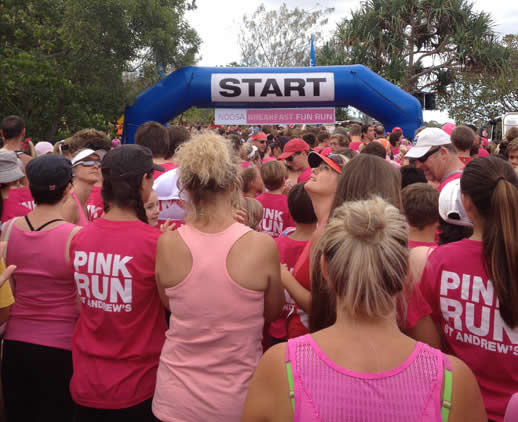 The breast cancer theme is pink in Australia so the place was a sea of pink, not just the women and girls but also the boys and dads who looked glorious in pink too. There were silly hats, feather boas and fancy dresses. I felt quite dull in my old pin tshirt but then someone handed me a gigantic padded bra to wear on top so I fitted right in with the silliness. It also turned out to be a great way to carry my phone.
Finally it was time to walk to the end of Noosa Woods for the race start. We all packed in and finally the race started at 7.30am. It turns our little Kiara is a competitive soul. She ran so fast I could hardly keep up with her. Several times I got quite worried because I lost sight of her and even running flat out it was hard to catch her.
We ran through Noosa Woods, down Hastings Street which was closed to cars and half way down Noosa Main Beach before she finally ran out of puff. From then on we walked and enjoyed the sight of the blue sea and a ribbon of pink made up of 2,000 people streaming along beside it. It wasn't just me and Kiara who had pink faces to match our pink shirts.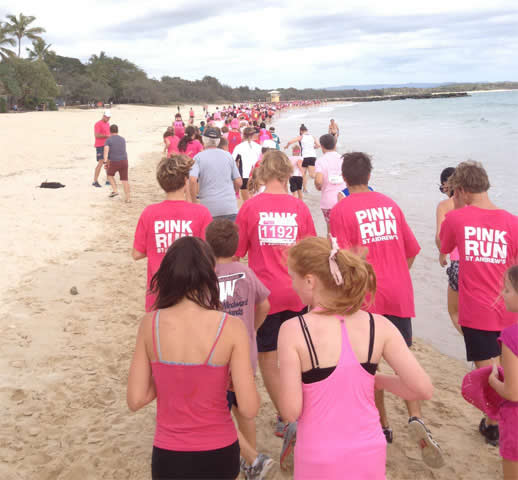 When we got back to river mouth Noosa Woods Kiara was off again, sprinting towards the finish line with me dashing along as fast as I could behind her.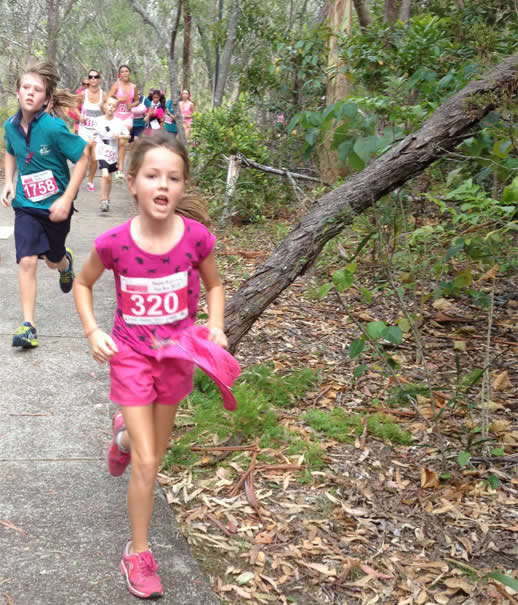 It was all over in 32 minutes I have to admit it actually was fun. The kind of fun that you can only have if you're a fit early riser who doesn't take yourself too seriously. Because wearing a DD cup bra over your A cup breasts is a seriously silly look.
Have you ever done a fun run? Would you? Could you?
Noosa Triathlon 5Km Fun Run – Excercise #44 in the 52 Exercises Quest
Time taken: 32 mins
Calories burnt: 185 cals
Average heart rate: 161
Peak heart rate: 186
Fear Factor: 5
Fun Factor: 7
What is the 52 Exercises Quest?
At the beginning of 2013 I decided to personally test a different fitness class or sport each week which is how the 52 Exercises Quest started.
The idea is to fight depression, boredom and ageing by being constantly trying new things and being challenged mentally and physically.
It's about keeping the spirit of fun and adventure alive in your forties even when you're not off on a life-changing travel adventure.
Want to get Hotter?
Get in the Hot Spot's newsletter is a free weekly booster to help you be more adventurous, have more fun and feel fabulous in your forties and beyond. Click here to subscribe now.
If you're enjoying Get In the Hot Spot and the 52 Exercise quest please take a moment to share this post on Facebook, Twitter, by email or any way you please using the buttons below and leave a comment below. I'd love that. Thank you.
Share This Story, Choose Your Platform!