Noosa Three Ways: Budget, Mid-Range and Big Spender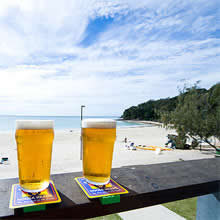 I  love Noosa, I do and I love living here. The beautiful beaches, natural scenery, tropical climate and laid back lifestyle are a huge drawcard, not just for me but for hundreds of thousands of visitors who flock to Noosa each year for their holidays.
But there is always trouble in paradise and Noosa is no exception. Parking can be a headache in the school holidays or when the surf's up and the surfies head in from the Hinterland to hit the waves. But there are great bike tracks everywhere and the council usually runs free buses over Chirstmas and Easter so there are ways to avoid parking problems.
Then there are the Noosa prices. Noosa has a reputation for being expensive and there are certainly no shortage of fine restaurants where you can spend it up large if you want to.
But unlike in big cities where you can usually find good food at cheap prices everywhere Noosa's eateries are  often expensive unless you know where to go.
Noosa's a white middle class enclave in many ways but there's a place and space for everyone. The backpacker scene is huge and our best assets including the beaches, Noosa River and Noosa National Park are free.
If you think Noosa's too expensive for you then here are some ideas on how you can experience the joys of Noosa whether you're on a budget or ready to spend it up large.
Where to Stay in Noosa
Budget
The Halse Lodge is the best option if you're on a budget because it's only a one minute walk from Noosa Main Beach and within walking distance of Noosa National Park. It's set in two acres of rain forest in a wonderful restored wooden homestead that's listed by the National Trust. Halse Lodge backpackers is a YHA associate with dorm beds from style accommodation starting at $30 a night and twin or double rooms if you'd like to spend a bit more to avoid sharing a room with potential snorers.
If you're camping then the Munna Point campsite on the Noosa River is a favourite with the Candy family. Not that we have ever stayed there but they do have some great barbecues on the river and it's a lovely spot to spend the day.
Mid-range
There are plenty of great options for hotels and apartments in the mid-range like the Mantra Hotel on Hastings Street which has just had a million dollar makeover, has a great pool for the kids and is also handy for the beach, Noosa National Park walks and Hastings Street restaurants. If you're really lucky you might even spot Pat Rafter parking his car there.
If you want to save a bit of money or you need a bigger apartment then the best option is to head out of Noosa. When we moved to Noosa we stayed at the Glen Eden Resort a 15 minute drive from Noosa in Peregian Beach. It's a bit older but set right on the beach with a pool and you'll get a three bed room apartment for the same price as a two bedroom apartment in Noosa so it's great for families or longer stays.
Big Spender
Hey big spender! You need to hop straight in a boat and head to the heart-shaped 25-acre Makepeace Island in the Noosa River. It's owned by Richard Branson and is an exclusive and very private Balinese-style retreat with a pool, tennis court, theatre and two-storey open-aired Balinese wantilan for relaxing or gathering with friends and family. You used to have to rent the whole island which got really pricey and you can still do that if you wish or, if the GFC has hit you where it hurts, just rent one of the villas. Trust me, that will be lovely too.
Where to Play in Noosa
Budget
Noosa's beaches and the ocean are all free so make the most of them. Walk in Noosa National Park, swim at Main Beach, in the Noosa River or at Sunshine Beach, or borrow a body-board and play in the waves with the kids and me.
You should definitely get out on the water too and the Noosa Ferry is a great way to relax while you see the river and listen to the captain's amusingly childish commentary.
Mid-range
Splash out on surf lessons because Noosa is all about the surf. If you've been there done that then Noosa is a great place to learn how to stand up paddle board or you can hire a catamaran near the Groyne just north of Noosa Main Beach. When you need to get out of the sun head to the shops on Hastings street or in Noosa Junction. Or find a shady table at Noosa Main Beach surf club or outside at Bistro C if you're going for the high end of mid-range then watch the world go by.
There's more to explore on the Noosa River where you can hire a tinny and fishing equipment for just $60 for three hours. If you're not into fishing get a bigger more comfortable boat from one of the many boat hire shops on Gympie Terrace, pack a picnic and explore the river and waterways at leisure dropping anchor whenever you feel like a cooling dip in the water.
Big Spender
You have to get out on the water while you're in Noosa and the Noosa Dream Boats or Gondolas of Noosa will show you around the Noosa River and canals in style. If you ask them nicely they can even provide an elegant picnic or nibbles along with ice, glasses and an ice bucket so just bring your own Cristal champagne and you'll be all set.
If you're a family or looking for a bit more excitement Jet Ski Tours could be fun or the Noosa Thriller which offers speed boat rides in a"high-performance ocean thrill ride with wave jumping, 360-degree turns, ocean-swell surfing, figure-eights and tear-drops".
If you'd prefer peace, quiet and wildlife spotting opportunities the Noosa Everglades Tour will deliver.
Where to Eat in Noosa
Budget
I avoid fast food joints at all costs because the food's usually horrid and they're not even cheap but if you're desperate there's a small food mall at the back of Hastings Street where you can get a Subway and worse.
But having said avoid the junk food you simply have to eat fish and chips while you're in Noosa.  There are heaps of fish and chip shops on Gympie Terrace but I always go to The Boat House. Look out for the cheeky white-face heron who can often be seen sitting on the counter hoping he'll get fish and chips too.
The best way to eat if you're on a budget is to self cater with picnics and barbecues. Pick up some fresh seasonal local produce at the Noosa Farmer's Market every Sunday morning then use the free barbecues at Gympie Terrace, Noosa Woods or Noosa Lions Park or pack a picnic for the beach. You really can't beat a fresh tomato, local cheese and freshly made bread eaten in the great outdoors.
The Halse Lodge serves up decent food at a reasonable price too and is the best place to go for cheap drinks and a fun, holiday atmosphere in the evenings.
Mid-range
Noosa Junction offers great food and generally better value than Hastings Street. The locals favourite cafe is Canteen or Quenchers which has good coffee and juices. For an evening meal we love Jardin Japonesque on Arcadia Street or the early bird special menu at the River Cottage Cafe which is near the river funnily enough. You get excellent food at both places.
Big Spender
Money no object or celebrating a special event? You'll be spoilt for choice in Noosa. Bistro C on Hastings Street always gets rave reviews but I love Wasabi and Rickys, both at Quamby place on the river. Wherever you go book a table early so you can enjoy the sunset.
No matter how cash strapped or cashed up you are come visit us in Noosa soon. Just be warned you may end up loving it as much as the locals do and end up wanting to stay forever. It happens a lot in Noosa.
Photo credit: Visit Noosa

Share This Story, Choose Your Platform!