52 Exercises: #16 Outrigger Canoeing (and What Floats Your Boat?)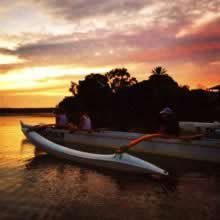 One of the great things about being on anti-depressants is that you don't feel depressed any more. Well that's my experience anyway.
My spanking new therapist says they're just masking it but I don't care about that or about what anyone else thinks of me taking them right now. After three weeks on the "happy pills" I can make jokes and laugh again for the first time in months which is a huge relief.
But sleeping is still problematic and I'm also feeling strangely unmotivated.
So this morning, after waking up at 4am, I decided to do something useful and crack on with the 52 Exercises quest. As tempting as it sounds outrigger canoeing in Noosa's waterways and oceans has eluded me because it starts at the ungodly hour of 5.15am.
When I get to the river it's dark. Very dark. I can't see anything except a couple of small torch lights but I can hear voices. The Outrigger Canoe girls are buzzing around on the river bank gathering paddles, life jackets and water bottles and floating their boats.
Bringing my iPhone to take photos is not recommended but I do it anyway, stashing it inside two ziploc bags and a Tupperware container. Apparently these outrigger canoes can and do capsize, but I decide to risk my phone getting drowned because dawn is the best time of day for taking photos. Plus we're not heading out to sea today, across the dangerous currents and waves of the Noosa river mouth, but inland along the calm Noosa River past Makepeace Island to Lake Cootharaba so I hope we'll stay reasonably dry.
Outrigger Canoes hold six people with one person at the back who steers and one person at the front who makes sure we don't crash. Then there's a caller – I don't know the official term – who counts out 15 strokes on one side then calls out Hurrmph! (or something like that) whereupon we smoothly raise our paddles over our heads and start paddling on the other side.
Well, the other paddlers do. I fumble hopelessly with my paddle in mid-air and miss the first stroke every time.
These women are fabulously fit with the stamina of a horse.  At the front of my outrigger there's what looks like your stereotypical grey-haired little old lady but she's not stereotypical at all. Her muscular back, shoulders and arms are terrifically toned and she sets a cracking pace for us to follow which I try and fail to keep up with. I want to be like her when I',older.
The sunset is a startling pink behind the trees of Noosa Northshore.
"Keep your eyes in the canoe!" someone calls out to me.
A crowd of cormorants sweep silently overhead.
"Watch the paddler at the front!" I hear.
A huge bird that surely must be an eagle soars overhead.
"Your timing's all out!"
A pelican floats at the river's edge, reflection like in the water.
"Dig your paddle in hard!"
A white-faced herons picks its way along the river bank.
"Get your wrist wet!"
A pure white egret stands motionless as we go glide past.
"Flick your wrist and don't pull your paddle too high out of the water."
There's a ginger and white cat lying at the end of a dock.
"Keep your body straight."
Two black and white dogs patrol another dock and one of them lets out a hollow howl as we slide by.
"Hurrmph!" comes the call and we change sides.
We paddled 11km (about 7 miles) in 90 minutes with just a couple of rest shots where I snatched a few photos. I'd love to come out on the river again at dawn and just sit there taking photos.
I feel passionate about nature and wildlife, I love being part of this team of strong women but outrigger canoeing doesn't really float my boat.
Although taking a regular boat trip down the river at dawn with plenty of photo opportunities and a fit team paddling me along would be excellent therapy.  Now I wonder if they need a team mascot…
What floats your boat?
—————————————————————————————————–
Outrigger Canoeing Exercise Review
Cost: $0. You can have three free trials with Noosa Outrigger Canoe Club. Then if you like it you can join. They go out every morning between November and June with different days for men and women and there's also a recreational club if you like the sound of it but don't want to practice three times a week or get involved in racing.
Time Exercising: 90 minutes.
Average Heart Rate: 93 bpm but we barely let up the whole time
Peak Heart Rate: 120 bpm but felt a lot higher.
Fun Factor: 6/10
Fear Factor: 3/10
Post-exercise Glow: 6/10.
—————————————————————————————————–
Thank You for Reading
If you're enjoying Get In the Hot Spot and the 52 Exercises series check out more from the 52 Exercise quest here and take a moment to share this post on Facebook, Twitter, by email or wherever you please. Thank you.
Get the weekly newsletter – If you'd like email updates from Get In the Hot Spot click here to subscribe now. You won't get an email every time I update the blog but I'll email you weekly with the best stories.
Let's stay in touch – I'd love if you circle me on Google+. Thank you.
Share This Story, Choose Your Platform!