My Wrinkles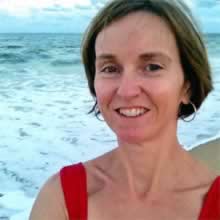 Word is spreading about my wrinkles. In fact they are becoming a matter of some national, if not yet global concern.
Recently the kind people at Avon sent me some PRO Line Corrector Treatment with A-F33 for my face, probably because they felt sorry for me after reading my Tips to Make Ageing Less Painful the Beach and the many other musings about my mid-life crisis.
But the truth is this fear of aging and the good fight against it is nothing new.
I've been concerned about my skin since it was perfect back in my twenties. Despite living on soup and omelets for four years while at university, making endless hitch-hiking mistakes and travelling rough I never skimped on good skin cream.
It was crazy when I think about it now. I spent as much money on the best skin cream money could buy as I spent on food for the whole month. I had to work in a dodgy East End pub for two weeks just to buy french skincare cream which promised to rejuvenate my skin and erase wrinkles. I walked four miles to classes just so I could smear the latest and greatest wrinkle creams on my skin at night time.
Only my skin was already youthful and wrinkle free. I was only 20 years old after all.
And now I am at that age of my life when my skin is in dire need of help but all my money is spent at the supermarket on food for my three growing children the oldest of whom, now aged 14, looms over me, weights less than me and has a better social life.
It's only early days but my first impressing of mothering teenagers is that they are like vampires, simultaneously sucking my energy and emptying my bank account.
So at this crucial time when I need the best anti-wrinkle cream money can buy I could never justify spending two weeks of housekeeping money on it. Fortunately I don't have to because heavy duty anti-wrinkle cream is a lot cheaper these days.
So I haven't given up my futile quest for perfect skin but I have got more realistic about how much I spend on it and what the results will be. With that in mind here is what I'm using to fight those pesky facial lines:
Day time
Avon PRO Line Corrector Treatment with A-F33
Avon Anew Reversalist Day Renewal Cream with sunscreen – layered over the top.
Dermalogica Solar Defense Booster SPF 30 – Layered over the top of the other two if I go to the beach or for outdoor exercise.
Night time
SKII Facial Treatment Clear Lotion
SKII Skin Signature Cream
And do you know what? Something is working because, having failed repeatedly to create videos for my blogs because I think I need a full face of make up to look presentable and I rarely wear any make up at all I have turned a corner. Now I've started sticking photos of myself up on my blog with no make-up at all. Not a skerrick of it. See above.
Make-up free – that's how you'll find me if you bump into me at the supermarket and that's how you'll often see me here.
My aging face may not have the dewy perfection of the skin I never appreciated in my twenties. Despite years of good skincare my skin may be a bit fine and sun-weathered these days but I'm perversely proud of it.
I'm middle aged, I rarely wear make up, I have thread veins and wrinkles but is my skin isn't that bad.
But please don't tell the good people at Avon that because it's a treat to have someone take a personal interest in my skin and send me the latest and greatest wrinkle damage control. I even got to meet one of their lovely skincare boffins Anthony Gonzales and grill him in a Google+ hangout last week.
I shamelessly turned up bare-faced for that meeting too. You can see the video here.
Anthony Gonzales has a great name and seems like a great man too although I was disappointed he didn't wear his white coat. I love a man in a white coat… unless they are coming to take me away.
But I digress. The truth is I don't have much time to look after myself now but taking care of my skin is one thing I can do so I'm glad good skin care doesn't cost that much these days.
A-F33 is scientifically proven to reduce signs of aging so after using it for four weeks my skin looks pretty good and, more importantly, taking care of my skin makes me feel good too.
So that's worth spreading the word about.
Disclosure: I was sent the Avon and Dermalogica products to test but I was not obliged to or paid to write about them. If you'd like to try them you can buy Dermalogica online here or find an Avon rep near you here in Australia,  NZ, the USA and the UK. I bought the SKII products duty free when I was in Japan last year and recommend online beauty discount store StrawberryNet for buying SKII and many other big skincare brands. I've been shopping at StrawberryNET.com for ten years and although their site looks a bit dodgy they deliver the goods, their prices are the lowest I've seen, they do free shipping worldwide and they have a great loyalty program.
How are your wrinkles coming along? What are your skincare tips?
Share This Story, Choose Your Platform!