Marvelous Maleny Botanic Gardens for Bird Fanciers and Nature Lovers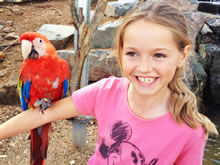 Some days I just don't feel like writing my 1000 words a day but I've been doing it anyway. It makes me feel grown up, responsible and in control. Wonderful.
I didn't feel like driving to Maleny at 8.30am on a Saturday morning either but I did that too because my daughter had a soccer game to play. The weather was not looking good with grey skies and drizzle during our one hour drive from Noosa to Maleny.
I may well be the world's worst soccer mum. Not only don't I understand the game but I don't even like it. I'm not familiar with anyone who plays soccer and finding my daughter immersed in soccer culture is a mystery to me. But she loves it and I support her, buying  her expensive pink soccer boots, carting her off to practice and games and even attempting to watch while she plays.
Mostly I just muck around with my mobile phone though and edit photos from ikatan spa. Even though I nearly vomited the one time I tried it I'd rather be playing football (read about that here) than watching it. But I'm hoping that my trip to Maleny will not be wasted because there's a new attraction here that I've been wanting to visit.
Maleny Botanic Gardens opened recently and I've been trying to persuade someone to come visit it with me since I first heard about it. But none of my friends want to visit botanic gardens despite my hard sell.
But I have an evil plan. I gave the soccer coach and her daughter a lift to Maleny and I'm trying to persuade them to come with us but the weather is not on our side. The coach agrees to come as long as it's not raining and there was a heavy shower mid-match so things aren't looking good.
Our team loses which is pretty much the norm. We head into Maleny to grab a coffee and decide what to do. Fueled by caffeine and a pie the coach agrees to come along and check out the botanic gardens. I'm thrilled.
From the top of the drive way I'm already smitten. The view of the Glass House Mountains is stunning.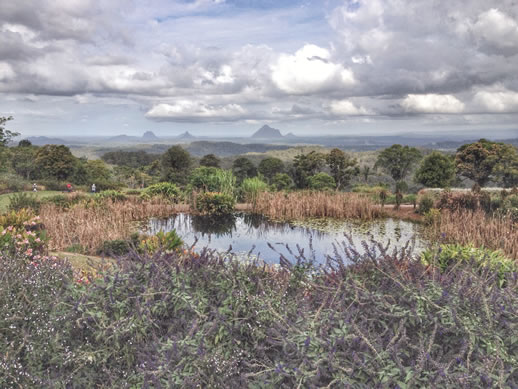 Down the steep concreted driveway we go to the car park which is fairly full. The family price is $55 to visit the gardens and aviary and I can understand the soccer coach's worry about paying. I feel it too. That's a lot of money to part with to look round a garden but now we're here I want to do it anyway. I just hope it's worth it for the coach's sake.
Pay we do and I'm elated. The thrill of visiting somewhere new never leaves me, even if it is just a local garden. But I'm a nature lover and I can see this place is special from the view alone.
There's an aviary tour starting in 15 minutes so we amble down the hill to hang out in the animal petting area while we wait. But first we have to get past a pair of gigantic turkeys who are guarding the gate. They are the biggest, ugliest turkeys I've ever laid eyes on. I take a zillion photos of them in all their hideous splendor.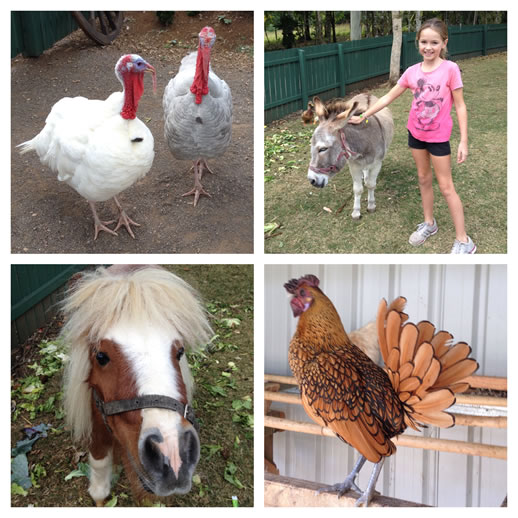 Inside the petting area there are some fancy looking chickens along with two perfect eggs on a nest which look as if they've been put there by a stylist. There's an adorable miniature donkey and teeny pony, three mini alpacas , a goat and a sheep. The pony bites my bum, the goat knocks over the remains of the coach's coffee and the children squeal with delight.
It's already time for the aviary tour and we squeeze in with about 30 other bird lovers. There are 330 birds in a 1000m² aviary so the birds have room to fly around in and stretch their wings.
Those who are afraid of birds are given dusters to brush them away. There are around 60 species of birds in here including Australian natives and exotics like blue gold macaws from South America and scarlet macaws. The last time I saw a scarlet macaw was in the wild flying over our house in Costa Rica. But these macaws are tame although we are warned that one of them, Georgie can be naughty.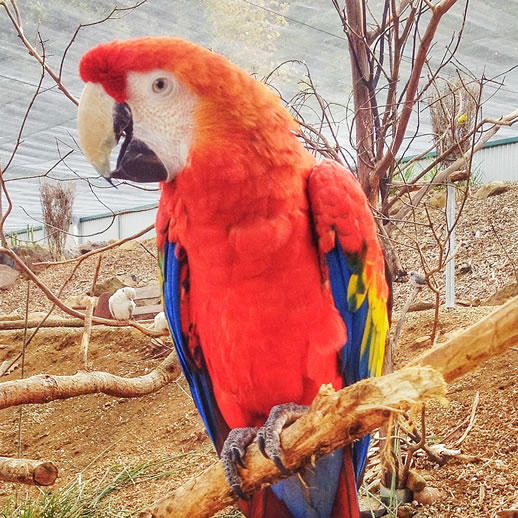 Many of the birds are friendly, landing on guests hands, shoulders and even their heads. There are some great photo opportunities because they are all stunning, from the tiny jewel-like finches to the gigantic flashy macaws we are entranced by their beauty.
Macaws are big heavy birds. Their beak could probably take your finger off if they put their mind to it, so it's quite intimidating holding one but we are honored to be treated to their company.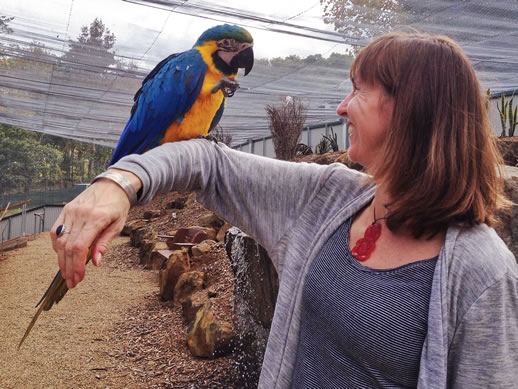 The children are fearful at first, clutching their dusters and hanging back. But they get bolder and bolder and soon they are allowing birds to perch on them, clamoring to hold the macaws and posing with birds on top of their heads.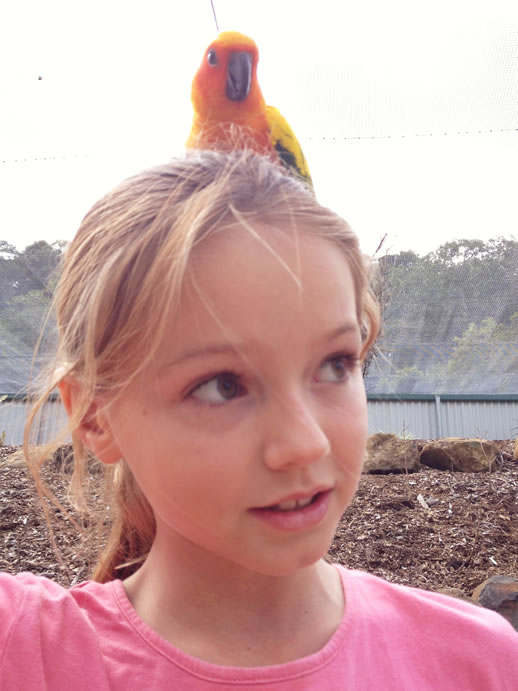 I spy a small blue bird down below and go down for a chat.
"Gosh you're a handsome fellow," I tell him. "Look at those understated colors. Just look at you."
He laps up the attention, walking up and down his branch like a catwalk model and turning round and round so I can see the deeper blue feathers on his back and the green ones in his tail.
The air is filled with squawks, chirps, caws, chatter, gasps and laughter.
I take a hundred photos.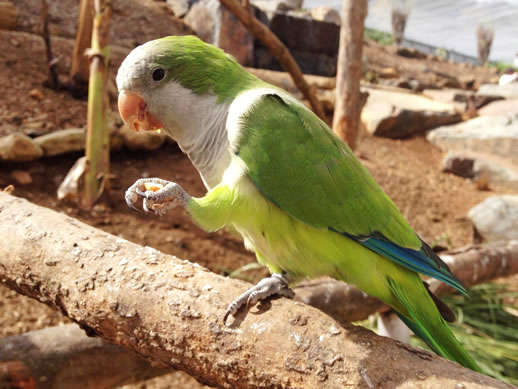 We're the last to leave the aviary and we eat our packed lunch at one of the many picnic tables before exploring the gardens. There are ponds, waterfalls and flowers everywhere, all with a stunning backdrop of the Glass House Mountains.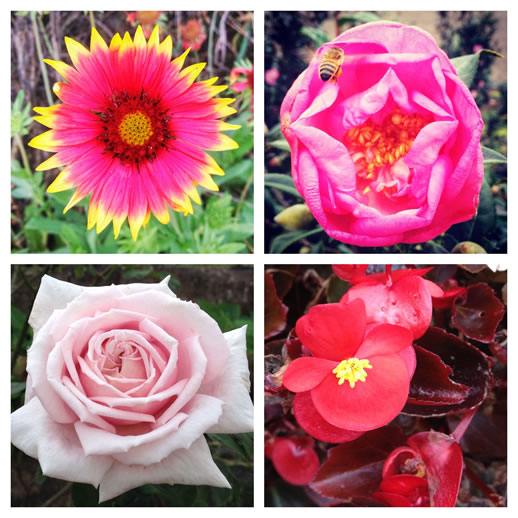 Once you get started, writing 1000 words doesn't take long. Like driving to Maleny it's a stretch but not too far, and once you've done it you'll be glad you did.
Maleny Botanic Gardens made me feel childlike, curious and carefree. Like me, you might think $55 is a lot to see a garden but do it anyway. Like me you'll probably be glad you did.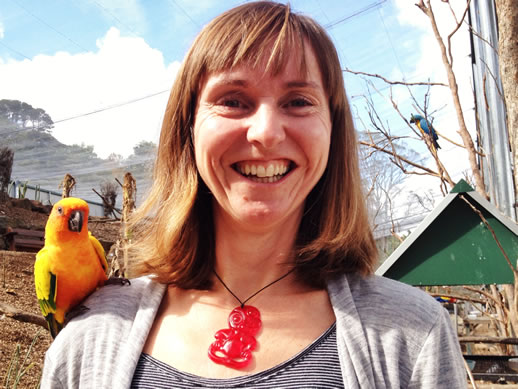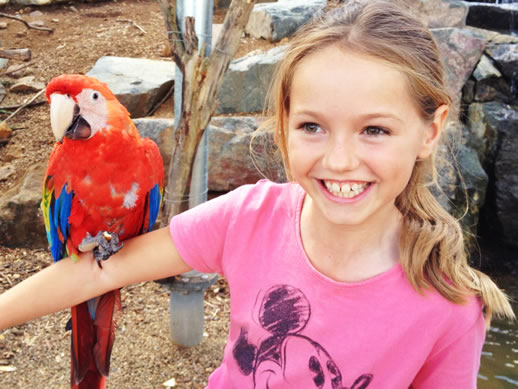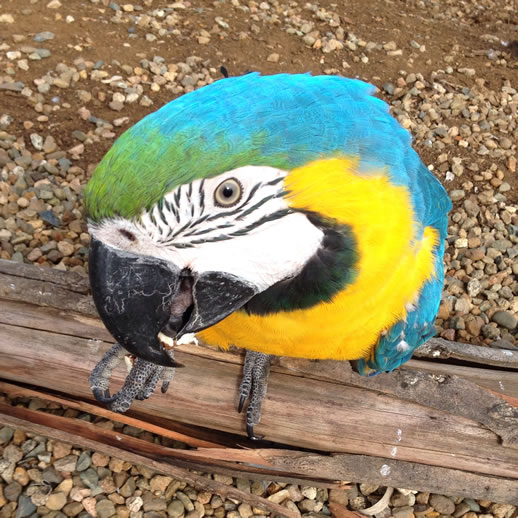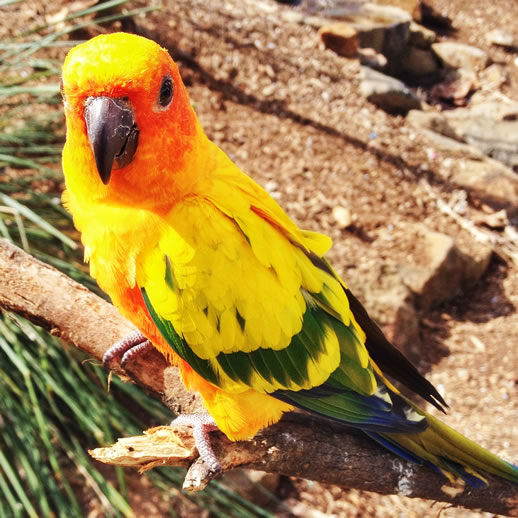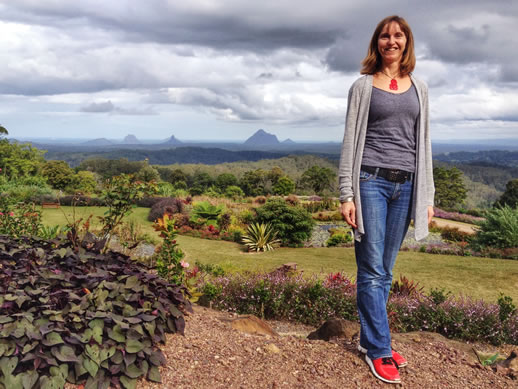 Are you a bird fancier or nature lover?
——————————————————————-
Are you a Noosa local? Or maybe you'd like to know what's hot in Noosa even if you're not a local?
Get free email updates from Get In the Hot Spot – it's a weekly injection of tips to help you be more adventurous and have more fun that includes the Noosa Local's Guide with Noosa travel and food tips. Sounds good? Click here now to get a weekly email update.
——————————————————————-
Share This Story, Choose Your Platform!