Noosa Local's Guide: ikatan Spa Splurge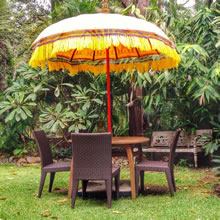 My husband gifted me an ikatan Spa voucher for my birthday in March and I've been hoarding it ever since. I love to have something to look forward to and what could be more eagerly anticipated than a visit to the spa, especially a spa which their website says "is known as the best spa in Noosa.>"
It certainly sounded good to me and in truth I've been waiting five years to visit ikatan because that copy on their site isn't just an immodest claim. ikatan is widely reputed to be the best spa in Noosa so I'd been wanting to visit for a while.
Ikatan also describes itself as a "destination spa" which I suppose means it's a spa you go to for the experience rather than because you need a facial or to get your moustache waxed off. Which also sounds good.
Ikatan Spa is about a ten minute drive from Noosa in rural Doonan and the chance to have a mini break, a total escape from my real world if just for an afternoon definitely appeals.
You can spend a whole day at ikatan and have the works  for $795 but I'm just here for a two hour treatment, the 'in spa ration' package which I found on the specials page on their website.It's slightly more than my $200 gift voucher (I'll need to chip in $50) but I'm stumping up because I want to try a hot rock massage.
Ikatan isn't cheap but it is gorgeous. It's a Balinese spa and as soon as you get out of your car you catch the Bali vibe. You're greeted by Balinese statues, water features and wooden gates all of which are a natural fit in the lush tropical gardens. The treatment rooms are thatched Balinese huts too and after a cup of mint tea  I was escorted to mine by my massage therapist.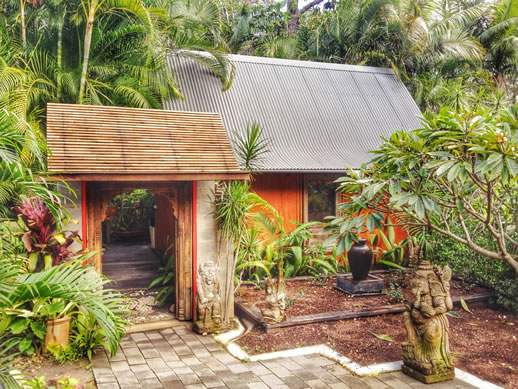 The hot rock massage is an interesting experience. In the pictures which seem to advertise every spa there's a woman with three or four stones laid along her spine but the real hot rock massage isn't quite like that. Although the rocks are sometimes left in place they're also used as a massage tool.
With the help of lashings of massage oil the hot slippery rocks glide up and down my body as smoothly as ice while the heat relaxes me and unknots my tired muscles.
I discover tension where I didn't know I ached. As the therapist works on me I suddenly notice my buttocks, thighs and even my forearms are tight and sore. But she presses and squeezes the aches away leaving me drooling with pleasure on the massage table.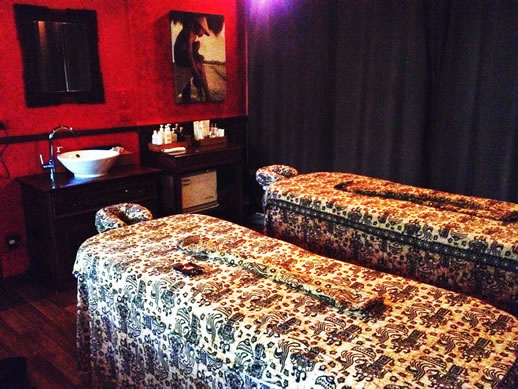 The hot rock massage lasts an hour then it's time to start the facial. I cast my mind back to worries I had about boredom on my first spa visit. There's no concern about that now because time is flying by.
My face is gently and thoroughly cleansed and exfoliated before a cool, thick mask is applied. It's a sensual treat lying in a darkened room, having my face caressed and being surrounded by an array of wonderful scents. There's some ambient music playing and birds tweeting.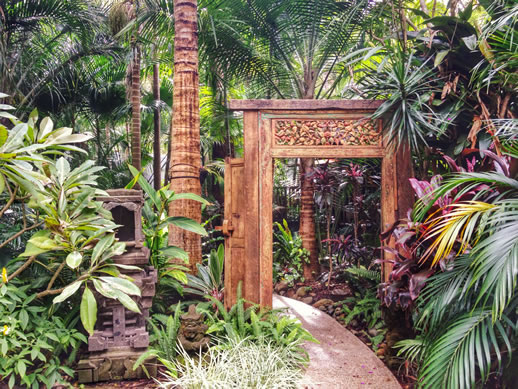 I'm not sure if the bird sounds are part of the iPod sound track or if they're real birds tweeting away in the tropical gardens outside. I can hear a water feature bubbling away and then the rain starts. It's wet and miserable outside but warm and welcoming inside.
But all good things must come to an end and finally my two hour treatment is over. I'm offered bubbles but opt for a pot of lemon grass and ginger tea to complete the session.
I'm incredibly thirsty and glug a big glass of water as the therapist leads me outside to an open-sided Balinese shelter complete with sofa, tables and chairs.There was a small group relaxing here when I arrived but I have the place to myself now. I know I shouldn't do it but I can't help myself. I take out my mobile phone and start taking notes about ideas I had while I was on the massage table.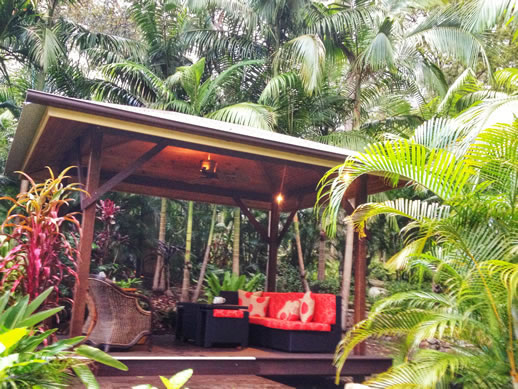 I guess the escape from reality got my creative juices flowing and I want to make sure I remember my bright ideas before I head back to reality.
Ikatan spa's a big splurge and not the kind of thing I'll be able to do every week but it's something I'd love to do again.
Maybe I should put a standing order in with my husband for birthday, Christmas and Mother's Day too.
Ikatan Spa is a special place to go for a special treat. I go home feeling rather special too. And especially grateful to my husband for gifting me this experience.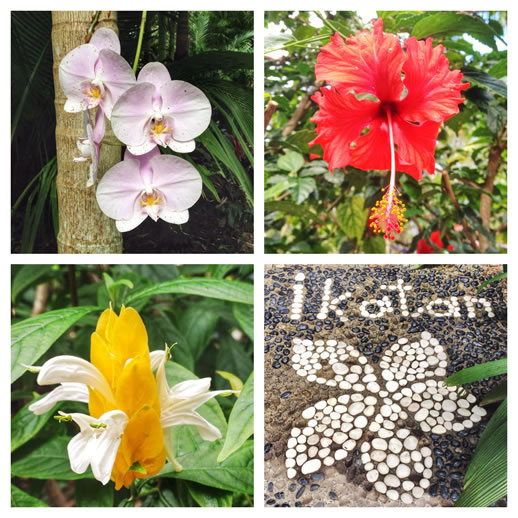 IKATAN SPA DETAILS
I had the two hour in-spa-ration package which cost $250:
Warm up with a 2hr In-spa-ration package at Ikatan Spa Noosa with a 60-minute Hot Rock aroma oil massage targeting the area where stress and tension accumulate. Drift away during a 1hr facial to rejuvenate your skin with personalised skin care to deep cleanse, exfoliate and nourish your skin. Enjoy a face, décolletage and scalp massage while beautiful masks treat your skin, finishing with mineral make-up application. Then enjoy complimentary bubbles or T2 tea in the garden.
To find out more phone or book phone 07 5471 1199 or visit www.ikatanspa.com.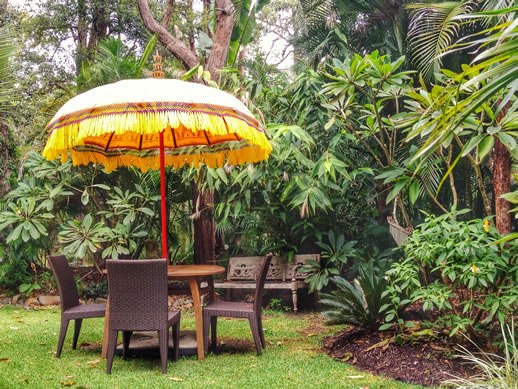 ——————————————————————-
Are you a Noosa local? Or maybe you'd like to know what's hot in Noosa even if you're not a local?
Get free email updates from Get In the Hot Spot – it's a weekly injection of tips to help you be more adventurous and have more fun that includes the Noosa Local's Guide with Noosa travel and food tips. Sounds good? Click here now to get a weekly email update.
——————————————————————-
Share This Story, Choose Your Platform!