Life After 50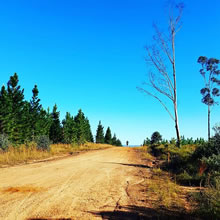 What does life over 50 hold? If you buy into media advertisements, once you hit 50, life seems to mainly focus on planning for retirement.
Now I'm crazy about making and having future plans. But I don't really want to spend the next 20 years planning for retirement. I'd prefer to spend them living a good life because you never know how long you've got.
I understand the need to keep an eye on savings and consider how you'll support yourself when you can't work anymore. But I want to keep on working on career development and personal development in the meantime. Those things are important too.
Finding that balance between being a responsible adult who's saving up for old age and enjoying the life you have now is tough. Especially if you've still got kids living at home and you can't funnel as much cash as you'd like into either the retirement fund or adventure.
I suppose what I really mean by enjoying life is continuing to take risks and grow rather than follow the safe path which is most likely to lead to security in retirement.
Books like The Happiness Curve: Why Life Gets Better After 50 suggest there's lots to look forward to as we age.
But it can be hard to believe that if you're stuck in a job you don't like and considering how you're going to hang on in there for another 15 or so years until retirement age
You might be planning to retire earlier but most of those people that call themselves retired and boast about how they've retired in their thirties or forties actually carry on working. Which is smart because it would be hard to save as much as you need to fully retire by which I mean you never do any paid work. More importantly, studies show that work gives us meaning and keeping at it is good for our mental health as well as our bank balance.
Personally, I'm ready for a career change at 50. Well, not so much a change, since I'd like to continue my copywriting and travel marketing work too, but more of an expansion of what I do.
I definitely want more freedom and not to be boxed in which I think is a danger as we age.
Now I've finished MEd in Guidance and Counselling I want to work with vulnerable young people. I want to do something that feels like it really matters, to use my caring, listening skills and work with other people who care.
Business marketing is important to me and I love using my listening, and writing skills to help people grow their dream businesses. But it's still business.
It's my crazy dream to find a traditional role working with young people and still spend several days at home each week working with Web marketing clients.
Finding my dream job, part-time in a school or youth centre on the Sunshine Coast, will be almost impossible. Jobs are scarce and worse still I'm 50 and I no one really wants to hire a 50-year-old. Sadly youth trumps experience in the workforce.
It's also hard for employees to place me due to my non-traditional background, so it'll be hard to get my foot in the door for an interview.
But I'd like to divide my energy between those two diverse fields of business marketing and youth work so I'm going to give it a red hot go.
Life after 50 is about realising what's important to you.
I don't want my life after 50 to be defined and constrained by what I've done so far. I want to enjoy the freedom to choose any path as young people do.
For me, the sad thing is that when I was young I didn't know what I wanted to go. Now I do, but since I'm older it might be out of my reach.
We'll see. It's never good to feel labelled or boxed in but it makes it easier for other people to understand what you do.
But I want my life after 50 to feel boundless and brim with growth. I want to continue to feel excited about the future and not just because retirement is on the horizon. I want to keep shaking things up.
From what I hear, life after 50 is pretty good. I want to work out how to make it amazing.
Want More Travel and Wellbeing Inspiration?
Stay tuned for more travel stories, ideas and inspiration. Get free email updates from Get In the Hot Spot – a weekly injection of tips to help you be more adventurous, stay active and have more fun. Click here now for free updates.
Share This Story, Choose Your Platform!