How to Stop Feeling Lonely When You're Always Moving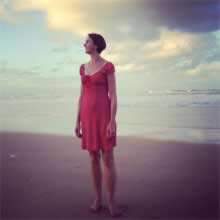 The more you travel the less chance you have of fitting in. Most people you meet when you're traveling can't relate to you because their culture, language and experience is so different from yours.
Some other travelers, expats and people who live overseas, who you think are adventurous kindred spirits are just other people who don't fit in at home so, like you are moving around looking for a place where they do belong.
Being an expat makes you part of an elite group who work and socialise together. But  you still feel alone and wonder why you don't have any real friends.
1. Stop feeling lonely by choosing who to spend time with, don't just spend time with people because it's easy
I've been in Australia four years and I've only made a few good friends. I hide behind my computer and don't go out so I don't get rejected.
When I arrived I joined a group of surfing mums but they evicted me from their group. I was slow to leave, clinging like a limpet to their company, needy and unwanted.
We met at the beach weekly where they discussed drinks they'd had with each other or trips they were planning with each other. They never invited me along. But whenever I come across someone who appears not to like me I try my hardest to make them like me. To win them over.
These women were not impressed and eventually they found a way to exclude me from their group. To cut me out and cut me off. The group leader told me I wasn't welcome any more. Then I ran into one of her cronies and she told me too.
2. Accept that some people don't want to be your friend and that's a good thing
I cried. Right there at the public pool while my kids were in their swimming lesson. Right there in front of her because I couldn't understand why they didn't want to have me around. I couldn't believe that my company was so bad that they couldn't stand to be around me.
Most of all I couldn't believe that I had wasted nine months trying to make friends with these women who so obviously did not want to be friends with me.
Or that I had cried in front of them because right up until then I had worked so hard to fit it, to make sure they didn't realise I was a misfit but I now I was crying, red-faced and ugly, finally giving them the excuse they had been wanting.
My bully was a Swedish woman who moved here long ago, her friend was an expat too. But that experience with her and with some other women has convinced me to keep my head tucked under my shell. One more straw may break me.
3. Notice when you're putting up walls or making choices that are making you feel lonely
The more I move the harder it becomes to make friends, the stranger I become and the more I have to tell people that I can't seem to settle down. I am a woman who has lived in eight countries and visited over 40. One for every year of my life. Travel is my life philosophy.
All the activity involved in traveling, moving and settling somewhere new means you never feel bored or lonely. It gives you get the sense of instant intimacy with people you're thrown together with without the need to really be intimate.
So if you are not good with intimacy, if you are afraid of getting close to people because you're scared they'll hurt you or if you don't think you're worth getting close to then expat life works well.
Every time you go somewhere new you will have instant friends. Any time you feel threatened, either because the acquaintances you've made are getting too close, or because you realize none of your new relationships are true friendships then you can move on and start all over again from scratch.
Endless travel and the expat life is really a great way to avoid intimacy if you are not good with that.
Which is probably why I keep thinking about moving again but know the best thing for me to do right now is put down roots.
Have you ever experienced expat loneliness? Is being an expat a lonely way of life? How do you avoid loneliness when you travel? 
Thank You for Reading
If you enjoyed this post please share it on Facebook, Twitter, by email or any way you please with the buttons below. Thank you.
For free weekly email updates from Get In the Hot Spot click here to subscribe now.
Let's stay in touch on Google+. Thank you.
Share This Story, Choose Your Platform!