How to Live Overseas and Have No Regrets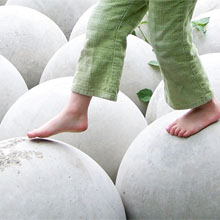 Want to know how to live overseas?
"You're so lucky. You're not bogged down with all that stuff that stops us from living overseas. You haven't got any of the clutter that keeps us stuck where we are."
That's what an American writer told me recently when he heard I've lived overseas in eight different countries.
These days I know not to argue with that type of comment. I may nod and smile but it makes me feel sad because I could sense his regret and I knew that he could live overseas if he really wanted to. I know that you can too.
Not everyone dreams of the nomadic lifestyle and living overseas, not everyone is ready to live free, to give up their comfy couch and cozy lifestyle.
But if you do dream of moving or living overseas for a short time or longer and you want to make it happen read on. If you have a travel dream and you want to get old with no regrets this is for you.
I admit I am lucky, and I'm so grateful for all the experiences living overseas has given me, but maybe, just maybe, there's more to it than just luck.
Of course, I was lucky enough to be driven to follow my passion for travel and living overseas, even though it meant disappointing my family and standing up against social pressures to conform.
Sure, I was lucky that I studied french and trained to teach english as a foreign language so I'd be able to get work overseas almost anywhere in the world.
Certainly I'm lucky that I can control my fear, take what many see as crazy risks then pick myself back up even when things don't work out.
How to Live Overseas
1. Decide where you want to go
This is the hard part but don't over-think it, you can always go somewhere else if you go somewhere and it doesn't work out. You can choose anywhere in the whole wide world but when you start researching and really thinking about living overseas seriously you'll naturally chose countries it's possible for you to live in permanently or semi-permanently.
2. Consider exactly how you can live overseas
Think about the practical options like how long you can stay and if you can work there. If you need to work overseas don't expect to earn much, you want to look at living overseas as a learning opportunity, not a way to boost your retirement fund. If you can't work overseas in your chosen destination think about how you can save up to finance your stay and how long you'll be able to spend there. Understand that opportunities will come up when you live overseas that you just can't discover before you arrive and settle in.
3. Trust yourself and your choices because your friends and family may not
Much as we love them your friends and family may be afraid of being separated from you, afraid that you may fail or worried that they will miss you. Confide in people who understand your dream to live overseas and have done similar things themselves. Then get ready to face your own fears and follow your heart.
In case you're wondering where I lived and how I did it here's a summary.
The 8 Countries I've Lived In So Far
England – Where I was born and lived until 1986.
France – I've lived in France three times. In Bordeaux where I worked as a nanny, in Marseilles as a teaching assistant and in Paris as an english teacher.
USA – Nannying in Connecticut (still one of my best jobs ever) and in Atlanta where the Mucho Man was working as a consultant.
Zimbabwe – Teaching english and maths. My maths isn't great but they were desperate. We focused on the english teaching.
Laos – I was supposed to work in Thailand but Bangkok was too hectic for me so I found a teaching job over the border in the Lao capital of Vientiane which is much more mellow.
New Zealand – The Mucho Man and I applied for residency because we wanted to settle down. I worked as a consultant then set up my own web design company in 1998.
Costa Rica – Adventure called. We told all our friends and family we were moving to Panama because the thought of us going traveling round Central America with three kids, no spanish and no income made them anxious. But in the end Costa Rica was the best place for us, it has more wildlife and that's what we loved most about our time in Central America.
Australia – We moved to Noosa in 2009 for an easy life and safe place to raise and educate out kids. Life is good but adventure still calls. We won't move or live overseas again for a while as our youngest child is only seven but, when all the Candy kids leave the nest, I often wonder where we'll go next.
But this isn't about me or where I've lived or would like to. It's about you and where overseas you want to live.
Now's the time to stop thinking about how lucky other people might be and to start believing in, and making, your own luck. That's how you can stop thinking about how to live overseas and start making it happen.
 "Luck is believing you're lucky."
Tennessee Williams
Have you got any tips on how to live overseas? If you lived overseas where would you chose?
Share This Story, Choose Your Platform!