How To Be More Productive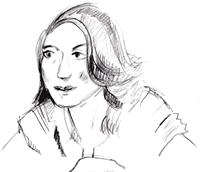 Editor's note: Guest post by Penelope Trunk, founder of Brazen Careerist.
There is so much productivity advice. I have been reading it for a while now, and honing my to-do list, and my goals, and finding my best time of day to work, etc. All the advice is good. But there are three things I think are essential if you want to put the rest of the advice to work and really know how to be more productive.
1. Show up when you don't want to.
In a perfect world, each day is great, and you are a productivity genius. In the real world, though, we all have our ideal day, and then we all have a hard time doing what we had planned to do. If you have lofty goals, then you will have some things that are intimidating to do.
On Tuesday night, I did a webinar for about 200 people about how to blog. I hate webinars. I like writing way more than I like being on video. I like that I can change the writing and think about the writing. The video is so immediate. It's intimidating. But I know the webinars are good for my company, and good for helping me connect with new people. So I dreaded the webinar all day, but I showed up.
A lot of being productive is showing up for the stuff that's hard. If you have a to-do list full of stuff that you can knock down, boom boom boom, then you're probably not growing. And really, productivity isn't about getting things done, it's about growing in interesting ways.
2. Take risks.
Annabel Candy interrupted the webinar to ask if I would write a guest post. Right after I said that guest posts don't help with traffic, and that I don't like having guest posts on my blog because they are so hard to manage.
I liked Annabel's guts. So I said yes. And she reminds me that the best way to surprise yourself with how much you can accomplish is to take risks.
Ask for long-shot favors. Make unreasonable phone calls. See if something good comes of taking a risk. Regularly.
If you are getting things done, but it's all predictable, you will be bored, and you will never know how much you can accomplish. If you take risks each day, in some way, you will surprise yourself with how much more productive you are spending ten seconds taking a huge risk than spending ten hours doing something you've done a million times before.
3. Follow rules.
Lists should always be three, five, or seven. That's how the human mind works best at comprehending information. So I am having three things here, because we reach our goals more often if we follow as many rules as we can.
So, hopefully you liked the post because, in part, I followed the rule of three.
And, hopefully Annabel will be happy. Because I broke my own rule about not doing guest posts. It feels good to break some rules and good to follow some rules.
Check in with yourself to know what works for you; the best test of how productive you are is how good you feel about yourself.
About Penelope Trunk
Penelope Trunk is the author of Brazen Careerist: The New Rules for Success and the founder of 3 startups ~ most recently, Brazen Careerist, an online social network to help young people manage their careers. She writes about careers and life with flair and passion. Penelope's a columnist at Yahoo Finance and the Boston Globe, and her syndicated column runs in more than 200 publications worldwide. She's been featured in TIME magazine, the London Guardian, the New York Times and Business Week.
It's an honor to have her join us at Get In the Hot Spot and share these tips on how to be more productive. If you aren't already one of the 50,000 people who've subscribed to Penelope's blog check it out.
Editor's Note
It's true, I did cheekily ask Penelope Trunk if she'd write a guest post for me but I swear I didn't interrupt her! I like to force myself to do something scary every day – sending my writing to an important editor, asking someone a favor or going to a dance class where I'm 15 years older than everyone else. I recommend you get out of yor comfort zone daily too.
Thanks so much to Penelope for being a good sport, agreeing to my cheeky suggestion and actually following through by sending me this article.
I love her article and couldn't agree more: it pays to take risks and you have to break the rules every now and then. Especially your own rules.
Have you taken any risks lately? If not, what are you waiting for?
Thanks for visiting
Thank you for reading Get In the Hot Spot.
If you're new here make yourself at home and check out some more articles. I hope you'll like what you see and take a moment to subscribe to Get In the Hot Spot. It's a brilliant way to stay motivated and inspired plus it's totally free.
Subscribe now by email or to choose the RSS Feed for updates in your feed reader.
Brazen Careerist and Me
I only joined Brazen Careerist last week but I already like it more than any other networking site and I've met some cool people too like Penelope, JR, Ryan, Paul, Mehul, JenG, Jay, Aaron, Neeraj, Heather, Jessica (who did the sketch of Penelope) and many others. I'd love it if you can join me on Brazen Careerist.
Who's That Girl?
Many thanks to Jessica Schanberg for creating the wonderful portrait of Penelope. Jessica's a graphic designer, illustrator, writer and blogger based in Chicago, Illinois. She grew up in Manhattan and was inspired by the graffiti and street art that surrounded her. Check out more of her illustrations and writing at her blog, Lemons to Llamas.
More Winning Articles
>> 5 Instructions For Better Writing and Living
>> Reading List for Writer, Travelers, Parents and More
>> How To Bounce Back From Rejection
>> What To Do With Your Life If You Don't Know What To Do With It
>> Live Your Dream In a Material World
Share This Story, Choose Your Platform!