Giddyup to Granada's Horse Parade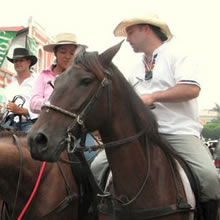 "But you should stay for the Hipica."
We're checking into our hotel in Granada, Central America's oldest city where the receptionist, Claudia, is impeccably clad.
"It's a horse parade. People come from all over Nicaragua to be in it. Some North Americans even keep horses here just so they can take part."
I'm doubtful about this as there's no mention of it in my guide book. We're only planning to spend a couple of nights in Granada as hard experience and four months travelling round Central America has taught us that our pint-sized travel companions aged two, five and eight don't appreciate these fine colonial cities as much as their parents do. The kids prefer to swim, run wild on the beaches and explore the jungle and wildlife, showing little appreciation for fine colonial architecture.
The Hotel Casa Capricho is a lucky find. It's a classic colonial building hidden away behind locked doors, with sweeping arches, stunning tiled floors, antique furniture and a small but perfectly formed swimming pool. We feel like characters in Alice in Wonderland as we enter the courtyard . The vivid colours of the painted columns and arches are surreal, the ceiling open to a vivid blue sky.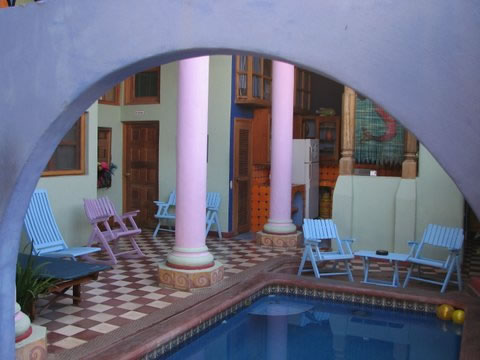 The inner courtyard is a sanctuary with flowering plants, hammocks and the tinkling of water. Best of all the hotel has a suite big enough for the five of us and fits the budget too, coming in at around US$100 per night including breakfast.
It's the kind of place you don't want to leave in a hurry and I cast my mind back to a time when I could have hung out in a shady hammock with a good book or practising my Spanish with one of the friendly staff, but the kids are restless, so we venture out into the streets of Granada to explore.
There's lots to see and, compared to Antigua, Guatemala's famed colonial city, and the original Spanish sister city to Granada, the roads are refreshingly calm and free of traffic. Our children are easily occupied wandering round the stunning Parque Central, visiting the churches with their life-sized and often gruesome statues of Jesus or climbing a bell tower for a fabulous view over Granada's tiled rooftops and a chance to dong the gigantic church bell.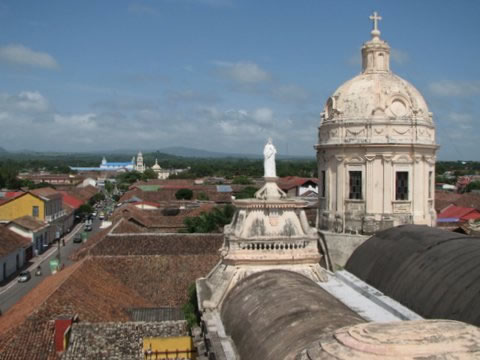 We all enjoy a tour of the city in a horse-drawn carriage that's not just a tourist attraction but still used by local families to get around the city. The children climb around the old fortress and it's easy to imagine that we're Spanish conquistadors battling to protect ourselves, our city and our treasures from blood thirsty pirates.
Later we walk the shores of Lake Nicaragua, enjoying the cool breezes and considering a trip to visit some of its many islands.
The days pass easily. We're all smitten with Grenada and decide we will stay a week and catch the Hipica on Sunday.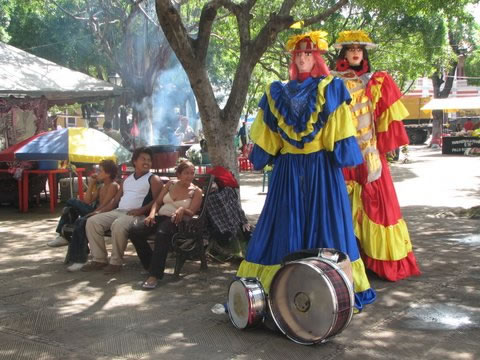 To entertain us until then we enjoy day trips to the very active volcano at Masaya and the long inactive Apoyo. The Lago de Apoyo is stunning, the huge crater lake boasts sparkling clear water and the resort where we spend the day loans us pedaloes to play around in. Jungle grows thickly all around the lake and howler monkeys roar.
As clouds form and rain starts to fall the children swim on while the lake takes on a mystical light. There are few people here and we're blessed to be able to enjoy these pristine surroundings while they're still relatively undiscovered. Nicaragua may be one of Central America's largest countries but, due to it's war torn past, it's also the least visited.
On Saturday night there's a carnival. When I explain to the children that the fiesta is being held to celebrate the anniversary of the death of Mary and her journey to heaven they seem bemused and I can see why. The fiesta is a bawdy affair with dancing girls, marching bands and an array of street food.
Finally Sunday arrives, the day of the Hipica, or horsey party, as we've seen it translated in a tourist leaflet. We settle outside the resplendent green and white façade of the Hotel Dario to watch the proceedings. The sleepy city of Granada has transformed itself from a quiet colonial city to party central. Numerous beer tents have been erected and the local brew, Toña, is hugely popular, maybe even too much so.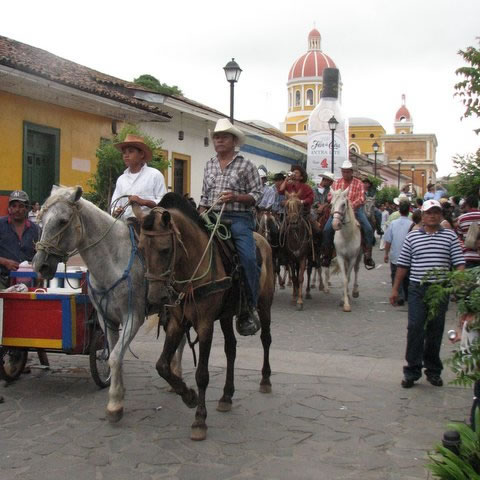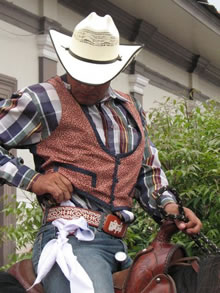 Bands are playing and speakers are blaring while a seemingly never-ending parade of horses and their riders pass by us. For the first time in Granada, the kids aren't captivated and for them it seems to be a case of seen one horse, seen them all. But we adults are fascinated.
On parade there are fine stallions, their manes lovingly braided and beribboned, along with horses, ponies and mules. The riders come in all shapes and sizes too: city cowboys, country cowboys and cowgirls, riding by against the backdrop of Grenada's spectacular buildings and gelato-coloured walls.
A curvaceous lady in a traditional white dress, the skirt elegantly spread over her horse's rump catches my eye and smiles regally. A young boy wearing a smart waistcoat and cowboy hat concentrates on getting through the crowds while his horse high-steps along, seemingly oblivious to the pandemonium going on around it.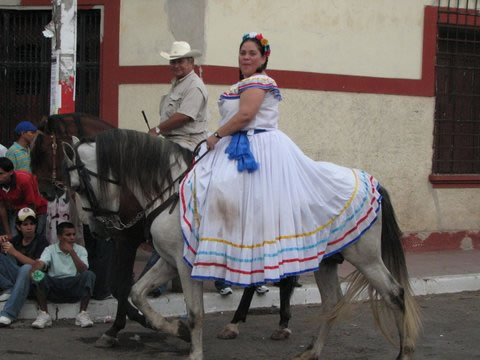 But the real heroes are the everyday campesinos, the Nicaraguan country folk, who've ridden to town to join the festivities. The fringed headdresses of their horses sway as they trot by in groups, often two up on one horse.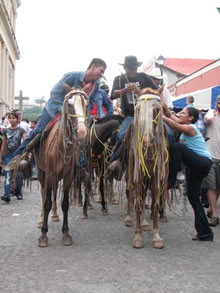 Men, women, children and even babies are participating in the parade as they've done for several generations. Some of the horses are scared by the crowds and the music but others march on oblivious to the mayhem surrounding them. Gallons of Toña is being swilled and if being drunk in charge of a horse were a crime in Nicaragua, the city's jails would be overflowing today.
The streets of Granada throng with visitors from all over the Nicaragua but few foreigners and it seems as if Granada's Hipica is a closely guarded local secret.
When the children can't take it any longer we return to the cool, peaceful courtyard of our hotel. That evening we get a babysitter but when we head out at 8pm the horsey party's over, the streets have already been cleaned up and only one lone rider remains.  He skilfully reverses his mount into a bar and grabs a bottle of beer off the counter only to have it snatched off him by the bartender and replaced with a full plastic glass.
Fortunately, Claudia has told us that the 'party of the year' is taking place at the Granada Jockey Club and we grab a taxi to check it out. What we find is three generations of well-heeled Nicaraguans supping an endless supply of rum and coke and partying hard.
A laser beam lights up the night sky and the dance floor is seething with Granada's privileged youth getting down and dirty while their parents and grandparents look on proudly. We wave to Claudia as she passes by, then head for the dance floor ourselves.
Later walking back through Granada's now silent and empty streets I think back to when we arrived in Granada and Claudia said we should stay longer for the Hipica. Forget staying a few extra days so you can catch the Hipica, Granada's horsey party is worth making a special trip to Nicaragua for.
This story first appeared in Escape, Sydney Sunday Telegraph
Looking for more things to see and do in Nicaragua? See:
Are you a travel lover and adventure seeker?
Get free email updates from Get In the Hot Spot – it's a weekly injection of tips to help you be more adventurous and have more fun. Sounds good? Click here now to get a weekly email updates.
Share This Story, Choose Your Platform!